CUSTOMER STORY
ThoughtExchange helps the City of Oakland connect with its community with ThoughtExchange
When the COVID-19 outbreak reached the United States, the City of Oakland, California, had just started using ThoughtExchange for town halls to address important topics, such as homelessness, within the city's communities. But the city had to suddenly shift their focus to COVID-19 planning and response. Director of Community Engagement Yvonna Cázares believes the city's introduction to ThoughtExchange "was perfect timing."
Before discovering ThoughtExchange, Cázares felt she and her team had hit a ceiling when it came to community engagement, and Cázares knew the city would have to break through that ceiling to face COVID-19. "We didn't know what people's needs are right now or their pressing questions and concerns," Cázares tells us. "ThoughtExchange has saved us so much time by sorting and theming the thoughts and questions, and letting us easily see the most pressing issues—"How do I safely shelter in place?" "What do the health orders mean?" "What is the city doing to protect unsheltered residents?"—which saves us time and money that we would've spent uncovering those questions."
For the city, town halls have historically been a complicated and costly endeavor involving numerous staff members who transcribe and collate questions that come in from citizens via the city's various social-media channels—Facebook, YouTube, WeChat, Instagram—and then those staff members physically walk the questions up to the facilitator or the mayor. Now that the city uses ThoughtExchange's platform to handle the town-hall questions and organize them, they feel like they have a better understanding of citizens' concerns and can focus on what is most critical to them.
Reflecting on the town-hall process before using ThoughtExchange, Cázares didn't hesitate to tell us how she really felt. "It was insane. Imagine upwards of 20,000 people watching and hundreds of questions pouring in all at once," she says. "Our 15-person team was scrambling to find the comments and questions coming in across all social media platforms, quickly scribbling down the platform and the topic, and then trying to get these to the mayor in both a timely and orderly fashion. It was a valiant effort...but..." Cázares trails off, before finishing her thought. "ThoughtExchange has simplified that for us."
"I feel like a pro at online town halls now because ThoughtExchange has made it so easy."
The city's recipe for a successful virtual town hall is a unique two-step process using ThoughtExchange: Residents are first invited to participate in a "pre-town hall" to share any questions they have before the virtual town hall. The city then gathers the appropriate information and expert input to answer residents' questions so they are prepared before the virtual event. ThoughtExchange is then used again at the virtual town hall as a live Q&A tool, allowing city officials to see common questions and thoughts that need to be addressed.
"The pre-town hall questions alone used to take at least a full day for the team to collect and theme. ThoughtExchange presents everything in a clean report, which we can hand over to the experts for them to speak to, and our team can now spend their time connecting people to resources rather than sorting questions. It's been a lifesaver."
Cázares estimates that ThoughtExchange saves the city tens of thousands of dollars on every town hall they run, resources which the city can then reallocate to vital initiatives and projects.
Making Town Halls a Transparent Process
Common to any webinar or online Q&A is that moment when many participants wonder, "Did anyone see my question?" That unintended opacity is a challenge that, according to Cázares, the city has struggled with in digital town halls. "If you're watching live, you can't see if your question is actually being caught by anyone," she says, before explaining the positive impact of ThoughtExchange. "[With ThoughtExchange], they can see what thoughts are floating to the top [of the list], and whether they'll be answered later on. It makes everything transparent, that we're not doing any picking and choosing. ThoughtExchange makes things fair."
"ThoughtExchange is something I've wanted to find for the last two years, because it democratizes the process, which is something Oaklanders have been asking for, for a long time."
And though Cázares credits ThoughtExchange for the city's ability to respond to COVID-19, she says the value of ThoughtExchange is in more than town halls or reactive crisis response. "We're now in talks with our entire city staff to get ThoughtExchange on an enterprise, city-wide level," she says, "because we know its ability to save us money and time, and really use our resources as a city most effectively."
Cázares ended our conversation by thanking the ThoughtExchange team. "You've helped make my life easier, and life easier for even our most vulnerable residents," she says. "You might even have helped save someone's house in the city of Oakland. And how powerful is that?" 💜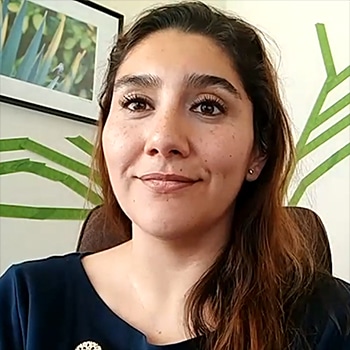 "ThoughtExchange is something I've wanted to find for the last two years, because it democratizes the process, which is something Oaklanders have been asking for, for a long time."
YVONNA CÁZARES, Director of Community Engagement, City of Oakland