We all dream about doing work that's genuinely fulfilling. And that means something different to everyone. For me, I've found that fulfilment here at ThoughtExchange. After about eight weeks on the job as VP Revenue here, I've been continually inspired and excited by the amazing people I work with and the meaningful mission we're on together.
As a fast-growing company with lots of opportunities regularly emerging, we're always looking for great new talent to add to our team. So, I wanted to share the top eight reasons why I think ThoughtExchange is such a great place to work, in hopes you'll see an opportunity to come do the best work of your life with an incredible team working to change the world.
1.) Make a difference – We make a measurable and meaningful difference for our customers every day. Because just about any company can make that claim, we always find it's more powerful to let our customers tell it in their own words:
"ThoughtExchange has helped me define for our school district what a true partnership looks like. When two organizations have a shared vision and values with mutual benefit, the possibilities are unlimited. Thanks Jayme, for being a thought partner in our journey to reimagining education." – Dr. David Vannasdall, Superintendent
2.) Be part of the growth – ThoughtExchange is growing across multiple sectors. Our solutions support leaders in the education, health, government, nonprofit and corporate sectors. We're particularly excited about that last part. Corporations large and small are quickly seeing the benefits of investing in their most-valuable resources through strong and sustainable employee engagement.
3.) Disrupt the norm and innovate – We're the first to admit that we're disruptive. We provide an agile, AI-driven solution that disrupts traditional engagement methods that use unsustainable analog models. Our team is continually building on our blend of innovative software, services and technology to help leaders in any sector drive meaningful stakeholder engagement that builds trust, empathy and inclusiveness.
4.) Join a thriving culture – Those who know me, know how much I value a winning culture. At ThoughtExchange (where skiing is built into the collective DNA), we rally around the saying "soft powder, hard edges." That sums up this company's commitment to an empathetic culture balanced with a ruthless commitment to excellence.
5.) Work with cool people – The people who work at ThoughtExchange are truly awesome in how they live the company culture. One example of that culture is in how I was hired. Because we use agreement-based decision making, we have a radically different approach to hiring. While it might seem like a drawn-out process to some, it was valuable to meet many team members early on and get their up-front agreement that I would fit in around here. And, agreement culture also means people here truly care about and support each other in their well-being. How radical is that?
6.) Truly own your role – Another spinoff of the agreement-based hiring and culture is that I came into my role already having the trust of my team, and a clear picture of what I needed to deliver. Because of that, I've been able to quickly start driving results in my first 60 days on the job. And my role has been really well defined to match expectations with my experience and passion to learn and contribute in a bigger way. So far, so good!
7.) Be backed by a board that believes – A company's board of directors make a lot of decisions that directly impact your job on a day-to-day basis. In keeping with the theme of cool people and great culture here at ThoughtExchange, we're blessed to have a group of seasoned investors and leaders on our board who truly believe in the company. Their experience, advice, connections and fundraising abilities are crucial to our success as a high-growth company.
8.) And work wherever works for you – Location, location, location, they say. While we're headquartered in beautiful, Rossland, BC, you can choose to work from wherever you live (or want to live). That could be small-town life in the Kootenays, or the big city and one of our offices in Vancouver or Port Moody. That flexibility is one of the things that makes "going to work" at ThoughtExchange so rewarding.
If you've read this far, chances are you're keen to learn more about life here at ThoughtExchange. If so, please feel free to reach out to me or our Director of People and Culture, Alex Chapple. We'd be happy to share all the great roles we have open here and help you find the place where you best fit.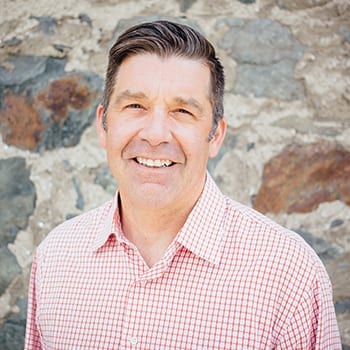 Jayme Smithers
Vice President of Revenue Jayme is responsible for the Sales, Marketing, Customer Success and overall Go to Market (GTM). Jayme is passionate about ThoughtExchange because the power to engage communities and corporations with the right insight creates momentous change. Prior to ThoughtExchange, he has successfully built and scaled high performance teams by leveraging systems and processes to ensure the customer is at the heart of any decision. Outside of ThoughtExchange, Jayme enjoys the outdoors with his wife Tove, their sons Henning and Maro and their two dogs, Caesar and Gertrude. Jayme is active in philanthropic efforts and supports the Strachan Hartley Legacy Foundation www.shlf.ca where he raises donations for local charities to make a difference in the lives of youth through sport and education.