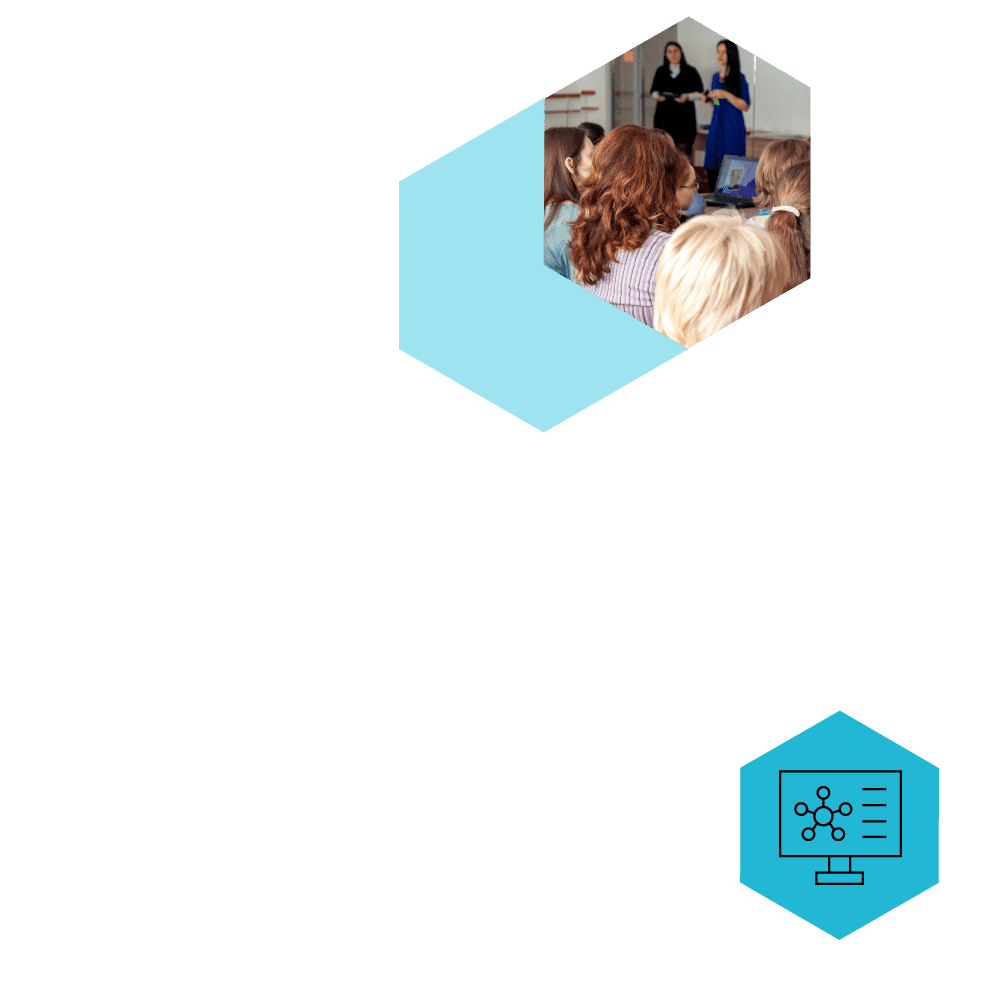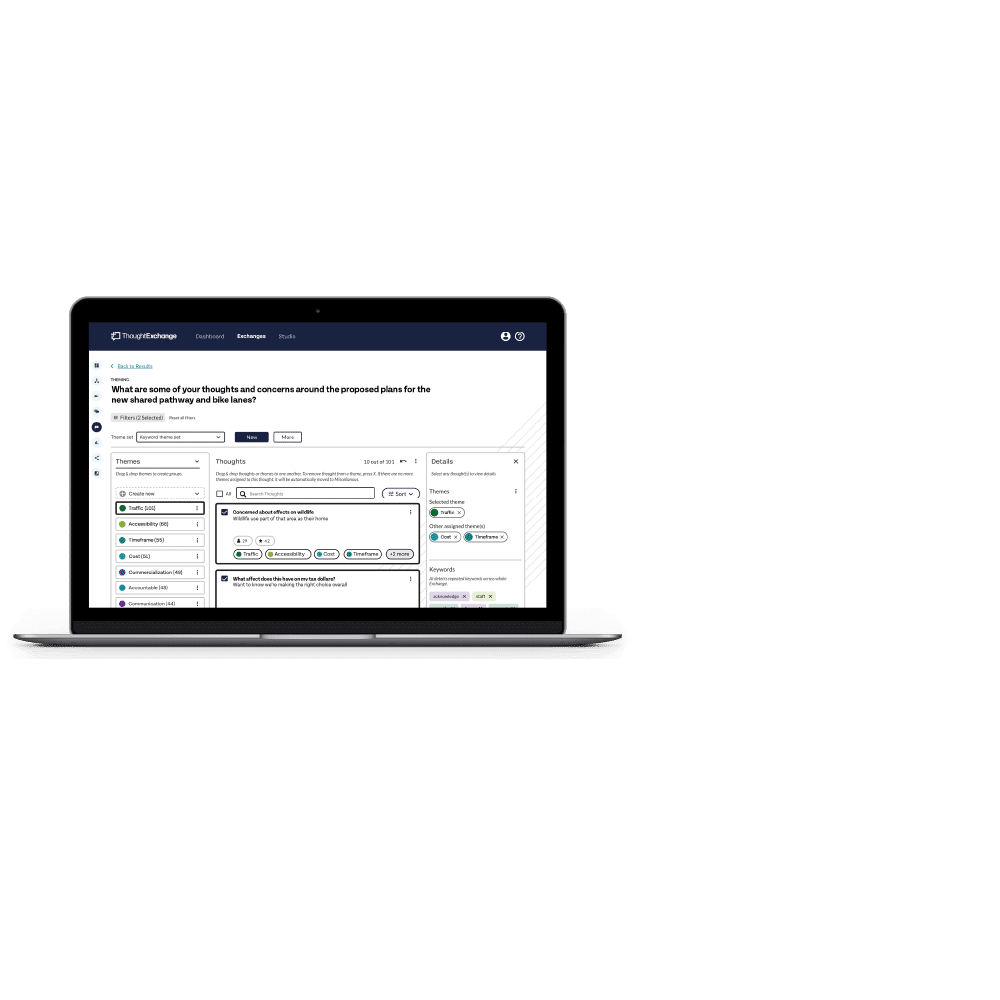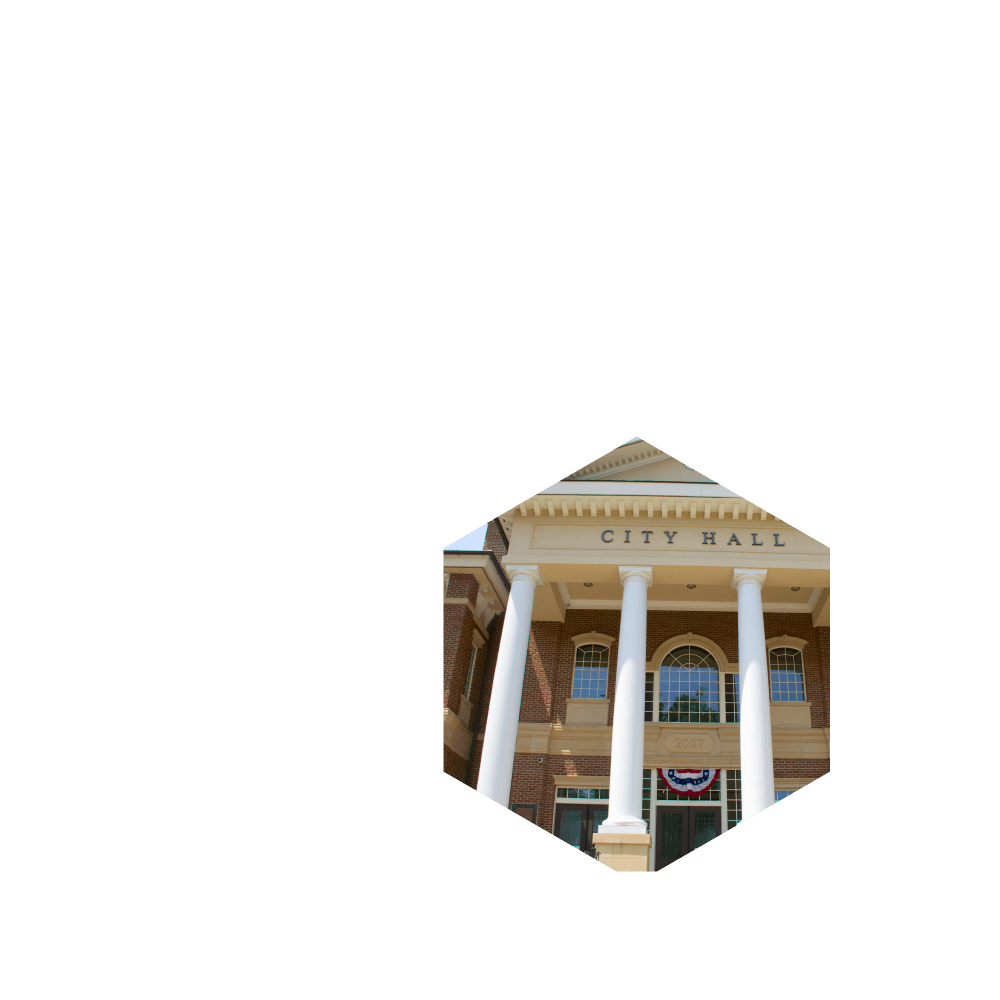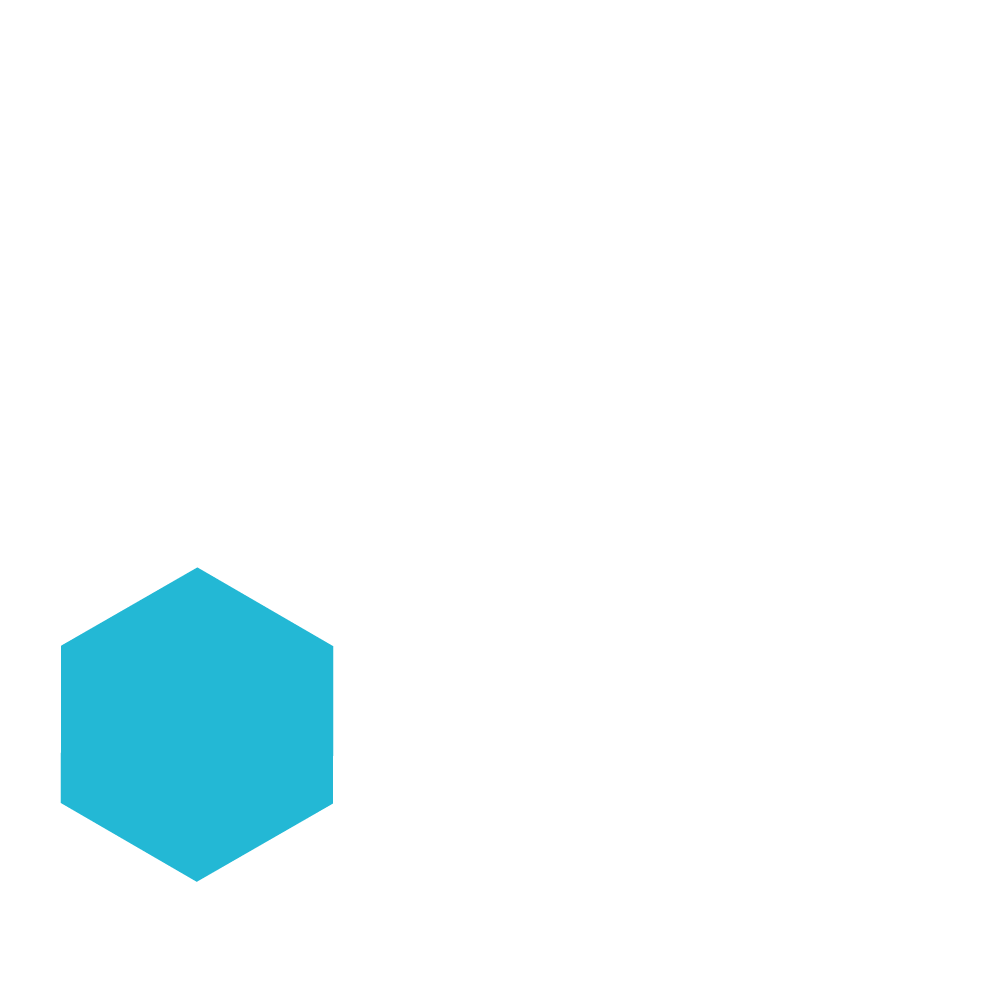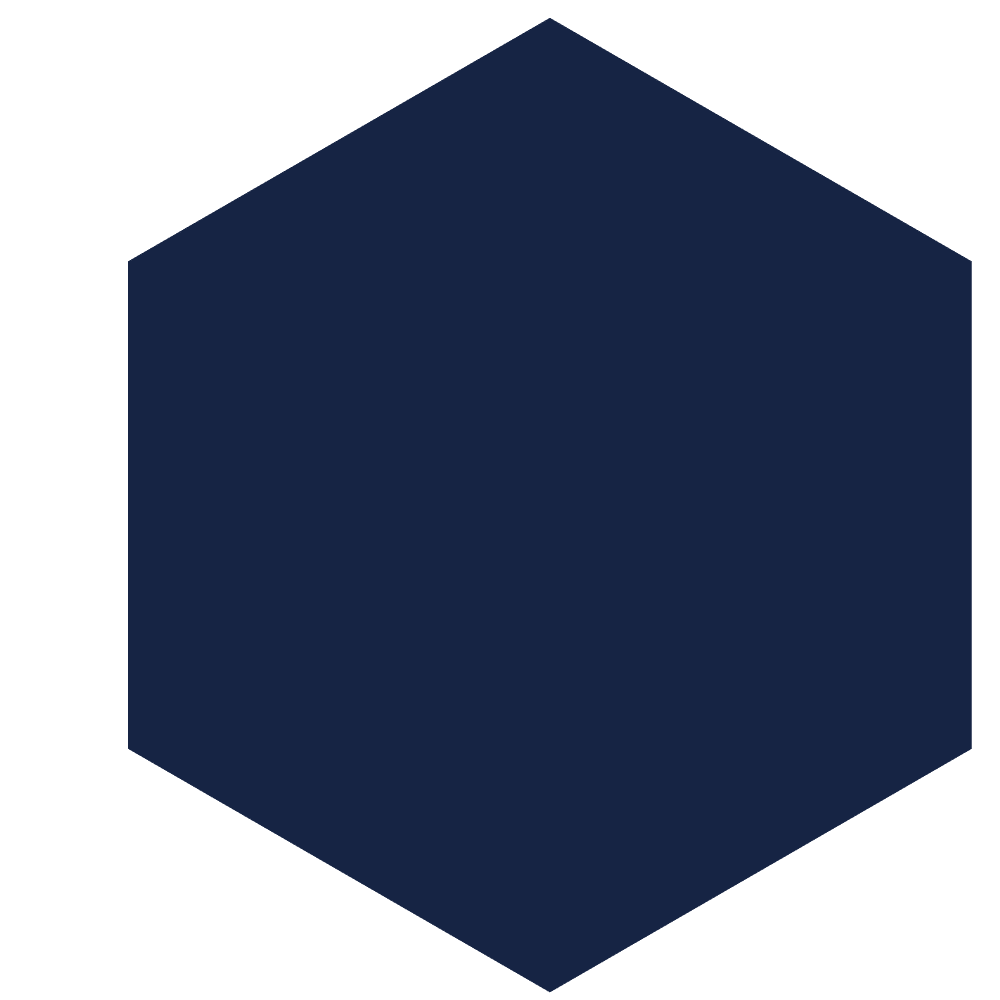 ThoughtExchange for the Public Sector
As public sector leaders, you face the challenging task of driving change amidst bureaucracy and red tape. This can be an uphill battle, both externally with the constituents you serve and internally with your employees. Overcome these challenges while reducing the time and resources spent on town halls and meetings and unite communities and teams with a more effective, efficient and equitable communications approach.
Trusted by leaders of the world's most advanced public & nonprofit organizations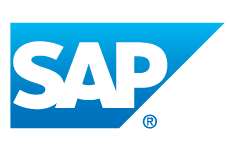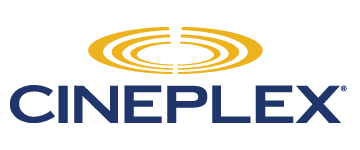 An award-winning platform for public sector governance
ThoughtExchange is the most trusted engagement and survey platform for public sector leaders. Use it to connect with your constituents, create alignment and support for community initiatives, and solve your most complex and pressing problems.
Manage change
Engage and build trust with your community
Make supported budget decisions
Find common ground on divisive issues
Encourage broad and meaningful participation from across your community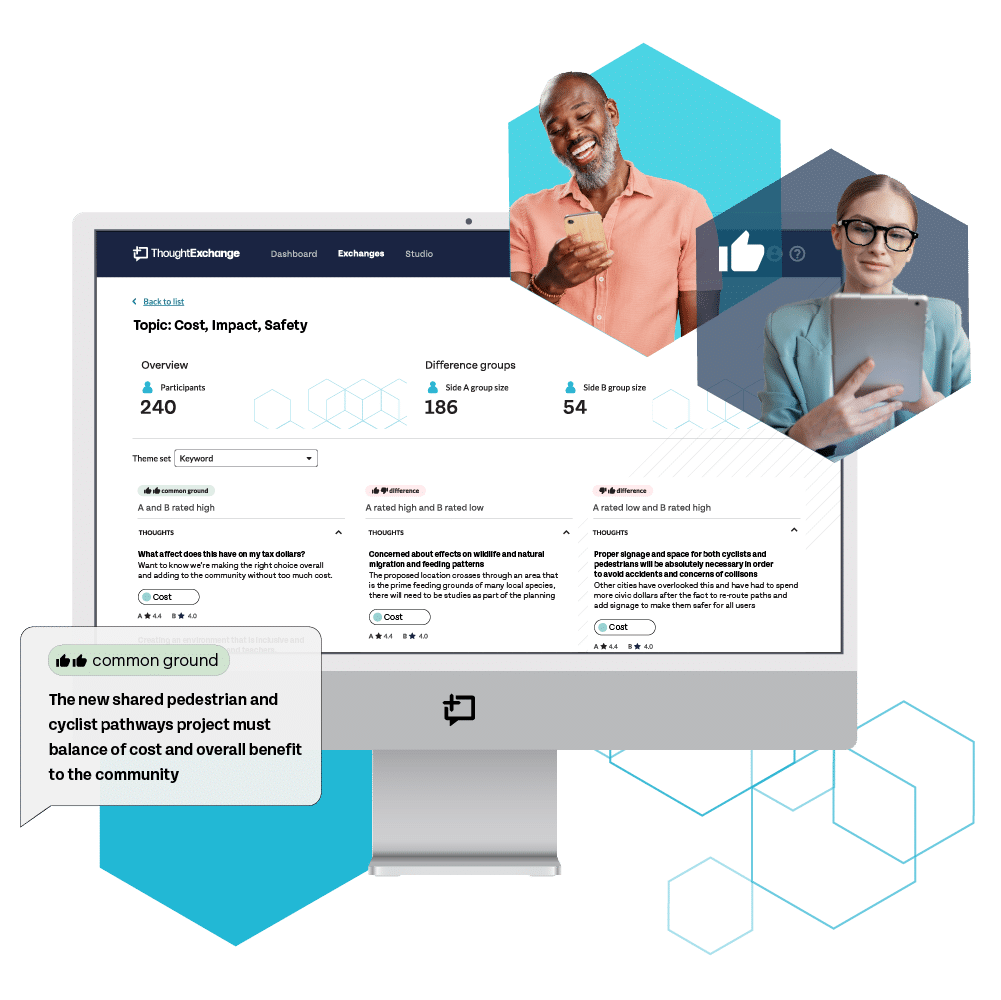 Run a (virtual) town hall with your entire community
ThoughtExchange allows participants to share quality, open-ended input and react to each other's opinions—without limiting participation or representation. Scale conversations across your constituency efficiently, so you can get more feedback in less time.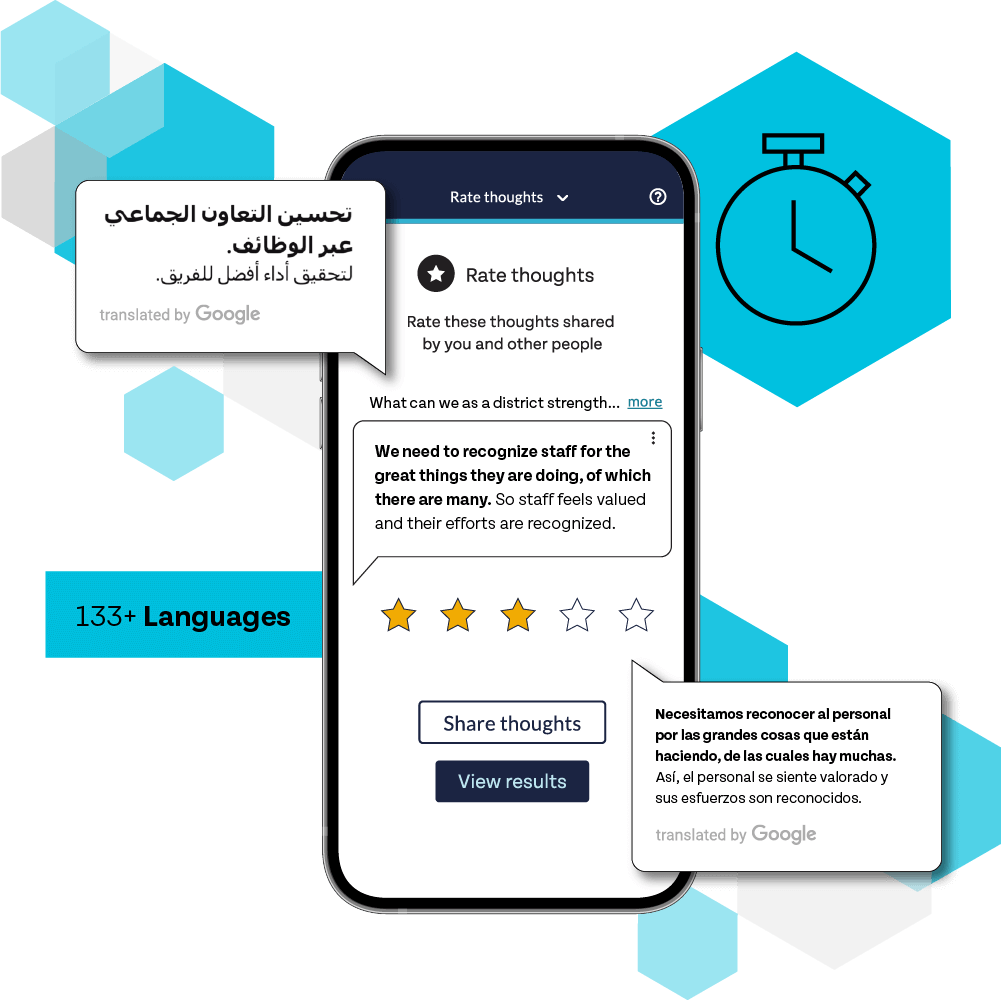 Overcome barriers to equity
Community leaders want to serve all constituents fairly, but overcoming language barriers, biases, or political divisions can be difficult. Our anti-bias platform offers simultaneous translation in over 100 languages, so everyone can easily weigh in on the decisions that affect them. With our Differences tool, you can even identify common ground across polarized groups.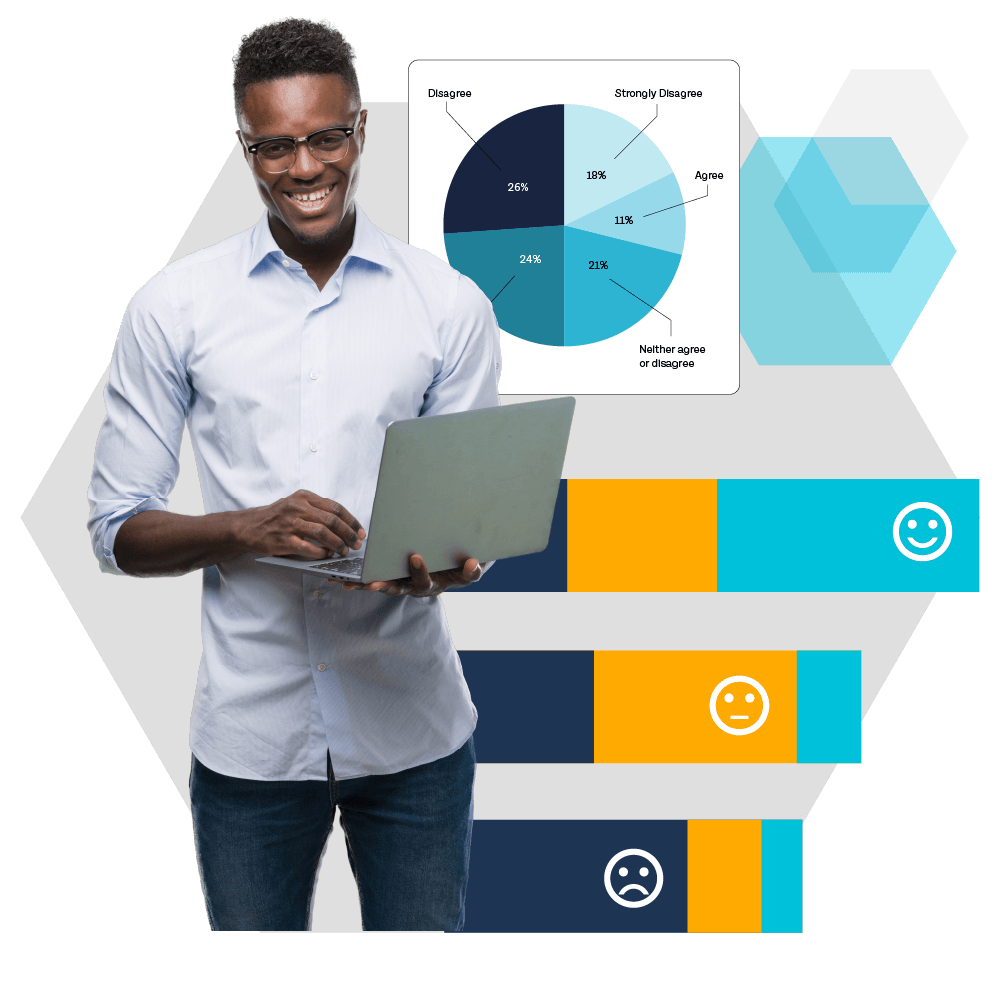 Make decisions that everyone supports
Getting agreement on policy changes and goals can take months of town halls, meetings, and surveys—but it doesn't have to. ThoughtExchange helps community leaders gather feedback and get alignment from tens, hundreds, or even thousands of people in as little as minutes. Our platform facilitates change through candid, collaborative community conversations.
Enabling Change Management in Public Sector Organizations
A short guide presenting some change management best practices and tools to meet the unique requirements of public sector leaders.
Managing change with ThoughtExchange
Ask the right questions and gain insights to align your community on transformational changes, challenges, and opportunities.
Strategy
Whether you're aiming to solve a complex community issue, or propose new bylaws, ThoughtExchange helps you leverage diverse perspectives for better outcomes.
Performance
Engage constituents in a transparent, inclusive, and scalable way, and make sense of nuanced qualitative data faster.
Culture
Get new public sector leaders up-to-speed faster, engage constituents, improve staff morale, and ensure your communications are truly inclusive, so you can build a culture that meets everyone's needs.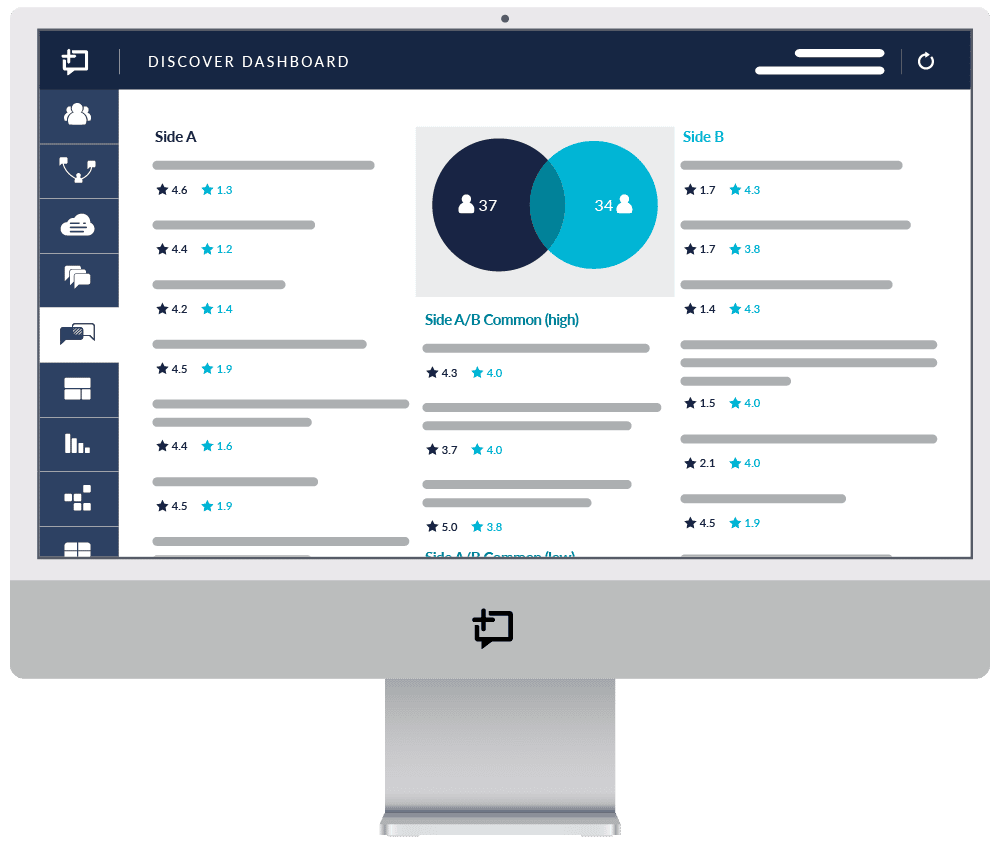 Effectiveness
Align on a strategy that leverages community expertise and experience for higher engagement and greater support for key initiatives.
Efficiency
Gather data quickly and get the insights you need to make better decisions, faster, using AI-powered analytics.
Equity
Your community is diverse and so are their needs. ThoughtExchange ensures your decision-making reflects the diverse voices of your community, without hierarchy or bias with anonymous sharing.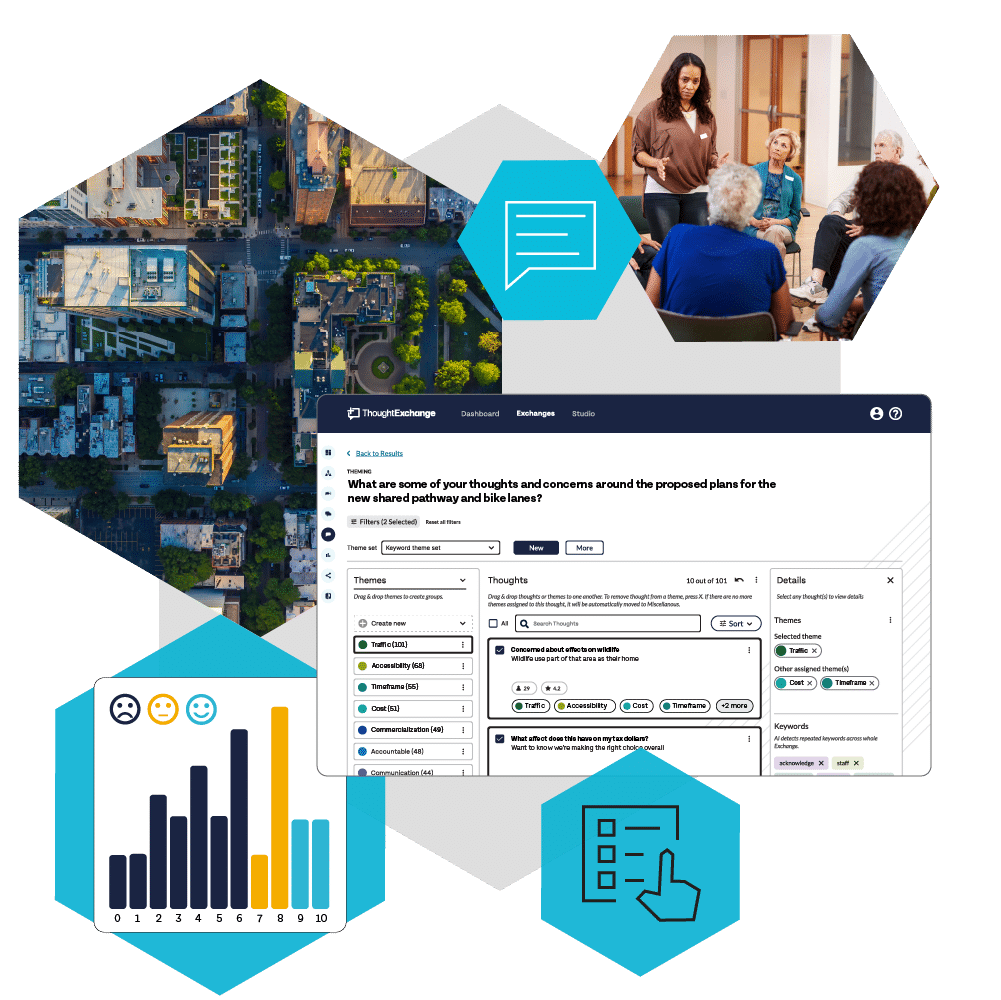 Get better data, for more effective results
Tap into the power of collective intelligence technology to rapidly gather data and find the best ideas across your constituencies. Build engagement around change and innovation and capture the true voice of the people who are most affected by major public directives (public facilities, parks, short term rentals, and more).
Get better insights to build your strategy, and your community will be more invested because they contributed
Discover differences and commonalities among groups
Use segmentation questions and themes to break down data and identify priorities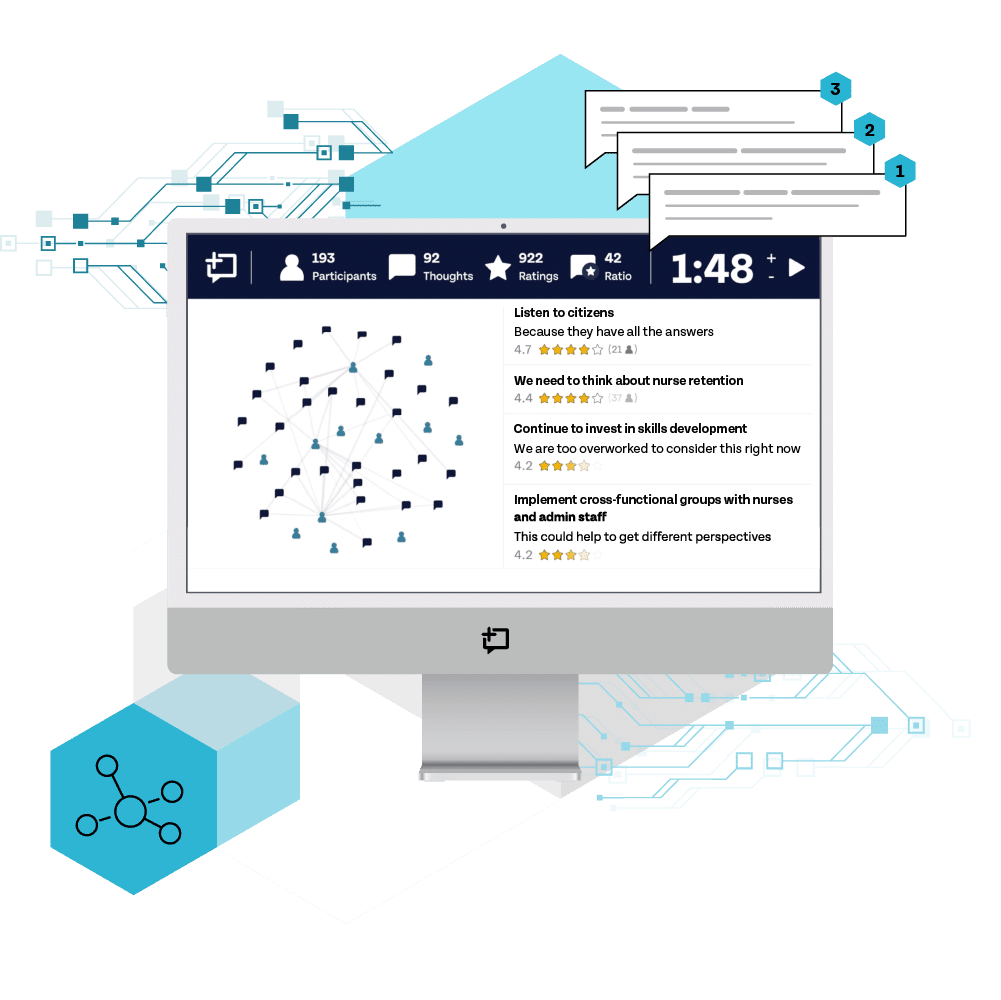 Get to outcomes faster, with increased efficiency
Surveys alone often limit participants to predetermined responses, and focus groups and 1:1s can take months to host and analyze. ThoughtExchange is an efficient way to gather community data and quickly action insights.
Ask an open-ended question to get constituents' insights and ideas in their own words
See how priorities rise to the top in real-time as responses are rated
Reduce time spent gathering and understanding insights with AI-powered analytics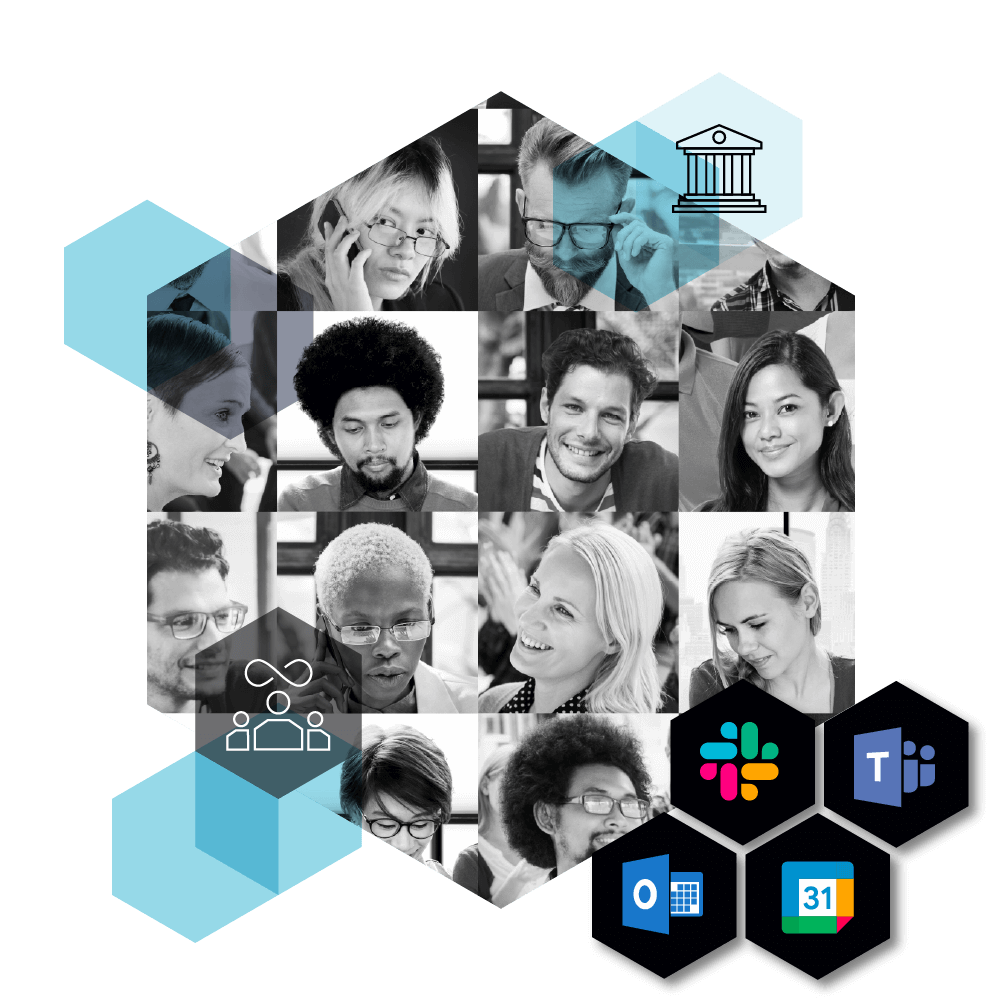 Have equitable conversations, without bias
All thoughts are created equal in an Exchange, so participants can rate them based on merit, not hierarchy. Every voice is heard, thoughts are shared and rated anonymously, and the group's priorities rise to the top.
Empower and understand diverse perspectives using our patented anti-bias software
Automate distribution and reminder communications through integrations with Outlook, Slack, and MS Teams
Converse and engage in over 100 languages with automatic translation capabilities
The Latest from ThoughtExchange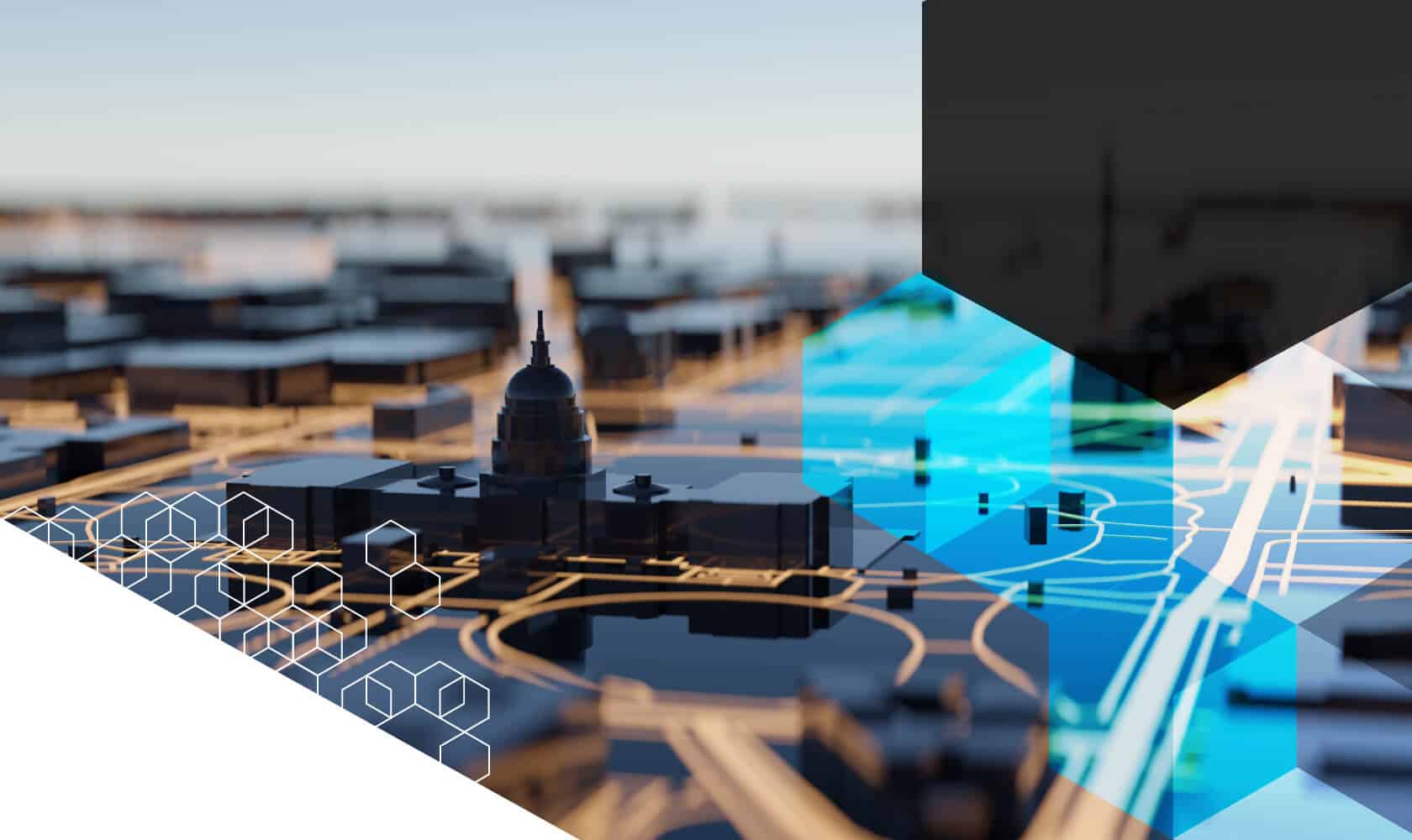 See how ThoughtExchange can help leaders in the public sector to prioritize change initiatives to achieve the organization's goals...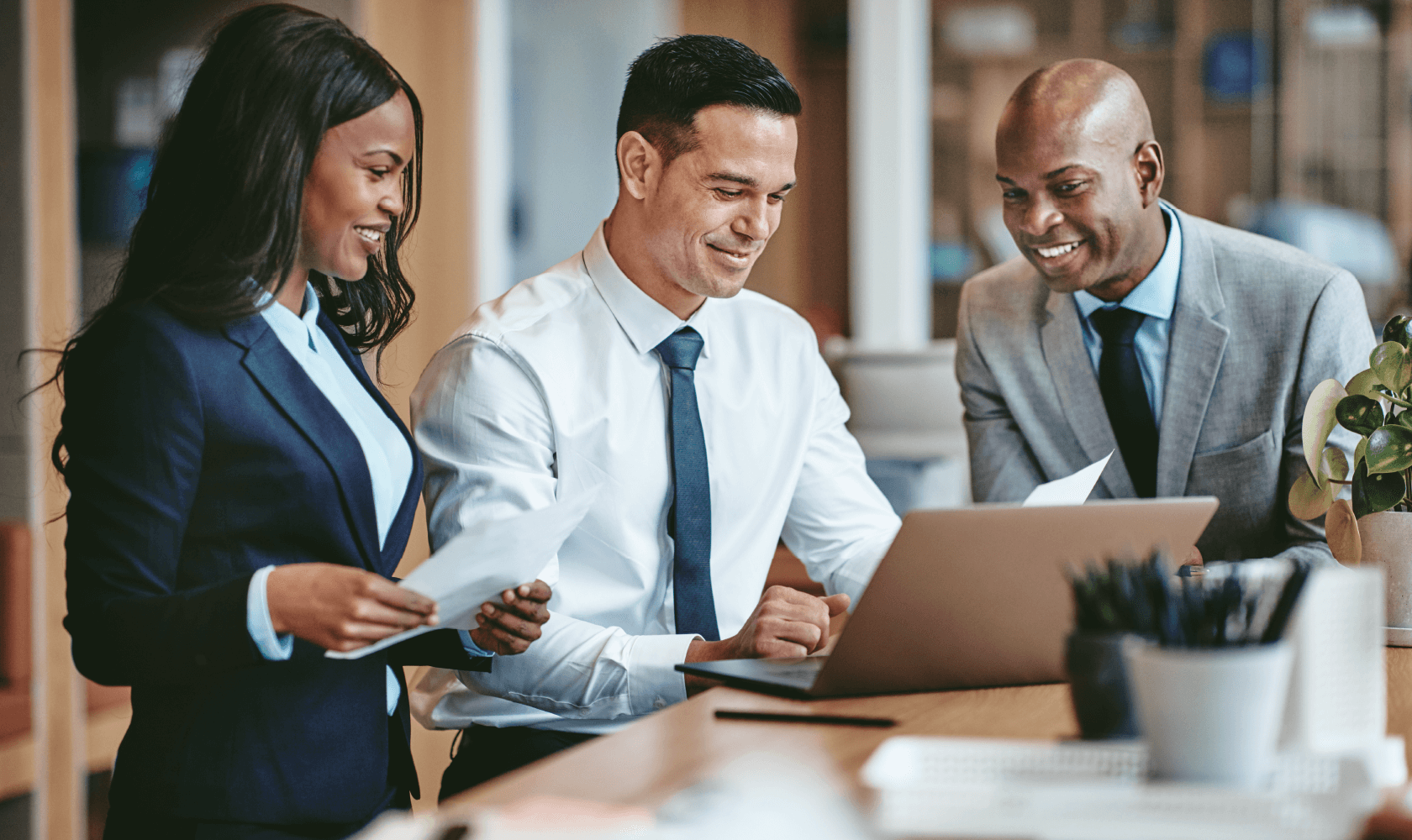 When the Canadian Bar Association - Alberta Branch (CBA Alberta) was preparing to update their mentorship...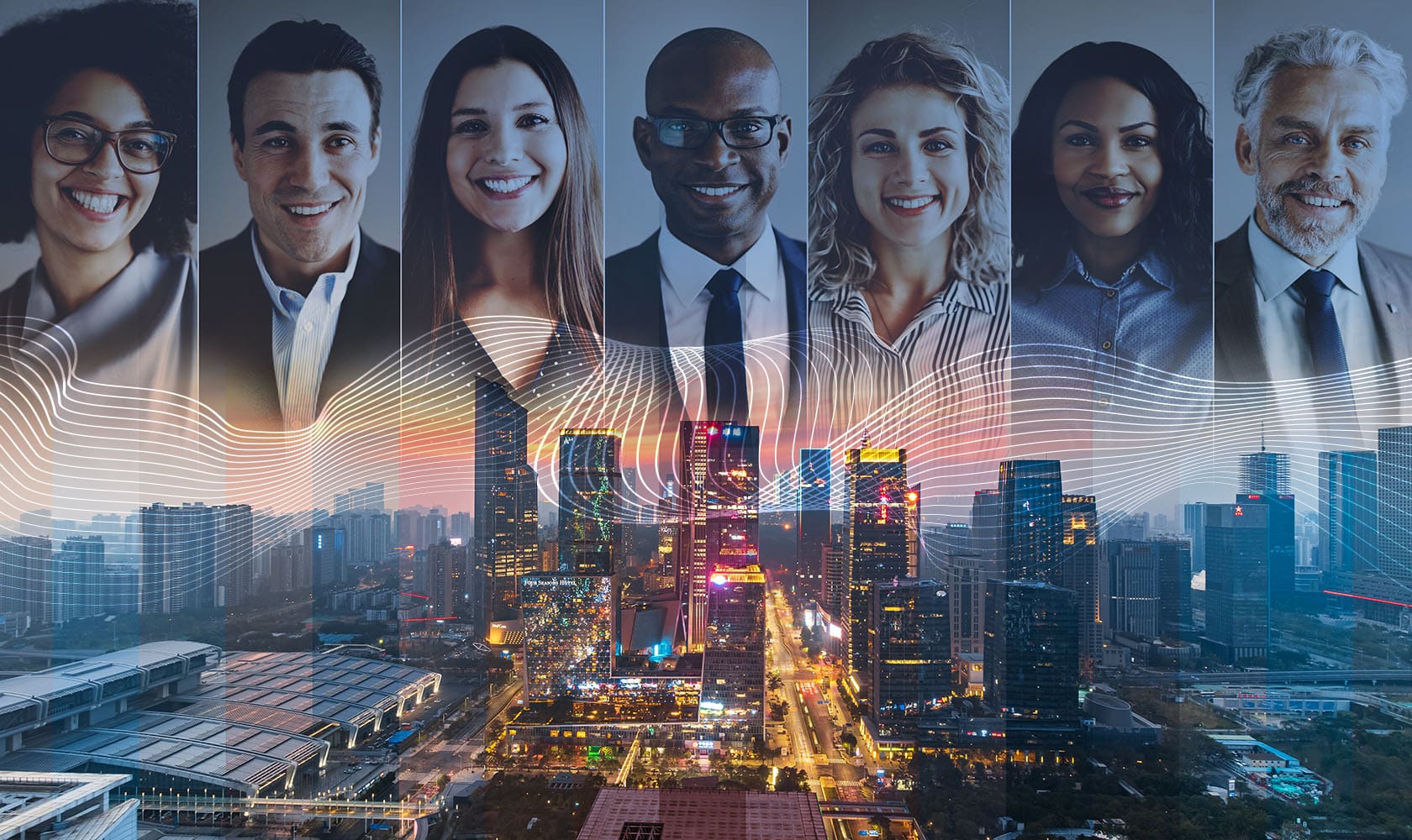 Public sector organizations around the world are grappling with numerous challenges...
Let's discuss how we can help policy makers make better decisions, faster.