Applying Corporate Strategies to Retention in Education
Teaching today is not as it was yesterday. Nor what it will be tomorrow. In an age of constant technological advancements and rapid societal adjustments, teachers today are expected to be facilitators, guides, moderators, mentors, co-learners, tech whizzes, and counselors, umbrellaed under the new educator norm. Add caregiver and part-time parent to this list during the pandemic. 
The global pandemic thrust us all into a period of burnout, mental exhaustion, and grief. We've collectively depended on many professions to continue to show up every day during this time. Teachers being one of them. 
New visibility into the teacher-student relationship has placed a renewed focus on the retention challenges and sector shortfalls that explains why 32 percent of employees in the education industry are at least "somewhat likely" to leave their current job in the next 3-6 months.
Why is teacher retention such a challenge?
Research has shown that at least 30 percent of teachers leave the profession within their first five years of teaching. 
"Fair compensation for frontline employees" was high on the priority list in our public Great Resignation Exchange when deciding whether or not to resign. Compensation is a significant theme amongst educators, especially in the US, where teachers make less on average in inflation-adjusted dollars than they made in 1990 and earn 19 percent less than other professions which require a bachelor's degree, according to the Economic Policy Institute think tank. Time Magazine further reports that the pay gap between teachers and other comparably educated professionals is now the largest on record.
Many public school systems have made small gains creatively redesigning their compensation plan, incentivizing teachers, and offering employee perks—however, some have shown to have the inverse effect. For example, the ProComp pay system masked eroding salaries with performance bonuses and left Denver's teachers with financial insecurity, leading them to their first strike in 25 years. 
The explosive growth in living costs in urban areas has also contributed to teacher shortages. The appeal to move and teach in rural areas is a significant life decision many have to face. Government funding for moving allowances can increase appeal for drawing out much-needed teachers to more remote districts, but where does this leave schools in major urban centers?
All that said, high salaries don't always explain teacher retention, and low salaries don't always explain teacher attrition. Low status, lack of classroom resources, workloads, and stress are a few of the factors driving teachers out of the profession.
What can educational leadership learn from the enterprise world?
When looking at critical factors behind increased resignations in the corporate world, the common thread is that employees want to be heard by their leadership and taken into account in both the daily decisions and the overall mission of their organization. Our
Retention Revolution 2022 guide
addresses this and the key drivers of increased attrition to help develop a better retention strategy.
Leaders who act on employee feedback to create a more inclusive, collaborative, and engaged workforce will reap the benefits of invested employees. 
The education ecosystem needs to take note. A stronger future requires leaders who can break through the noise, be bold, bring people together, and get acquainted with teachers' challenges— then take action. 
Aisha Douglas, for EdSurge echos "to reinvest in our current teachers and inspire future educators to join our diminishing field, we must create stronger systems for collaboration between teachers and families and transparency between policymakers, lawmakers, teachers, and school administrators."
Expanding on the desire for more robust systems, three-quarters of businesses have prioritized innovation in the past year, marrying "the desire to innovate with the systems, leadership, and processes that work to make it happen."
The future of educational leadership: Five signposts outlines three examples of existing methodologies available for engaging in future-focused innovation: Agile Leadership, Spirals of Inquiry, and Human-Centred Design. A reminder to all educational leaders that innovation shouldn't be a side project. It should be happening everywhere. 
Take the Grow Your Own program that focuses on cultivating a new pool of diverse teachers from the community. This is an innovative example of how education leaders across several school districts in the US are looking to close the diversity gap and hire locally.
As we peek out from the pandemic, we're all given an opportunity for a new way forward. Have you considered yours?
Strategies for teacher retention
Teacher retention is every bit as critical to the future of education as recruiting new teachers to the profession, especially for those in underserved communities. Here we explore a triad of neces
sary strategies that, t
ogether with collaboration and effective, innovative leadership, can help shift teacher retention trends.
1. Show recognition and appreciation
Many of us can recall a teacher that left an indelible impact on our childhood. Teachers are a valuable asset to our youth. Yet research says they feel undervalued and under-appreciated. An Ipsos/USA Today poll of 505 teachers and 403 parents reported that 1 in 5 teachers was unlikely to return to the classroom in the fall of 2020. Almost all teachers, 83 percent, said they were having a harder time doing their job, and two-thirds said they had to work more than usual. 
Although this report data is from the peak of the pandemic, it sheds an essential spotlight on our teachers' value and what we as a society may have naively taken for granted. Newer teachers struggled with distance learning, and the oldest teachers had the most difficulty with the technology required during distance learning. Parents, likely privy to more of the teacher/student relationship dynamics now home working alongside, recognized how hard teachers work, with 7 out of 10 saying teachers are "working harder now than they ever have." 
Teacher retention and recognition strategies need to be intentional and not transactional to strengthen ties between the employee and employer. Too often, quick-fix signs of appreciation and recognition do not work as they come across as disingenuous. Implementing recognition strategies that serve educators' needs may make the difference between staying or leaving the position and the education sector as a whole.
2. Provide health and wellness support
Emotional and mental wellness benefits are becoming a mainstay of the extended health package, particularly in the corporate setting. A recent Deloitte Fortune CEO survey found that 65 percent now say there needs to be an increased focus on workplace wellbeing, continuing well beyond the pandemic. It's essential to retention and for organizations to succeed.
The education sector is no different. Research tells us that educators were feeling emotionally challenged long before the pandemic. The lens we now have on teachers' emotional wellbeing — a side effect of remote learning — highlights that their needs align with the corporate world.
Let's focus on two factors challenging teachers' wellbeing:
The Yale Center for Emotional Intelligence, along with Collaborative for Academic, Social, and Emotional Learning (CASEL), surveyed 5,000 teachers amidst the pandemic and found a staggering 95 percent reported feelings deep-rooted in anxiety. Although that may not surprise you, given the pandemic's impact on many of us, a previous survey conducted in 2017 of the same sample size provided similar themes of frustration and stress in educators' responses, reinforcing the fact that teachers have long had their emotional health affected. 
The latest study looks at how emotions drive effective teaching and learning, educators' decisions, classroom and school climate, and educator wellbeing. It advocates that educators' emotions matter for five primary reasons:
Attention, memory, and learning

Decision-making

Relationships

Health and wellbeing

Performance
In the same survey, teachers shared reflections on what they need to achieve greater emotional balance. They expressed a strong need for honesty, respect, kindness, flexibility, and patience from their school administrators. Among the top requests were strategies to support their own and their students' wellness and resilience.
According to the survey source, an increasing number of schools are seeing the benefits of training in social and emotional learning (SEL), not just for students but for educators' skill development.
The Buffett Institute at the University of Nebraska found that most teachers, 86 percent across early childhood settings, experienced some depressive symptom the prior week. They found that approximately one in 10 teachers reported clinically significant depressive symptoms. 
According to the report, results connecting teachers' depression to contextual factors suggest that teachers' and caregivers' mental health and wellbeing may be supported through affordable and accessible health care coverage, adequate compensation, and supportive workplaces that minimize stress. Not dissimilar to the corporate world, where similar benefits are an expectation. 
Mindfulness is associated with increases in emotional wellbeing and self-compassion. Regular practices that encourage emotional and mental wellness can be effective when fully supported. Some tried and tested ideas include implementing "Wellness Wednesdays" or weekly reflections with other faculty, where feelings from the prior week can be discussed and unpacked.
Another great way to understand specific emotional and mental wellness support teachers need is to ask them. Leaders can use a collective intelligence tool like ThoughtExchange for empowerment, facilitating non-disruptive Exchanges between educators and administrators, and providing insights into the essentials for an emotionally balanced climate.
3. Invest in professional growth
With 30 percent of teachers resigning within their first five years of teaching, there is a huge opportunity to invest in professional growth and development to reduce this stat. Taking a proactive approach to engaging and equipping your employees with the tools and information they need to succeed can improve teacher retention and, in turn, reduce costs and social disruption while building a better foundation for success. 
As reported by Frontline Education, "investing in the professional growth of beginning teachers who have potential is one way to counteract the impact of the teacher shortage, and this ties directly into the role of retention: teachers who feel supported are teachers who stick around and don't need to be replaced." Sixty-nine percent of districts without teacher shortages report having high or very high retention rates, compared to only 42 percent of districts with shortages.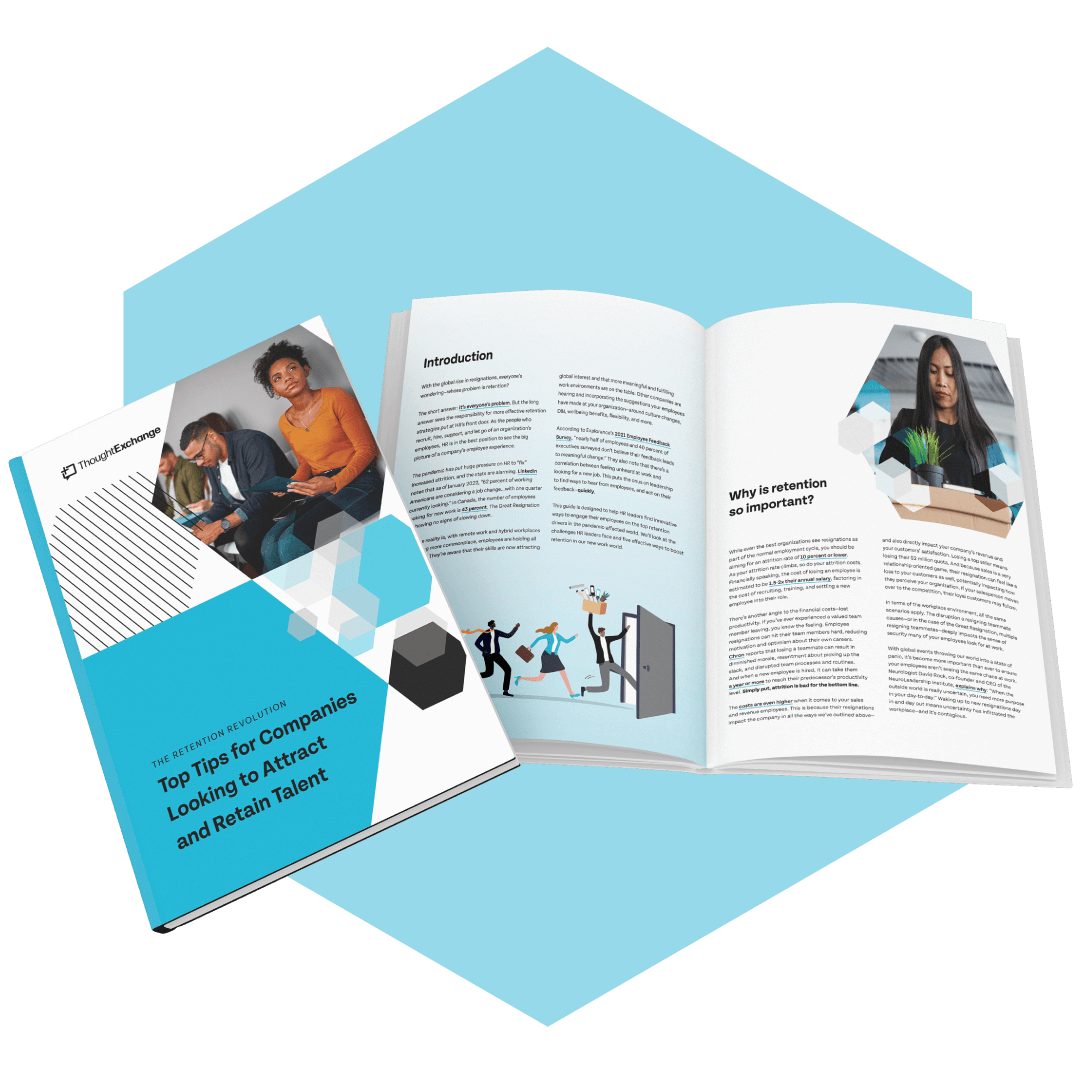 In our Retention Revolution 2022 guide, we unpack the challenges in retention and the need to laser focus on employee wellbeing.
Leading rather than leaving
Navigating teacher retention is complex, not to mention the high costs of teacher attrition. Longstanding issues have plagued the education industry for some time, which has seen a decline in the teaching profession. School officials and policymakers must recognize that many factors influence teachers' decisions to enter and remain in teaching—and these factors are interdependent. 
Transformational and innovative leadership that puts the voice of the frontline at the forefront and considers the strategy trio above can help move a once fragile educational infrastructure toward a stable ecosystem. 
Want to learn more? Talk to one of our Education experts to see how ThoughtExchange can help with retention in your district.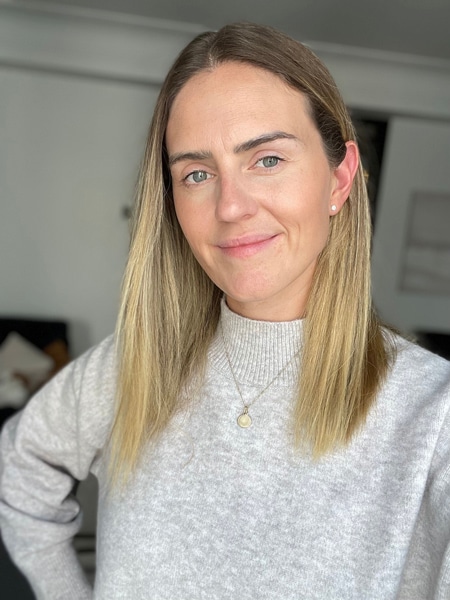 Jackie Tucker Gangnes
Born in Kettering, England, Jackie has spent most of her adult life in Vancouver, Canada. Her natural flair for creativity in all forms of communication led her to a 15 year career spanning marketing, brand strategy and internal corporate communications. She is passionately invested in personal wellbeing and sharing her experiences with others, writing about gut health to world spa experiences. Jackie believes that your relationship with yourself is the foundation and cornerstone to everything else in your life. Combining her passions, and between raising two kids, today she writes for the curious mind, exploring different thoughts, ideas, and perspectives on what makes us human, and what fuels us to thrive.