Post-pandemic, employees are resigning in record numbers, with employers struggling to retain top talent. We launched a public Exchange to find out why, and discovered employees and leadership aren't seeing eye-to-eye.
We asked:
With the global increase in resignations post-pandemic, what do you need to stay in your organization right now?
Our Exchange participants were employees and employers mainly working in remote or hybrid environments right now. Where 41 percent have been at their company for more than four years, 12 percent have been there for more than eight years.
Our participants represent three seniority levels:
29 percent frontline employees
42 percent mid-level employees
29 percent senior leadership
To understand employees' and employers' current priorities, we compared how they rated each others' ideas. Using our AI technology and our human ingenuity, we organized their responses into Themes representing the most salient issues for each participant group.
Not surprisingly, we found significant differences in senior leadership priorities compared to their employees. In this post, we'll dig into the results and the implications for your workforce.

Click to view the full Infographic.

Employees and Employers Want Flexibility
Let's start with the good news. Our Exchange results show that flexibility in location and hours is a top priority for both employees and employers. Both frontline and mid-level employees ranked Flexibility as their top priority; senior leadership ranked it in their top three. Remote work has become the reality for all seniority levels, and it appears that everyone is learning how to thrive in their chosen location during their chosen hours.
This was the top-rated thought for the entire Exchange:
"Flexibility in when I work and where I work. Complete remote work showed productivity doesn't drop, so flexibility should be the rule rather than the exception."
Despite this clear agreement across groups, many leadership teams want to mandate a return-to-office. When you look at current data on how most people want to work post-pandemic, this may be a significant reason so many people are opting to resign. According to the 2021 Microsoft Work Trend Index, "over 70 percent of workers want flexible remote work options to continue," and that may include a large number of your workforce.
Although most employees want hybrid remote options from their leadership, there's a business case to be made for flexible work policies. Our increasingly digital economy not only allows for flexibility but also benefits from it.
Flexibility in employees' location and hours allows for ​​asynchronous work, which, according to Harvard Business Review, "is now essential to being part of a modern, digital economy, staying competitive in the war for talent, and building a globally distributed workforce." Tsedal Neeley, Naylor Fitzhugh Professor of Business Administration at Harvard Business School and author of Remote Work Revolution, explains the benefits of flexibility: "This idea of 9-to-5 or face-time culture is actually not helpful for a digitally advanced economy."
Leadership also needs to consider the competition for top talent. Flexibility in location and schedules opens up access to a broader and more diverse talent pool. Forbes notes that "when hiring for a specific location, you limit access to top talent, ruling them out based on their location versus skill set and ability to contribute to the success of your company."
With a hybrid workplace, you're no longer tied to location or time zone when hiring. It allows you to offer remote work to out-of-state or even international talent, ensuring your company recruits the best and brightest.
Whether you're already working on a hybrid remote strategy from your home office, or you're just now realizing that flexibility is key to keeping your employees, we've got you covered. Get our free downloadable, The Essential Guide to the Hybrid Workplace, and check out ThoughtExchange's solution for Hybrid Success to ensure you're making the most of this opportunity to innovate your workplace.
Now let's look at where there's a breakdown in communication between employees and employers.
Employees are feeling unappreciated—especially Mid-level employees
Appreciation is a theme that came up in our Exchange. Specifically, mid-level employees expressed that they need more recognition and appreciation for their work. The pandemic response resulted from uncertainty about the future of companies and the global economy as a whole, and our mid-level participants seem to have felt a lot of the pressure to perform in a challenging time.
As one participant put it:
"I need a show of appreciation for my contributions. Expectations are high for our team and when we give it 110% we just end up raising their level of expectations. Do more! Do more!"
Mid-level employees ranked Appreciation at number two out of eleven total themes, just after Flexibility. So, where did the Appreciation theme land with our other participants? Frontline workers ranked it 5th out of eleven themes—important enough to make their top five, but still not their top priority—and senior leadership ranked it 10th—not a priority at all.
Why is it important for leadership to make their employees feel appreciated for their contributions? Because according to Great Place to Work®, it helps companies retain top talent, increase employee engagement, and encourage high performance.
Appreciation for one's work can be different from recognition for one's work. Harvard Business Review explains that recognition is based on four factors that limit it and diminish its effect on employees: it's performance-based and therefore conditional; it's based on past efforts, not current work; it's limited, so employees have to compete for it; and often it has to come from senior leadership. Whereas appreciation "is about acknowledging a person's inherent value. The point isn't their accomplishments. It's their worth as a colleague and a human being."
The HR Director suggests that better communication about an employee's engagement with the organization can provide a solution to employees feeling unappreciated. They suggest that getting a read on how employees are feeling at work will help leaders understand how their existing systems of appreciation and recognition are landing. Using a survey tool with pre-populated answers can show leaders how their employees are doing as they navigate the pandemic work environment.
But using enterprise discussion management tools, like ThoughtExchange, where employees can anonymously share feedback and rate each others' submissions, can also provide leaders with the data they need to diagnose issues—and find solutions that their workforce will support.
Frontline employees need competitive compensation
Compensation is another theme that varies in priority for our participant groups. For frontline employees, fair compensation ranks as their 2nd highest theme. Mid-level employees and senior leaders ranked compensation at fourth, indicating that while it's one of their top priorities, they're not as invested as those in the field.
One participant shared this highly-rated thought:
"Higher salary more autonomy. I find that working from home I am putting more hours into work and feel like I should be compensated for the extra workload."
Leadership's more reluctant rankings on compensation-related thoughts may be because many businesses had to implement pay freezes in 2020 just to stay afloat. The 2021 Pay Trends Report from Willis Towers Watson shows that nearly half of the world's companies stopped salary reviews last year, while the other half cut back on increases. EBN cites a study that shows "the average remote worker estimates a financial loss of more than $9,800 in promotions that were delayed or denied during the last year."
With frontline employees earning less than their mid-level and senior leadership colleagues, it's not hard to see why the thoughts around compensation resonated with them. The Willis Towers Watson report cited above is optimistic, stating that "2021 projections show 87.4% of companies globally increasing salaries with far fewer implementing salary freezes."
While compensation is just one factor in keeping talent at an organization, it's clear that many companies will be making themselves more competitive with salary increases. For frontline employees especially, how fairly a company will compensate them is a deciding factor in whether or not they stay.
Senior leadership wants better technology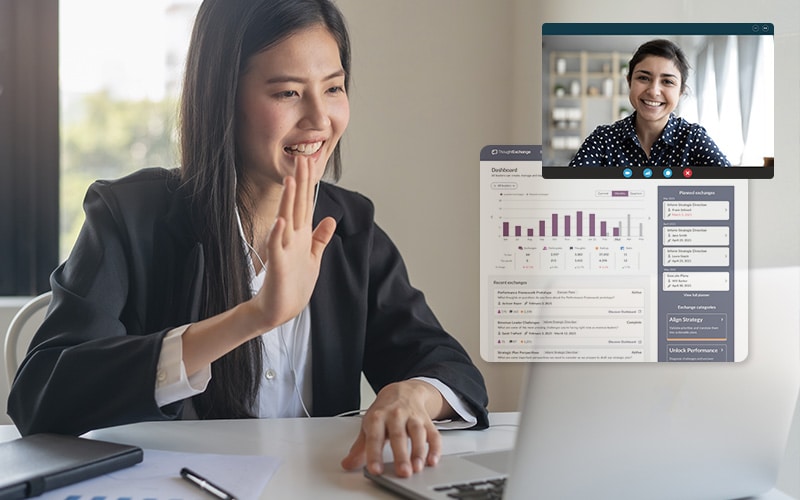 The top themes for senior leadership revealed that they're concerned with the big picture as we work through the pandemic—the tools and processes needed at an organizational level. Technology is their top-rated theme overall, where participants expressed the need for new tech to support the new workplace.
This thought is top-rated for our senior leadership participants:
"Adequate technology to accommodate a hybrid workforce, Adequate technology to accommodate a hybrid workforce, so remote employees are not second class to in-office workers."
Concerns around what tech was needed to connect a hybrid remote workforce didn't resonate with frontline and mid-level employees in the same way. Frontline employees ranked the Technology theme 8th out of eleven, and mid-level employees ranked it 10th.
Interestingly, the people who would be most affected by technologies like teleconferencing tools or high-speed internet stipends—two of the suggestions from our participants—didn't rank this theme higher. While leadership is focused on streamlining the workplace as a whole, their employees don't share the same concern.
Senior leadership is focused on organizational communication
The second-highest-rated theme for senior leadership is Communication. Mid-level employees also ranked Communication highly—it came in as number three. For frontline workers, Communication came in at number six, demonstrating less concern over their organization's communication processes.
This was the top Communication thought for Senior Leadership:
"Clear communication. With new ways of working communication is going to be crucial to get it right."
Indeed, communication processes do need an overhaul in the hybrid remote workplace. McKinsey explains that in the new hybrid workplace, "transparent and frequent communication, with managers playing a key role, can help ensure that the organization moves in unison."
However, while an organization's communication processes are important to employers and employees alike, they don't determine whether employees choose to leave an organization or stay.
So what do your employees need to stay?
Above all, flexibility in where and when they work. Compensation that's equitable and competitive. Consideration of their individual circumstances. Leadership that respects their contributions and listens to their ideas. But is leadership on the same page?
Our public exchange results show that among our participants, employees want policies that support them individually and recognize their contributions, while senior leadership is focused on policies that address the "big picture" workplace and strategic direction.
For organizations to move in a healthy direction toward the future of work, leadership needs to recognize that listening and responding to the needs of their workforce is paramount. Contact us to learn how ThoughtExchange can help your company have better discussions—and find better solutions.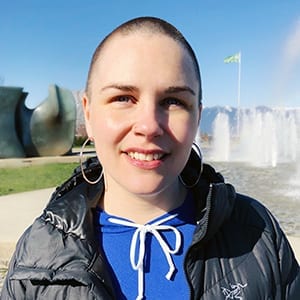 Meghan MacRae
Meghan was raised by an English teacher, thus she found a way to incorporate her instinct for grammar and spelling into her career. She honed her corporate writing skills in clothing companies and the music industry, and brings a passion for creativity and playful wordsmithing to her work at ThoughtExchange. When she's not crafting language that brings people together, she's reading a thesaurus, playing Uno with her kids, cooking and singing and dancing, and collecting vinyl and art.