A pandemic that forced most businesses to reimagine how their employees can work safely. Social justice movements that exposed the deeply entrenched systemic inequities existing both inside and outside of the workplace. A workforce that began to understand their jobs as more than just a means of survival—rather, as a life experience that needs to bring fulfillment and personal development.
It's easy to look at the past couple of years as disruptive, and to yearn for everything to go back to the way it was. But it's not going to. And it shouldn't.
Leaders and employees everywhere have opened their eyes to the exclusionary behaviors and practices that were holding us back. Top-down decision-making, cascading strategy, a hierarchy of listening, and inflexible workplace conditions—just to name a few.
Employees are demanding transformation in their experience at work, and the organizations that are resisting change are seeing their people vote with their feet. In order to keep the employee experience excellent and ensure a high-performance organization in this new work world, leaders need to welcome change and lean into learning from their employees.
If you're someone who leads in this area, you'll be used to language like "culture," "employee engagement," and "feedback." However, there are new and innovative ways to approach employee experience that require leaders to recognize how each of these things has changed, and how to build a better version that meets employees where they're at today.
The employee experience landscape isn't what it used to be, so in the chart below, we'll outline some emerging terminologies, and expand on more traditional terminologies.
Culture: a collection of attitudes, beliefs, and behaviors that make up the atmosphere in a work environment.
Culture is a combination of leadership's efforts—things like policies and processes—and how those efforts translate to the actual employee experience. A company could claim to have a diverse culture, with policies that support it, but then in practice tolerate bias and prejudice in hiring. Employees are acutely aware of the actual culture, and whether or not it aligns with their values.
Companies can no longer boast of an "amazing culture" by listing their workplace perks—office dogs, ping-pong tables, and snack tables. Now that the majority of the workforce has moved off-campus, it's less about where work is done and more about how work is done. Do people feel included, inspired, and invested in business outcomes?
Because of the way humans experience the world, employees are unlikely to have a holistic view of culture. Rather, they will be thinking about moments that matter. How were they treated at their low points, or recognized for their triumphs? What actions were taken based on ideas or concerns they raised? These individual touchpoints will become key differentiators when employees are tempted by offers elsewhere.
Employee engagement: the emotional commitment an employee has to the organization and its goals.
Employee engagement goes beyond satisfaction or happiness in a role. It's the extent to which your employee actually cares about their work and the organization. When employees are engaged, productivity improves.
Without a physical office or close circle of social contacts, employee engagement is harder to build. Employees who feel heard and included are more likely to be engaged, particularly if they see their input resulting in real action within the company.
Employee alignment is the concept of employees and leadership being on the same page about the company's mission, strategy, and goals. Leadership consults employees on strategy before, during, and after implementation. This engages employees on the work they're doing, shows their opinions are valued and sought out by leadership, and builds robust and agile strategy—boosting overall engagement.
Employee onboarding: the key period of familiarizing a new hire to the company's values, culture, systems, and processes.
Employee onboarding is a key indicator of success. Up to
20 percent
of turnover occurs within the first 45 days on the job, and
replacement costs
range from half to two times their salary, plus lost revenue. Good onboarding engages employees early and often, ensuring long-term loyalty and higher job satisfaction.
With employees onboarding remotely, making them feel welcome and acclimating them to the culture requires a deliberate and intentional strategy, likely involving technology.
Don't just plan for onboarding, aim for employee acceleration. Give employees the tools and information they need to feel prepared and productive from day one. For example, new leaders at ThoughtExchange ask their teams, "What would you like me to know in my new role?" and receive anonymous insights from their new employees, helping them understand and address key issues immediately.
Employee listening: how the employee experience is measured, generally through surveys, performance reviews, and exit interviews.
Listening to employees is the first step to building a positive employee experience—if you don't know what they need, you can't give it to them!
Employers have been doing surveys for years, but employees
still feel ignored
. Lack of action on their concerns and ideas frustrates employees —potentially more than if you never asked for their insight in the first place!
Rather than simply measuring experience with surveys (which we know have their shortfalls), strive for inclusive decision-making. Use tools that allow employees to share their real ideas and input on important decisions anonymously—and then use their input to guide decisions.
Feedback: information about or reactions to an action, process, or decision. In this context, employee feedback generally applies to opinions on leadership decisions or actions.
Collecting employee feedback is vital to the employee experience, and is a standard process for most organizations. The engagement landscape has a variety of tools available to collect and synthesize employee feedback.
Acting on employee feedback is what differentiates an average employee experience from a strong experience. Nearly half of employees and 40 percent of executives don't believe their feedback
leads to meaningful change
, and in a competitive job market,
taking action is a big differentiator.
It's still beneficial to ask for feedback, but what if you could gather employee insight before you take action? Using feedback tools that reveal actual employee priorities rather than predetermined options and that provide actionable insights makes the shift from collecting to acting much simpler.
Future of work: this term is all-encompassing for how workplaces will evolve, but in recent years has mainly applied to the shift from a traditional office to remote and hybrid workplaces.
The workplace is constantly evolving, but the pandemic response has accelerated the remote work trend and changed how employees feel about their employee experience.
The Great Resignation revealed the disconnect between how organizations think they're managing employee experience and how employees are actually experiencing their workplace. In a
Gallup study
of resigning employees, 51 percent said neither their manager nor any other leader spoke to them about their job satisfaction. Employers who aren't asking their employees about how to improve their experience are losing people.
While today's employees are looking for flexibility in a remote or hybrid workplace, tomorrow's employees are thinking about sustainable workplaces. Sustainable organizations are working toward the three Ps: people, planet, and profit. They recognize that the future of work relies on the future of our planet and people, and aim to protect the safety, health, and welfare of employees.
Employee voice:
the practice of
giving workers
the opportunity to express ideas, concerns, and feedback.
Employers who value their employees' feedback and insights will achieve greater business success, higher retention rates, and better employee engagement.
Employee voice is a major engagement and retention issue. Our
Gen Z at Work
study found that employees who don't feel heard at work are 6x more likely to be looking for a new job.
With their voice, employees can influence leadership decisions and ideas. The next logical step is collective intelligence, where those ideas and decisions are the direct result of employees and leadership discussing strategy and aligning on the best solutions.
Evolving employee experience
As the workplace changes in step with our social practices and expectations, so should the ideas we associate with employee experience. By expanding these common terms, we embrace the inevitable changes and make way for an employee experience that welcomes, includes, and celebrates every employee, and recognizes their involvement in creating company culture.
Innovative leaders everywhere are embracing this evolution and seeing better business outcomes for it.
Employee Experience
Interested in diving deeper into how to define and build employee experience as we progress into the future of work—and the remote and hybrid workplace? Download our free Employee Experience guide for a wealth of advice and tools you can start implementing at your organization today.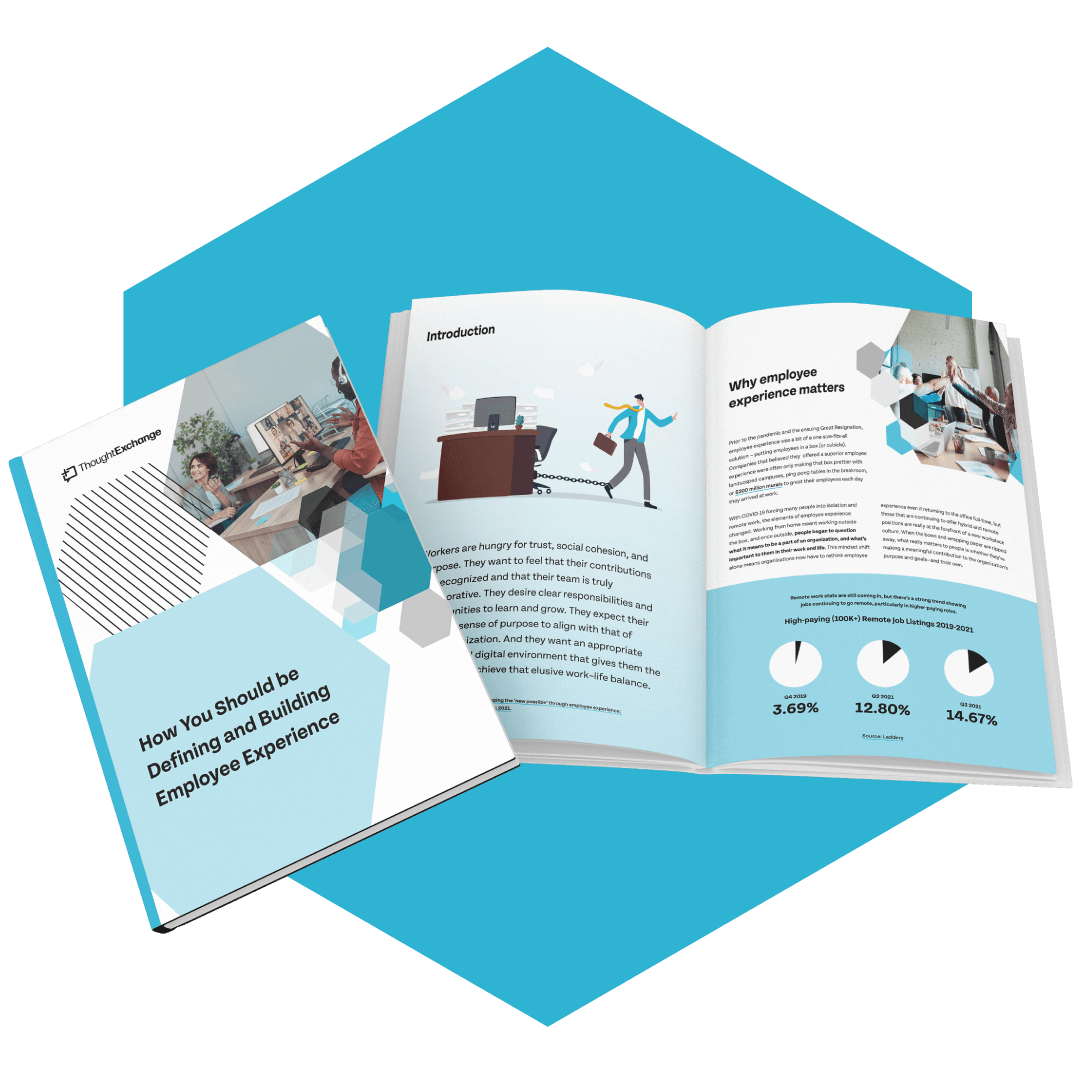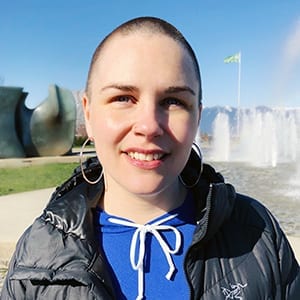 Meghan MacRae
Meghan was raised by an English teacher, thus she found a way to incorporate her instinct for grammar and spelling into her career. She honed her corporate writing skills in clothing companies and the music industry, and brings a passion for creativity and playful wordsmithing to her work at ThoughtExchange. When she's not crafting language that brings people together, she's reading a thesaurus, playing Uno with her kids, cooking and singing and dancing, and collecting vinyl and art.