How to Choose the Best Student Voice Platform
Engaging your students in their education and listening to their unique insights and experiences ultimately contributes to their success. But how do you access your students' honest opinions quickly and easily—and ensure you're including them in the decision-making process?
Whether you're improving your mental health strategy or implementing new technology in the classroom, the right student voice platform will make things easier. A comprehensive student voice engagement platform gets you from insights to action faster, engaging thousands of students while addressing their needs and helping them succeed.
Here's how to choose the best student voice platform for your needs.
See ThoughtExchange in Action — Watch the Product Tour
What is a student voice platform?
Student voice engagement platforms help education leaders streamline student voice initiatives. With the right software, leaders can gather feedback from tens, hundreds, or even thousands of students in just days.
Whether you're working on improving your mental health strategy or safely and effectively implementing new tech, a student voice platform facilitates candid, collaborative student conversations that help districts understand and meet their students' needs and realize their goals more quickly.
How to choose the right student voice platform
Student voice engagement platforms vary. Options include online polls, virtual meetings and townhalls, surveys, and more. Consider the pros and cons before deciding what's right for your initiative.
Types of student voice engagement—pros and cons
Easy to set up
Easy to participate in
Quick answer to simple question
Engages large groups
Surface-level data—no insight into why participants respond a certain way
Answers are pre-selected and subject to bias
Can't measure response intensity or sentiment
Free for up to 100 participants
Open forum for discussion (particularly for smaller groups)
Can't be scaled and still maintain quality of conversation
Virtual meeting fatigue
Paid plans for over 100 participants
Requires note-taking and recording for later analysis
Easy to set up
Easy to participate in
Quick answers to simple questions
Engages large groups
Offers quantitative and qualitative question options
Surface-level data—no insight into why participants respond a certain way
Answers to close-ended questions are pre-selected and subject to bias
Answers to open-ended questions must be manually analyzed
Usually just the first step in engagement, followed by weeks of focus groups and data analysis
Classic survey and Exchange options. Use one or both depending on needs.
Easy to set up an Exchange using templates
Easy to participate in from any device at any time
Scales easily from 10 to 10,000+ participants
Offers quantitative survey questions
Ask one open-ended question to get thousands of quality responses
Access people's real thoughts and insights instead of predetermined answers
Anti-bias technology ensures participants and leaders engage ideas on merit, not on who's sharing them
Built-in AI analytics provide rich data as the conversation unfolds
TE Advisor instantly summarizes data, identifies themes, and provides possible next steps. Ask custom prompts to get answers and ideas about how to run your next engagement
AI and manual data analysis is done in minutes or hours instead of weeks
Easy to export reports, presentations, and HTML pages for sharing results with participants and leadership
Requires trust and transparency from leaders
Costs are up front, but saves immense time and money in the long run
Explore all the features and benefits of ThoughtExchange, in depth, at your own convenience.
Three features your student voice platform needs to have
Whatever student voice engagement platform you choose, you'll want to make sure it has the following features:
Anti-bias: Gives each thought equal weight despite who said it. Allows students to voice their honest opinions without fear of judgment or reprisal.
Themes: Allows users to quickly sort participant responses by keyword or sentiment, or create custom themes with an intuitive manual theming tool. Understand qualitative data through a quantitative lens with AI theming.
Manual moderation: Flags inappropriate or hurtful thoughts based on criteria pre-set by the leader. Maintain respectful participation and builds trust in the process and platform.
What are some student voice survey questions I can use?
When eliciting student voice, you need to ensure you're asking the right questions to meet your objectives. This is paramount to your initiative's success.
Here are a few of our suggestions to get you started:
What are some important perspectives and ideas you want school superintendents to consider about AI tools such as OpenAI's ChatGPT for teaching and learning?
What motivates you to do your best at school?
What are some things you are looking forward to, and what are some things that concern you about this year at school?
What are the most important things you want to share about your school experience so far this year?
Graduates, what advice do you have to share with your younger classmates?
Make the most of student voice with ThoughtExchange
Whatever issues your district is facing—students are a critical part of the solution. And with the right student voice engagement platform, you can understand their needs and collaborate to create positive change in your district.
A comprehensive student voice platform helps education leaders tap into their students' collective intelligence—and find solutions that work.
"We're educating our students, not only on what [ThoughtExchange] is and how it's used, but on how important it is for them to give us feedback—and that the feedback isn't going to just sit on a shelf, we're going to act on it."
Dr. Rui Dionisio, Superintendent, Ramapo Indian Hills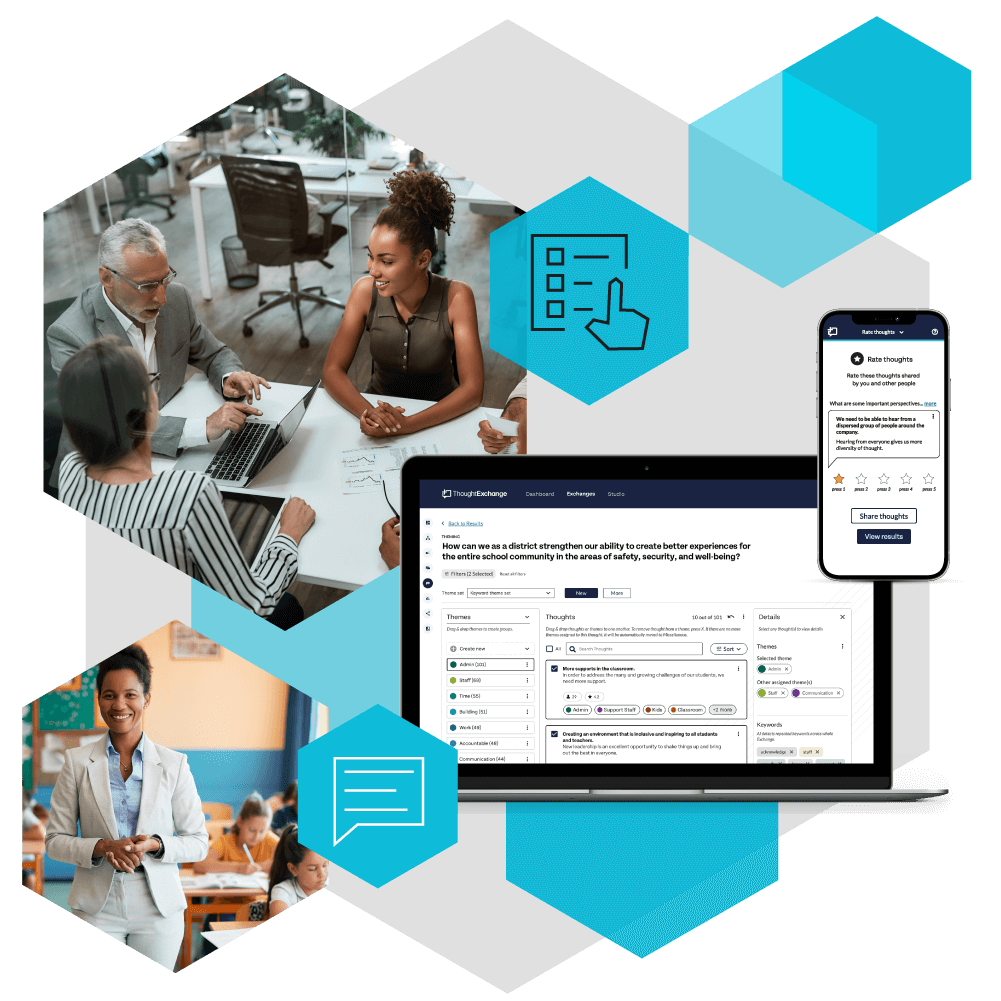 ThoughtExchange captures students' critical insights with comprehensive student voice software.
Find out how.