As of writing this, the Arnold Fitness Expo has been canceled. (A bummer for us meatheads.) So has Google I/O, Facebook F8, SXSW, and the Microsoft MVP Global Summit. (A bummer for us geeks.) Amid health concerns and major conventions closing up shop, it's not a good time to be an eager conference-goer.
Maybe it's about time to consider moving more events online. Virtual events are quick, cheap, and green in terms of logistics–and, in a nutshell, simply more convenient. (Ever try to attend a face-to-face conference without putting pants on? Now there's an expo nobody signed up for.)
Yet despite the upsides, virtual events have gained a bad rap for being unengaging and, ironically, a disconnecting experience for presenters and attendees. (People even cringe when they hear the word "webinar." See for yourself. Sneak up behind someone and say it.)
Ann Handley, bestselling author and marketeur extraordinaire, likens webinars to: "When I used to stage musicals in front of my dresser mirror in my childhood bedroom." She continues: "You never really know what resonates, or what doesn't. You can't see anyone raising their phone to take a photo of a slide. You can't see faces nodding or smiling or perplexed or yawning."
You don't have to read between the lines to see the challenge in marketing an experience described like that. But when you do read between the lines, it begs the question: What if it's not a format problem, but an engagement problem?
Engagement becomes a problem when we feel as though our attendance makes no difference either way. (Raise your hand if you've spent a webinar checking email and scrolling Instagram–perhaps even left the room to check on the laundry–and felt you weren't missed at all.)
It's also a problem ThoughtExchange can help with.
Moving from Q&A to FAQ&A
Imagine this: 50 of your attendees register with the same thought or question in mind. Sadly, it doesn't get aired because the Q&A (usually a "first to the buzzer" or "luck of the draw" format) is spent answering one-off questions until the clock runs out. That's 50 attendees who feel they missed out on the most important thing they could've gotten from the event. (Sad trombone.)
What's a presenter to do? With ThoughtExchange, you can uncover and prioritize common questions, letting presenters and panelists focus on doing what they do best: delivering content that's relevant and meaningful to the group.
Try using these questions as part of your next virtual event:
Planning: What are some challenges we need to consider as we work to achieve our 2020 goals?
Trends: What are some important trends to consider in the next 12 months?
Fears: What are some of your biggest fears and concerns about what we might face?
Insights: What are some takeaways or aha moments from this presentation we can incorporate into our work?
As a bonus, using ThoughtExchange as part of your virtual event will land you this kind of real feedback from attendees:
"It was my first virtual event and I love that it wasn't just a presentation. The fact that we could participate in a live exchange and immediately go through the results was very powerful. Thank you!"

"The "chat" style of the event is fantastic. So much more engaging than a regular "talk at you" presentation. Enjoyed the process of participating in the exchange during the event and having the speaker respond/react to the thoughts. SOOOO much more valuable as an attendee because it's not just the speaker's information, you're getting insights from the audience as well. Can't wait for the report and video to share with colleagues!"
Of course, your path to becoming a virtual event virtuoso doesn't have to end here. Tune in to our exclusive virtual event on hosting engaging and productive online meetings. Your team will thank you for it!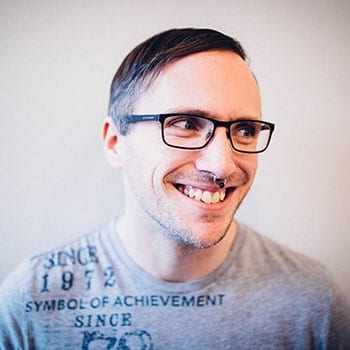 Joe Boland
An avid autodidact, Joe attributes much of his success to genuine curiosity and a staunch belief that nothing is impossible. With a passion for continuous education, Joe devotes himself to learning or discovering something new every single day. Joe's industry experience spans from volunteering with introducing seniors to technology, to helping the largest Fortune 100 and 500 companies tackle their greatest technical challenges. Most recently, he joined the ThoughtExchange team with the goal of helping people to build meaningful relationships of learning and growth. When he's not elbow-deep in technology, he can be found taking in a new and insightful audiobook, daydreaming, and working on his deadlift.