ThoughtExchange Ranks 9th of 100 Fastest Growing Companies in B.C.
Business in Vancouver's 2022 rankings recognize companies across the province that have shown remarkable growth over the past five years.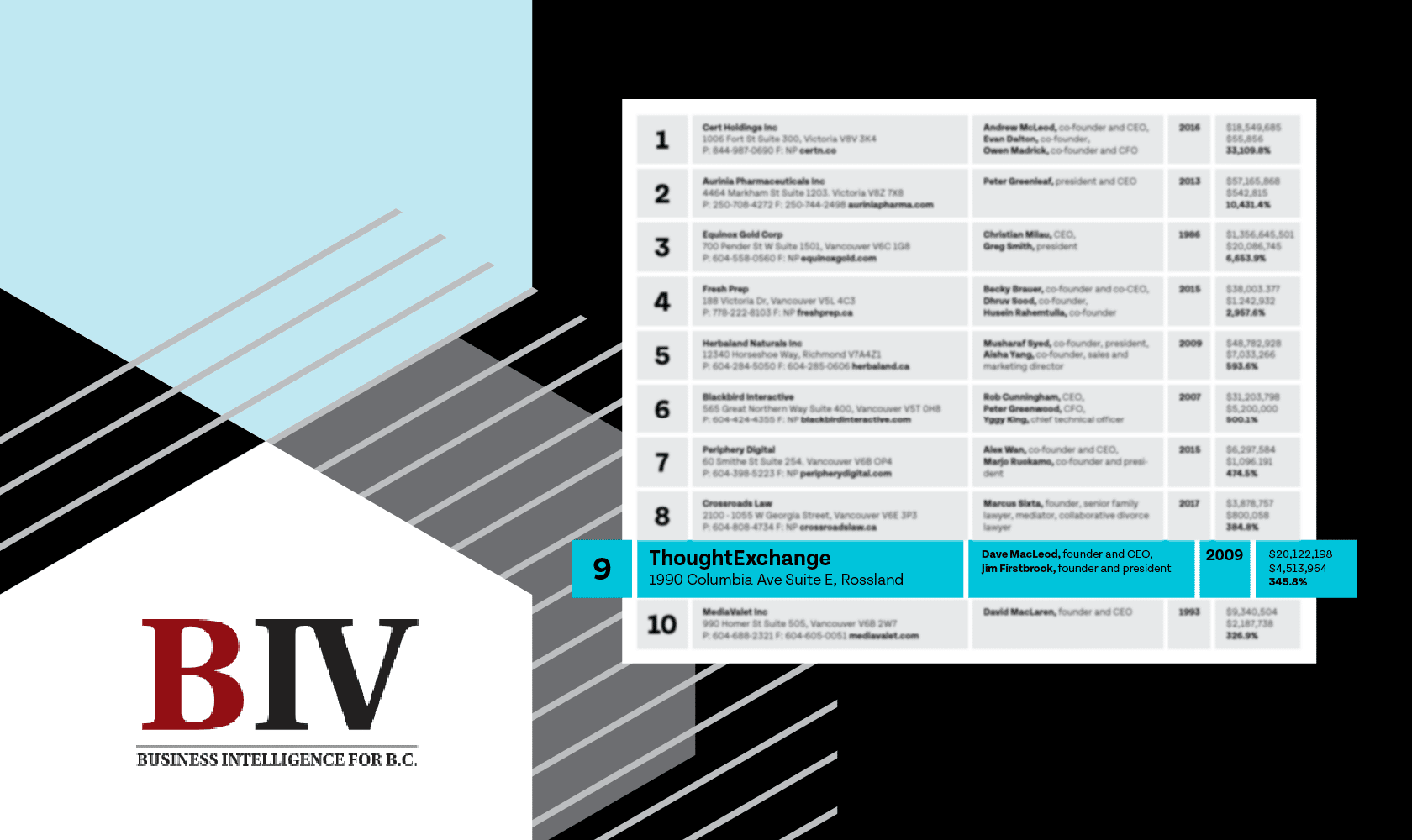 October 26, 2022 – VANCOUVER — ThoughtExchange, the only Enterprise Discussion Management platform powered by patented anti-bias technology, has been named on Business in Vancouver (BIV)'s Top 100 Fastest Growing Companies in B.C. 2022 list. This is the second consecutive year that ThoughtExchange has been on the annual list, taking the #9 spot in this year's rankings. The rankings are decided by calculating percentage growth in revenue between 2017 and 2021.
Past the pandemic, economic and market conditions have created a new climate of uncertainty for businesses and organizations worldwide, and leaders globally are increasingly seeking simple, efficient tools that help them navigate these ongoing challenges, while prioritizing employee voice and experience. Unlike traditional surveys, ThoughtExchange provides them the ability to gain instant insights from tens, hundreds, or thousands of people—without spending weeks or months making sense of the data. ThoughtExchange helps more leaders than ever reduce bias, raise all voices across organizations, and make better real-time decisions.
"I'm thrilled our ongoing growth trajectory is again reflected in this year's ranking, but this is still just the beginning," said ThoughtExchange's CEO Dave MacLeod. "As the world continues to unlock the benefits of using tech for good, our collective intelligence technology can only play a larger role in the shift, empowering more people across all industries toward better, elevated and equitable leadership."
Over the past 5 years ThoughtExchange has grown its revenue 479%, in parallel with a mainstream shift toward a distributed workforce, the rising market demand for collective intelligence technology, and a global understanding of the importance of inclusive and diverse conversations.
About ThoughtExchange
ThoughtExchange is the only Enterprise Discussion Management platform powered by patented anti-bias technology. The award-winning SaaS platform crowdsources information in real-time allowing leaders to make decisions based on the data gathered from those conversations.
Modern leaders use ThoughtExchange to quickly gain critical insights and improve decision-making. Whether you're engaging ten stakeholders or a community of 10,000 people, ThoughtExchange allows leaders to drive strategic discussions at scale. Unlike traditional surveys, respondents feel more comfortable answering questions candidly and our dynamic analytics make it simple for leaders to see which topics matter most. Today, ThoughtExchange's customers span school districts representing millions of students across North America, and large public and corporate organizations including GE Healthcare, SAP, WestJet, Cineplex, Logicalis and the City of Oakland.
About Business In Vancouver
Business in Vancouver provides local business information that helps readers and advertisers engage, interact and succeed. Since 1989, BIV has been part of Vancouver's business community providing useful information to help keep readers ahead of the competition. Ranked business lists of B.C.'s companies and the people who lead them provide insight into the biggest and most successful companies by industry. Business in Vancouver is published by BIV Media Group, a division of Glacier Media.