ThoughtExchange Named Top 100 Fastest Growing Company in B.C. for Third Consecutive Year
Tech Innovator Fortifies its Standing with AI-Driven Collective Intelligence and Engagement Solutions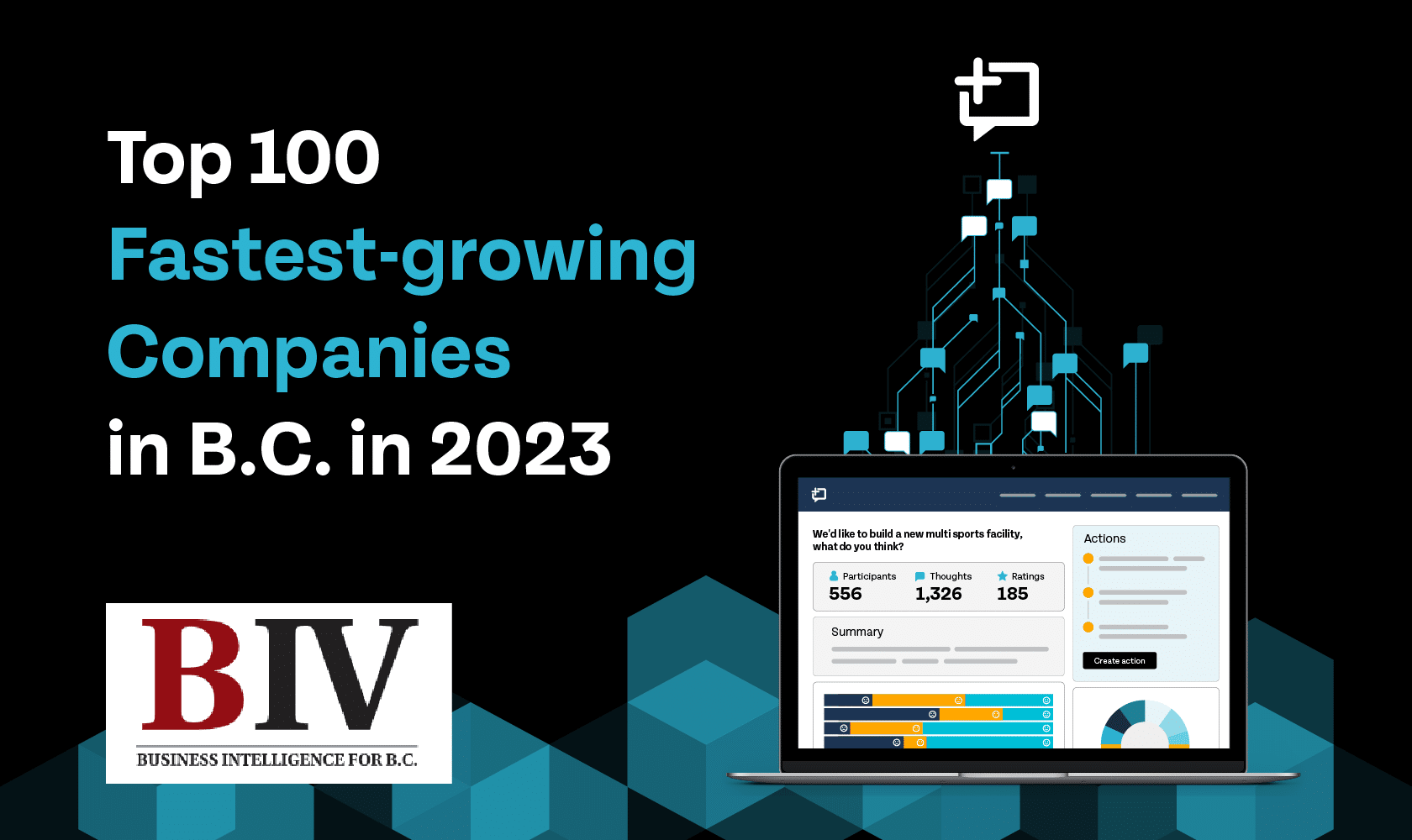 October 18, 2023 –Vancouver – ThoughtExchange, the all-in-one engagement and survey platform, has been named one of the Top 100 Fastest Growing Companies in B.C. in 2023, by Business in Vancouver (BIV.) This is the third consecutive year that ThoughtExchange has been on the annual list, solidifying its stance through pioneering AI-powered analysis and engagement solutions. The rankings are decided by calculating percentage growth in revenue between 2018 and 2022.
ThoughtExchange stands out as an innovator in engagement technology and problem-solving. Combining quantitative and qualitative functionalities with cutting-edge AI, the platform delves deeper than conventional systems, offering a profound understanding of data. ThoughtExchange's state-of-the-art tools provide real-time data analysis, empowering leaders with instantaneous insights. These insights facilitate the discovery of common ground, allowing for tailored communication, effortless data sharing through summaries and reports, and actionable steps guided by the collected data and insights.
"We're thrilled to be recognized amongst the region's most rapidly growing companies for the third consecutive year," said ThoughtExchange co-founder and CEO Dave MacLeod. "Our continued growth stems from our unwavering commitment to delivering innovative AI-powered solutions that drive change and transform how organizations engage with stakeholders, ensuring we provide exactly what our customers need to thrive."
Over the past five years, ThoughtExchange's revenue has surged by 585%, with its customer base more than tripling as organizations prioritize enhancing their decision-making process and encourage inclusive problem-solving.
ThoughtExchange is also ranked one of Canada's Top Growing Companies for an impressive fourth year in 2023. Launched by The Globe and Mail in 2019, the program ranks participating private and public Canadian businesses by three-year revenue growth.
About ThoughtExchange
ThoughtExchange is the all-in-one engagement & survey platform. The award-winning SaaS platform equips leaders with more powerful insights and better outcomes. Get both nuanced qualitative and robust quantitative data with instant in-depth analysis—in one platform. ThoughtExchange takes weeks off of your engagement processes by enabling nuanced engagement with groups of 10 to 10,000+. Access and analyze all of your data in one place, so you understand and address what's most important to everyone. Today, ThoughtExchange's customers span school districts representing millions of students across North America, and large public and corporate organizations.
About Business in Vancouver
Business in Vancouver provides local business information that helps readers and advertisers engage, interact and succeed. Since 1989, BIV has been part of Vancouver's business community providing useful information to help keep readers ahead of the competition. Ranked business lists of B.C.'s companies and the people who lead them provide insight into the biggest and most successful companies by industry. Business in Vancouver is published by BIV Media Group, a division of Glacier Media.