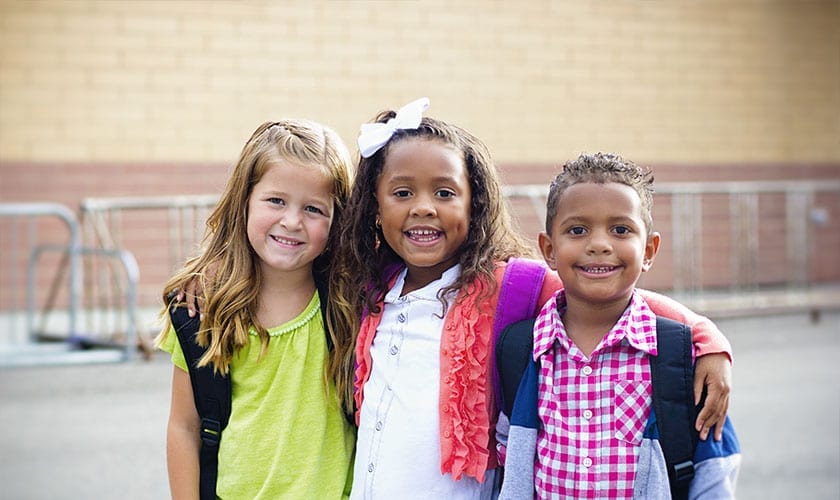 Getting beyond emotional reactions to talk about community solutions
---
Like every school district, safety and security are always key priorities for California's Mountain View Whisman School District (MVWSD). But after the recent school shootings in various locations across the country and subsequent national protest, safety became top of mind in their community.
"After Parkland, we started receiving emails from our community about needing to build walls around our schools and put fences up, to arm teachers, and increase support for mental health," says MVWSD Superintendent, Dr. Ayindé Rudolph.
Dr. Rudolph and his team decided they needed to have a community town hall meeting to talk about safety and learn what changes people needed to feel secure again in their schools. And, as MVWSD Public Information Officer Shelly Hausman notes, productive conversations on such an emotionally charged topic can be hard to facilitate.
"Sometimes it's difficult to have a conversation about solutions or future plans when many of us are still reacting to some of the things we've heard in the news about incidents in other places," Hausman explains.
Having partnered with ThoughtExchange for several important community conversations in the past, the MVWSD team decided to launch an exchange that let the community share and collectively prioritize their concerns in a safe, online space before the town hall meeting.
A richer, more productive conversation
"We didn't want to start the meeting without any kind of background," Hausman says. "With ThoughtExchange, we were able to ask them about their concerns and ideas around school safety. Then we could develop the questions for our panelists to start with, using the information we got from our exchange."
MVWSD worked with the ThoughtExchange team to plan a network discussion using ThoughtExchange software (an "exchange"). Everyone in the community with an online device could confidentially share and rate thoughts on a single, open-ended question: "What are some important things for us to consider as we work to ensure our schools are safe places for all students to learn?"
"We are able to capture more voices through ThoughtExchange, so it's a more robust conversation online," Hausman points out. "When we see trends, it helps us inform the meeting we're going to have because it will show us what's on the top of people's minds."
MVWSD wanted to include the voices of their middle school students along with adults in the exchange. At the same time, they didn't want to expose students or other community members to perspectives that could increase concerns or fears. So the ThoughtExchange team helped create moderation criteria that would enable an open but civil dialogue.
From the 900 people who participated in their school safety exchange, MVWSD discovered a number of common themes around community concerns, such as: facilities, student connection to schools, mental health, and planning requirements.
"Having that information going into the community meeting made the discussion richer because we were able to see those right off the bat," Hausman explains.
"It became a very powerful moment for us in our district, and it really opened the conversation for us to talk about safety in a very safe venue. ThoughtExchange helped us get past the initial emotional reaction and really talk about solutions."Dr. Ayindé Rudolph, Superintendent
A powerful moment for the district
"If we hadn't used ThoughtExchange, we would not have been able to start the discussion at a place I think is very productive," Hausman says. "We would have had to start somewhere more general: taking the temperature of the room, finding out what people were concerned about and then trying to address our speaking points right there."
Dr. Rudolph says the exchange also helped them see differences between what was important to parents and what mattered most to students. For example, while parents shared concerns about their kids doing safety training, the exchange showed it was a priority for middle school students.
"It became a very powerful moment for us in our district, and it really opened the conversation for us to talk about safety in a very safe venue," Dr. Rudolph notes. "ThoughtExchange helped us get past the initial emotional reaction and really talk about solutions."
"We were able to get a lot more and differing opinions about topics," adds Hausman. "And that equals action steps and planning that are much more well informed. When we reference our exchange results, we know we have covered the community in a much better way than we have in the past."
---
ThoughtExchange provides software solutions that bring people together, build trust and make progress on important topics. Whether it's employees, customers or whole communities, our solutions effortlessly connect you to your stakeholders. People can confidentially and independently share their thoughts, appreciate other points of view and understand how their perspectives are connected to decisions. Our patent-pending data analysis gives you the insights to make informed decisions and take action.
CHALLENGES
Facilitate a productive community conversation on an emotionally charged topic

Find solutions and develop a plan to help the community move forward on the issue of school safety
SOLUTIONS
A community-wide exchange that created a safe space for people to share and prioritize each other's thoughts to reveal common concerns

An online, interactive communication channel that included a broader, more diverse group of people
RESULTS
A community meeting that quickly moved beyond emotion to focus on solutions

An action plan that's better informed and more broadly supported in the community

Industry:
K12 Public Education
Location:
New York
Size:
5,200 Students
Use Case:
District Planning Communications