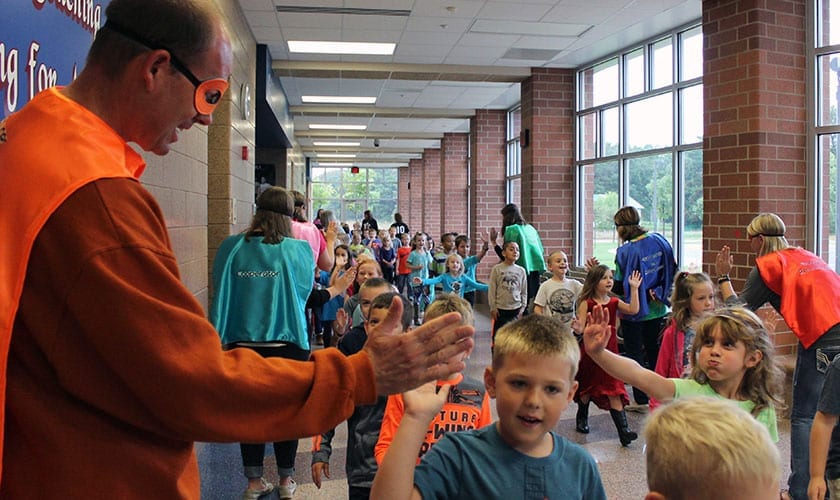 North Branch Area Public Schools – Passing a Bond After 15 Years of No
---
Because they knew people were familiar with ThoughtExchange and felt good about engaging in the process, they saw an exchange as a great way to get their information out to the community and also hear any thoughts or questions they might have.
"We thought people would pay attention to that email," says North Branch community relations coordinator, Patrick Tepoorten. "In fact, they did. We used ThoughtExchange to roll out our initial communications, and ThoughtExchange allowed us to receive people's feedback and tailor our follow-up communications to make sure we addressed things people felt were lacking."
The North Branch team adds that ThoughtExchange helped them reach more people in their community by creating a conversation that was both confidential and convenient.
"ThoughtExchange had an immediate impact because people felt they could communicate with us in a way that was transparent and confidential," says. Dr. Henton.
"And without having to leave the comfort of their homes," adds Randi Johnson, Director of Finance and Human Resources. "We could communicate with them, give them information and they could give it right back to us—on their schedule, at their convenience. That was kind of a breakthrough for us in communication with folks who don't have time to come to meetings."
Spreading the message
Superintendent Dr. Deb Henton and her team at North Branch Area Public Schools in Minnesota can hardly contain their emotions when they recall how it felt to recently pass all three questions on their facilities bond referendum by significant margins.
The fact that they hadn't previously passed a bond for 15 years and failed eight operational referendums in that time makes their success that much more substantial. They worked hard to overcome an entrenched culture of mistrust in a community of people who are often too busy to attend meetings and partnered with ThoughtExchange® to help make it happen.
After doing a lot of work in previous years to improve communications and build trust in the community, the North Branch team began creating their new bond referendum package in 2013.
Dr. Henton discovered ThoughtExchange in 2015 and saw it as a great tool for continuing to build trust with the community. She and her team did a broad-based exchange in the lead-up to their 2016 bond referendum. Though that referendum failed by 125 votes, they saw that small margin of failure as a relative victory and decided to immediately begin working on another referendum that would build on their momentum.
Using data they got from their first exchange and input from a bond study group, Dr. Henton and her team honed in on three questions they felt confident the community would support and created materials to provide information about the referendum to the community.
"ThoughtExchange had an immediate impact because people felt they could communicate with us in a way that was transparent and confidential."Dr. Deb Henton
A stunning victory
The results of their exchange both helped the North Branch team anticipate community questions up front and gave them increased confidence that helped build momentum.
"When you run a campaign like this, you are often flying blind, and you almost always get so many questions you didn't anticipate," says Tepoorten. "ThoughtExchange helped us learn, straight from people's frontal cortex, what those questions would be. So we felt better prepared to address those concerns when they came up.
"The exchange also let us know we were on the right track. It helped us put together a referendum people felt very positive about. We knew we had three good questions, so we were really able to go full speed ahead with confidence."
Their efforts paid off in May 2017, when North Branch easily passed all three of their bond questions by healthy margins, including: 68 percent in favor of facilities repair and improvement, 55 percent supporting expansion of middle and high school athletic facilities, and 59 percent voting to upgrade classroom technology.
"It was an emotional victory for us," Dr. Henton says. "In my time as an administrator, I can't think of another district in our state that has passed all three questions, especially one that has struggled with elections in the past. It was a stunning victory."
"We feel like we've participated in creating a legacy for the school district," adds Tepoorten. "And that's a powerful feeling."
---
ThoughtExchange provides software solutions that bring people together, build trust and make progress on important topics. Whether it's employees, customers or whole communities, our solutions effortlessly connect you to your stakeholders. People can confidentially and independently share their thoughts, appreciate other points of view and understand how their perspectives are connected to decisions. Our patent-pending data analysis gives you the insights to make informed decisions and take action.
CHALLENGE
Overcome an entrenched culture of mistrust

Communicate with a busy community of commuters

Pass the first facilities bond in 15 years
SOLUTION
A broad-based exchange to discover concerns and appreciations

An exchange designed to distribute and gather feedback on bond information
RESULTS
Up-front insights into potential community questions

Increased confidence from positive feedback

Passed all three questions with significant margins

Industry:
K12 Public Education
Location:
New York
Size:
5,200 Students
Use Case:
District Planning Communications