5 Ways to Make Onboarding Effective for New Leaders
As recruiting talented employees becomes more and more complex (see: the Mass Exodus of 2021), an effective onboarding experience has never been more important. When it comes to hiring people for your senior leadership team, this is even more crucial. Senior leaders and executives come with considerably higher visibility and pay grades — something that's significant when the average cost to replace any employee is one-half to two times the employee's annual salary.
With 31 percent of new employees most likely to leave within the first six months, creating and implementing an onboarding program for leaders needs to be a priority for all organizations. Continue reading to discover how to maximize new leaders' success with our five proven tips.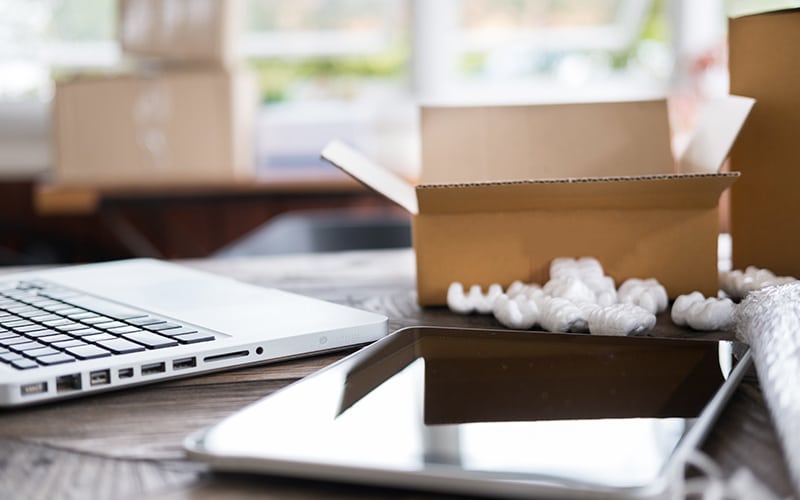 → See how ThoughtExchange can Accelerate your New Leader Onboarding
1. Start the Onboarding Process Before Day One
When a new leader is hired, one of their main objectives is to create value for the business as soon as possible. To do this successfully, the onboarding process needs to start long before their first day on the job.
A study conducted by Egon Zehdner found that most senior leaders indicated that it took six months or more to reach full impact in their role. Not only that, but the survey discovered that the more senior the leader, the longer it takes to fully assimilate into the organization and their role. With that in mind, new leaders must begin their official onboarding experience as soon as they've signed their contract.
Once this is done, HR teams and the new leader's manager(s) can begin providing the new hire with important documentation, business resources, and organizational information, as well as any technical equipment they need (such as computers, monitors, etc.).
Here, it's also important to ensure the IT team has provided the new hire with any instructions regarding setting up their technology, passwords, or other IT security processes. When the new hire is all set up and able to prepare and catch up on business information, data, and knowledge prior to officially starting, they're able to jump into their role and work right away without wasting any time on simply getting up to speed or setting up their workspace.
In addition to the logistical components of onboarding a new executive, there are cultural factors to consider. A new leader is likely joining a fully-fledged team with several new reports to manage. According to the Harvard Business Review, around 57 percent of senior executives found fitting in socially to be one of their biggest challenges in a new role. To connect with a new team, it's important for new leaders to get to know their team and their pain points before the first day. We'll show you exactly how to do this later on in this post.
2. Communication is Key for Effective Onboarding in a Hybrid and Virtual World
Onboarding isn't a "set it and forget it" kind of process — especially in a hybrid or virtual workplace. Unfortunately, only 17 percent of leaders interviewed by the Harvard Business Review indicated that their organizations had developed systems for onboarding new leaders in hybrid work environments.
Nothing is more important in a hybrid and virtual workplace than good communication. Without it, both your new leader and their team will experience confusion, disconnection, and a lack of direction.
To ensure expectations are clear, senior executives need to be involved in onboarding new leaders. They must continually communicate what the role involves, how to achieve success in the position, plus discuss management styles, communications preferences, and the decision-making process.
While in the past, new leaders were able to learn directly from their senior managers through face-to-face chats, impromptu check-ins, shadowing, or working lunches, a hybrid and virtual workplace structure means this needs to be a dedicated and conscious effort. Managers or directors of leaders and executives must set aside time to regularly check in with their new team members, whether in structured one-on-ones or casual afternoon virtual coffee chats.
When it comes to connecting with their team and the rest of the organization, it's important that the new leader is a part of all appropriate communications channels. They need to be included in relevant Slack messages, virtual groups, and online collaboration tools — plus taught how the company uses such communications methods.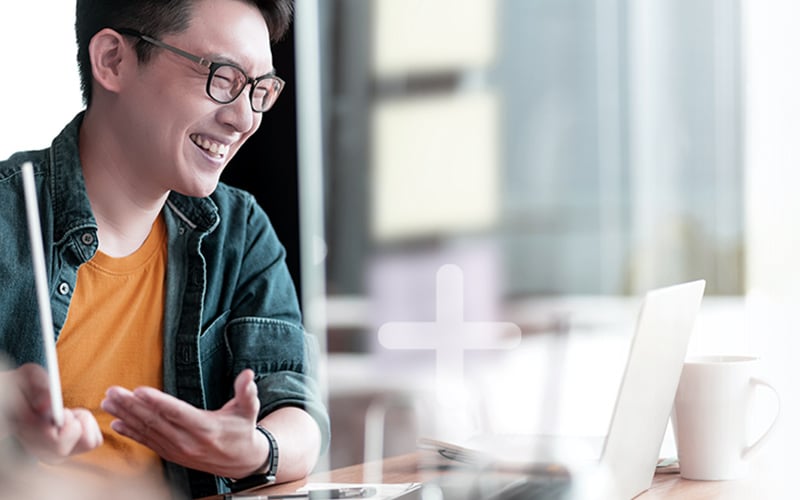 To build trust and create a healthy working environment, the newest member of the leadership team should be involved in communications efforts that focus on getting to know their peers and employees (and inviting others to get to know them). Joining lighter, fun, and non work-related Slack channels or participating in virtual happy hours and online extracurriculars is a great way to integrate themselves into the company culture when in-person events aren't possible.
3. Create and Share Documentation that Aligns with Leaders' Goals
An effective onboarding process requires a proven structure to encourage consistency and success for any new leader. It's crucial that organizations create the groundwork so that there's little to no ambiguity when it comes to the new hire's goals, roles, and responsibilities.
Create a clear path to success for new executives by cooperating in developing and sharing documents that support every stage of the onboarding plan. Rather than simply dumping a high volume of documents and reports in the new team member's inbox all at once, it's more effective to provide such information in a strategic and slow-release manner.
For example, there could be specific documents prepared for week one of the new leader's job, their 30 day check-in, 60 days in, and 90 days in.
Let's take a look at what this might involve.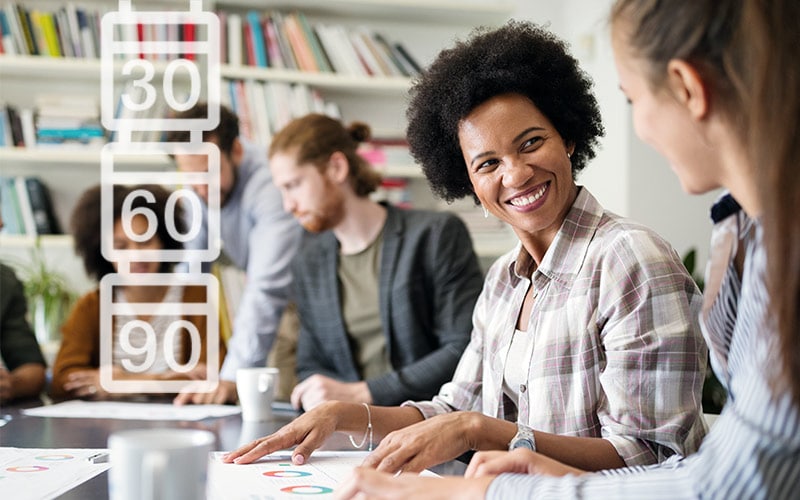 Week one
During the new executive's first week, they could be asked to think about and create a document outlining their 30-60-90 day plan. Here, they'd write down their main goals and their goals for their team, plus how they plan to achieve said objectives. They would include timelines for each set of goals and a description of what success would look like for them.
With this, it's important to keep in mind that it can be difficult for a new member of the leadership team to establish a set of goals when they aren't 100 percent familiar with the company's objectives or overall targets. It's up to the HR team and the leader's managers to provide any appropriate documentation and data that will help inform their goal-setting initiatives. This could include organizational charts, strategy and project documentation, and general company culture presentations.
30 days
After 30 days, the new executive may be ready to start diving deeper into their role. They may have set goals surrounding budgeting issues or cost-savings for their department or started seeking out ways to conserve other resources.
This is when they're able to receive information and data that's a bit more detailed, such as financial reports and forecasting analysis documents. As providing them with countless pages of context-less reports or stacks of old results can do more harm than good, it's important to let them know what documents are most valuable to them and their role so they can prioritize their time most effectively.
60 days
Once they've been on the job for two months, the organization's new executive will be expanding their company and product knowledge through multiple information streams.
While their first month might have been more focused on high-level and general information and documentation, the second month gives them a chance to dig deeper into the areas of the business that are relevant to their own goals.
For example, if the new executive is a Director of Sales they may want to meet with the Public Relations Team to discuss PR events that have positively (and negatively) impacted revenue.
With this in mind, it's important that HR teams encourage members of different departments to create documents or info packets that can help new employees understand their team's position and contributions to the business.
While it could be overwhelming for a new leader to try and get detailed information about each department across the organization right away, by having these dedicated resources created for onboarding, the new leaders are able to learn about other teams as they relate to their own goals and objectives.
90 days
After three months, a new leader is usually ready to focus more heavily on their team's development. While the new executive might have felt that they didn't have the time or attention to properly foster their team's growth during their first week or month, they're usually more than ready by the third month.
They've completed the basic learnings required for their integration and are finally ready to turn their attention outward. This is when they can focus on their management-specific goals, such as aiming to lead a high-performing team.
Around the 90-day mark, the organization's HR team could provide any documentation that relates to managing and supporting a team of employees. This might be formal leadership training documents, a company handbook on building and managing effective teams, or any other resource that concentrates on fostering talent within the organization.
4. Schedule in Critical Introductions with Key Team Members
Building relationships across the organization is one of the most important parts of the onboarding process for new leaders. Whether the onboarding experience is conducted in-person, virtually, or both, new executives must identify, understand, and make connections with key stakeholders and team members across the business.
Before an HR team simply sets up meetings between the new leader and others in the business based on their own understanding of the organization's structure, they should crowdsource and confirm which individuals are actually important to meet.
Once they've established the key points of contact in the business, they must determine the priority of meetings. For example, it would be extremely important for a new Creative Director to meet the business' existing Marketing Director, but perhaps less important for them to meet the company's Head Accountant or IT Specialist.
Once the HR team knows who the new leader should meet — and when — they should reach out and ensure they understand the meeting's objectives, the new leader's roles and responsibilities, and how they will be working with their new colleague.
5. Use the Right Tools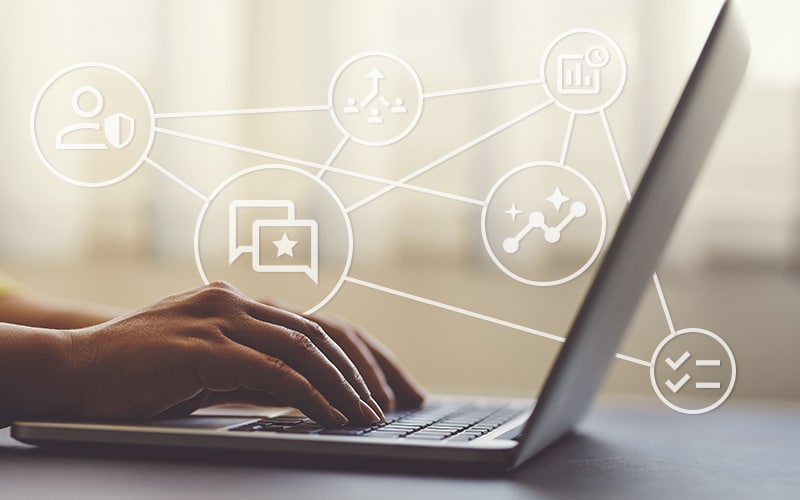 Adopting new technology and tools can streamline the onboarding process for all new leaders. These tools can help accelerate learning, maintain momentum, and make leader onboarding more effective than ever.
As mentioned above, it's important to start the onboarding process before the new leader's first day on the job. While setting them up with any necessary hardware and legal documents before day one is essential, understanding their team's priorities before they've officially started gives them a massive head start. A tool like ThoughtExchange is made for exactly this purpose.
With ThoughtExchange, a team can participate in an Exchange prior to their new leader starting. The new leader can ask questions (facilitated through the HR department if necessary) and receive unbiased feedback directly from their new team. Instead of having to connect in a number of 1:1 meetings to understand each individual team member's thoughts, pain points, and priorities, the new leader is immediately privy to the issues most important to the team as a whole. These time-saving insights are incredibly valuable, allowing the new leader to get up to speed as quickly and smoothly as possible.
Once the leader has started, regular and ongoing Exchanges over their first few months help keep them on track and alert to any changes that might have occurred. They can gather honest, collective feedback and pulse-checks from their team, while benefiting from anti-bias software, which allows them to understand challenges and opportunities swiftly — plus build trust and connections.
Effective onboarding for leaders has long been a pain point for many organizations. With so much at stake, many businesses miss the mark when it comes to setting new executives up for success. With the tips and guidance above, organizations can help new leaders become valuable and impactful members of the business as quickly and effectively as possible.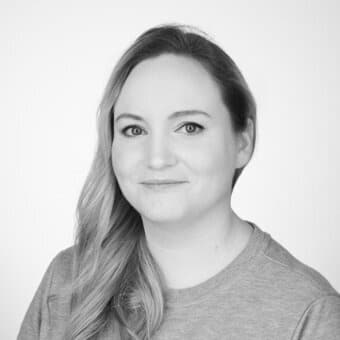 Dara Fontein
Dara is a copywriter and content creator born, raised, and currently based in Vancouver, British Columbia. She's written for companies including Hootsuite, lululemon, Article, and ThoughtExchange. When not playing around with words, Dara can be found updating her cat's Instagram account and wandering the aisles of home decor stores.