Over the next decade, Boomers will retire, Millennials will enter executive-level roles, and Generation Z—or Gen Z—will make up one-third of the workforce. Being the most populous generation' with over 60 million members in the United States alone, Gen Z will eventually become the most influential group in the workplace.
In 2019, the first graduating class of Gen Z entered the workforce. Born after the mid-to-late 1990s, Gen Z is renowned for being outspoken, cause-driven digital natives. These characteristics—along with the fact that Gen Z is entering the workforce during a global pandemic and amid great social, political, and environmental unrest—mean that Gen Z is primed to disrupt the workplace more than any generation that came before it.
Smart employers are preparing for the workplace shifts that will need to occur to attract and retain Gen Z talent. To help uncover what makes this generation tick, ThoughtExchange conducted research on Gen Z at Work, connecting with Gen Z workers who are employed full-time in the United States. This blog post analyzes some of our findings.
How Gen Z is transforming the workplace
Gen Z is entering the workforce at an interesting time. COVID-19 stripped the workplace down to its operational necessities, moving many employees to remote or hybrid working environments. While missing out on many of the traditional social aspects of the workplace, Gen Zers have a unique advantage over older colleagues as they were born in a digital age.
Gen Zers don't remember a time before smartphones or social media. The median Gen Zer was two years old when Facebook launched, three when YouTube launched, and four when Apple released the first iPhone. They are in a unique position to reshape the workplace as it rebuilds. And they're already doing it.
Gen Z employees and work-life balance
As employees, Gen Zers challenge the status quo when it comes to work-life balance. Any remnants of the pre-pandemic workplace that don't add value will likely never return as a result. For example, Gen Zers push back against the traditional 9-to-5 workday and the live-to-work mentality of their predecessors—85 percent of respondents said work-life balance is an important factor in their decision-making criteria and
83 percent of respondents
said they currently have a good work-life balance.
Gen Z employees and corporate social responsibility
Personal values drive Gen Z behavior in the workplace more than any generation that came before it. Gen Zers typically embrace diversity, ethics, and political, social, and environmental activism—and this was backed up by our Gen Z at Work research.
And it's not all talk; Gen Zers walk the walk and vote with their feet. When we asked respondents what situations would make them leave their company, social issues, political differences, and workplace ethics were big factors in retaining Gen Z.
Gen Z employees and company tenure
While Millennials have a reputation for job-hopping, data shows that Gen Z can be far more loyal to the right employer. Almost two-thirds of respondents in our study said they plan to stay at their company for at least five years or indefinitely. And even those who expressed some dissatisfaction with their current role said they could be convinced to stay if offered the right circumstances, opportunities, and incentives.
The bottom line is that employers that can attract Gen Z workers—and keep them engaged and interested in their roles—stand to gain a values-driven, kind, loyal cohort with wizard-like digital skills that can help drive positive change and great business outcomes.
To meet Gen Z's high expectations, employers should revisit and revamp several traditional aspects of employee acquisition:
Gen Z is widely known as the most indebted generation in history, and our report held this up. Money matters to Gen Zers. Most of our respondents say their debt status makes them more likely to compromise on benefits, mentorship, and/or growth opportunities when looking for a job.
Organizations that provide fair wages or signing bonuses to reward employees who invested in their education stand to gain an advantage in hiring and retaining Gen Z. But beyond that, organizations must take a hard look at their pay structures and conscious and unconscious biases to close the pay gap that exists for women and people of color in the workplace.
Workplace perks and benefits are often so sought after that members of Gen Z are willing to take a pay cut to have these needs met. But Foosball tables and couches won't cut it—the top perks that Gen Zers look for are much more practical, including perks around time off and wellness.
When it comes to workplace benefits, things such as fitness perks and healthcare, alternative wellness, and dental insurance are more likely to appeal to Gen Z than meaningless perks. So long, Foosball.
During the early days of the pandemic-related remote work, leaders voiced concerns about how to effectively onboard and retain new talent and maintain company culture. However, these concerns have proven to be largely void when faced by a generation raised on the internet.
While Gen Zers are eager to regain the freedoms lost during the pandemic, they are so happy with working from home that 71 percent of those that work on a remote or hybrid basis say they would not return to a fully in-person workplace in the future.
Employers should consider delivery or productivity-based contracts with Gen Zers, rather than demanding 40 hours per week of their time. Allow them to work anywhere and anytime and you will be more likely to attract them—and retain them for a longer-term.
Professional development and education
According to Deloitte
, Gen Z proactively seeks out learning opportunities to enhance skills and prefers to learn independently via online platforms, such as online tutorials. Organizations that focus on investment in skills and capability development are more attractive to the education-oriented Gen Z cohort.
How to retain Gen Z talent
Once you have Gen Zers on board, how do you keep them? Here are a couple of our tips from the Gen Z at Work report:
Gen Z truly values career growth and personal development, and value having a manager that cares about their personal development as much as their professional development.
Gen Z employees get bored easily so it's wise to provide diversity in their roles. Our study shows they prefer a job that allows them to explore and grow various skillsets, rather than a job that is focused on a particular set of skills.
A key defining characteristic of Gen Z is the need to feel valued, included, and empowered at work. Growing up in highly polarizing times, this generation thrives in a workplace where they can make their voices heard.
Unsurprising to us at ThoughtExchange, people who do not feel heard at work were six times more likely than those who feel heard to say that they are already looking for a new job. The top reasons unheard workers aren't speaking up include lack of power, fear of career impact, and fear of discrimination or judgement.
Get to know Gen Z with Enterprise Discussion Management
Companies need to adapt their policies, processes, and technologies in order to recruit and retain the best new talent—but those who invest in Gen Z will be rewarded with long-term, dedicated employees who will hold them accountable and keep them relevant for decades to come.
The key to nurturing this new generation is to understand them. And the best way to understand them is to listen to them—all of them—with an interactive group discussion tool. An Enterprise Discussion Management (EDM) platform can help you do this. Powered by patented anti-bias technology, ThoughtExchange is a great example of EDM.
Modern leaders use ThoughtExchange to quickly gain critical insights about employees—including new Gen Z employees—and improve decision-making. Unlike traditional surveys, respondents feel more comfortable answering questions candidly via our platform. They're also able to read and rate each others' thoughts, so leaders know what matters most to this key demographic.
If you're interested in learning more about Gen Z at Work or ThoughtExchange, download our research report or reach out directly to our team.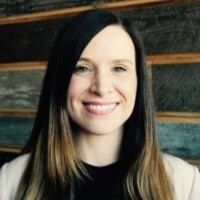 Catherine Daly
Originally from Dublin, Ireland, Catherine is a professional writer based in Vancouver, B.C. She holds a bachelor's degree in journalism (for passion), a master's degree in marketing (to pay the bills), and has over 15 years of experience working with big tech brands like Adobe, Hootsuite, HP, Oracle, PayPal, and ThoughtExchange.