When we meet with education leaders, a common goal is helping children build social-emotional skills that will set them up for success in school and life. Emotional intelligence isn't just a key ingredient in our ability to respond to change and crisis; it's also crucial for reducing bullying and risky behaviors, working with others, overcoming obstacles, and setting and achieving goals.  
With COVID-19 causing disruption of our daily routines and widespread school closures, developing effective ways to assess students' mental health and programs to address their needs is more important than ever. Education Week shared new research that shows "anxiety and depression…[has] affected more than 1 in 4 adolescents" since the beginning of the pandemic. They also found that Black, Latinx, low-income, and LGBTQ students "were also significantly more likely to report experiencing more problems in the wake of the pandemic." 
This means that decisions made around supporting student mental health have to take a diverse range of perspectives into account and not just apply a one-size-fits-all approach. Ensuring that your district has an accurate and agile picture of all your students' needs is vital to their well-being and success.
Determining what your students need and what will resonate with them can be a challenge. Trends change quickly in schools, and children and adolescents—especially from marginalized groups—can find it challenging to advocate for their needs in a public setting. 
Traditional feedback methods don't make it easy to get to their honest thoughts. Surveys offer a choice of pre-populated answers selected by adults, and special interests and the loudest parents often dominate town halls. Focus groups can gather more detailed feedback but won't accurately capture all the perspectives of an entire district's students.
Kids need a safe space to share in, one that assures them anonymity, allows them access to each other's thoughts, and provides a platform where their peers can rate their ideas without bias. An Exchange is a perfect way to explore the topic of mental health with students to get meaningful feedback and relevant results.
With the right open-ended questions, you can get your students thinking critically about the supports they need to get the most value from their time in school. By asking an open-ended question like, "What are some ways we can support safety and wellness for you and other students in your school?" administrators can discover the policies that students are finding most effective and the areas where their efforts are lacking. 
Allowing students to weigh in on the decisions made on their behalf means that the district's actions will have more support and be easier to implement. Students will feel heard, and leaders will get a prioritized list of their students' needs.
Although some leaders may feel apprehensive about giving students an anonymous platform to share their thoughts, we've seen countless examples of how powerful it can be. Recently, Dr. Teresa Lance, Assistant Superintendent of Equity and Innovation at Elgin U-46, used ThoughtExchange to get
student input
on their proposed African American Studies course curriculum. The valuable insights her students shared in the Exchange were critical to its development. When we asked her if she'd recommend this type of student engagement again, her answer was a resounding "Yes!"
We use adults to vet curriculum and resources, but we miss the student perspective in all of it. And we've got to do better. Building student agency, allowing students to have voice and ownership on what's in front of them, is crucial, and ThoughtExchange allows that opportunity on such a grand scale.
Superintendent of West Hawaii Complex Area,  Art Souza, understands how much impact an Exchange can have on students. One of his students, Kassie Tarpley, used ThoughtExchange for her
senior project on bullying
. The candid responses she collected from her fellow students not only earned her a high grade, but also influenced Hawaii's state policy on bullying in schools. Souza explains why one student Exchange was able to have such a big impact: 
"A lot of students won't go to teachers or principals to talk about bullying. But this was an opportunity to get their voice out to the administration."
It may seem obvious that students should have input on their schools' decisions about their mental health. But more often than not, districts rely on the expertise of adults when it comes to developing social-emotional supports and learning for children and adolescents. Re-imagining this process to include student input will ensure the programs put into place will get more support from students and be more effective in addressing their mental health and well-being needs.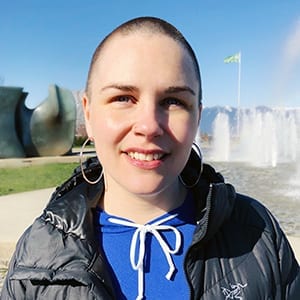 Meghan MacRae
Meghan was raised by an English teacher, thus she found a way to incorporate her instinct for grammar and spelling into her career. She honed her corporate writing skills in clothing companies and the music industry, and brings a passion for creativity and playful wordsmithing to her work at ThoughtExchange. When she's not crafting language that brings people together, she's reading a thesaurus, playing Uno with her kids, cooking and singing and dancing, and collecting vinyl and art.