ThoughtExchange for Education
Get better outcomes and save time with ThoughtExchange. Collect quantitative survey data and nuanced qualitative data with instant in-depth analysis—all in one platform. Whether your district needs complex core feedback or quick ad hoc data, we've got the solution.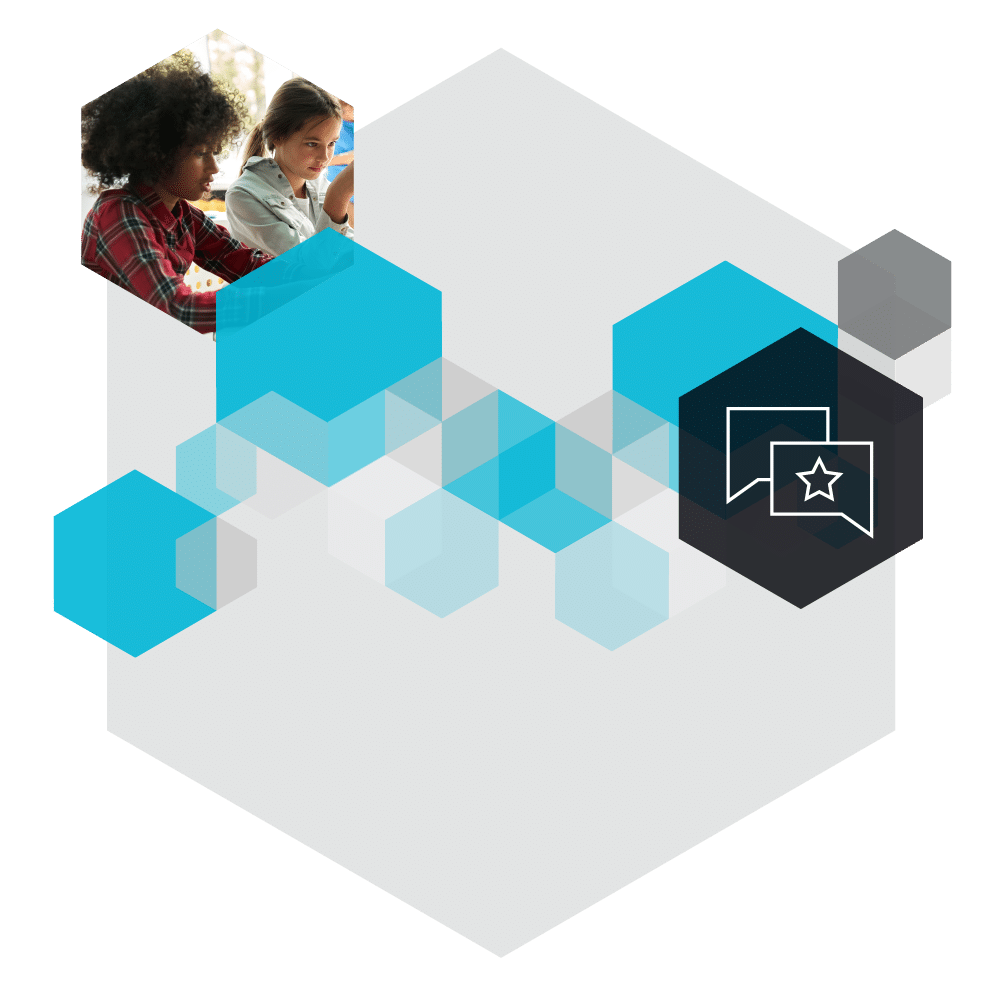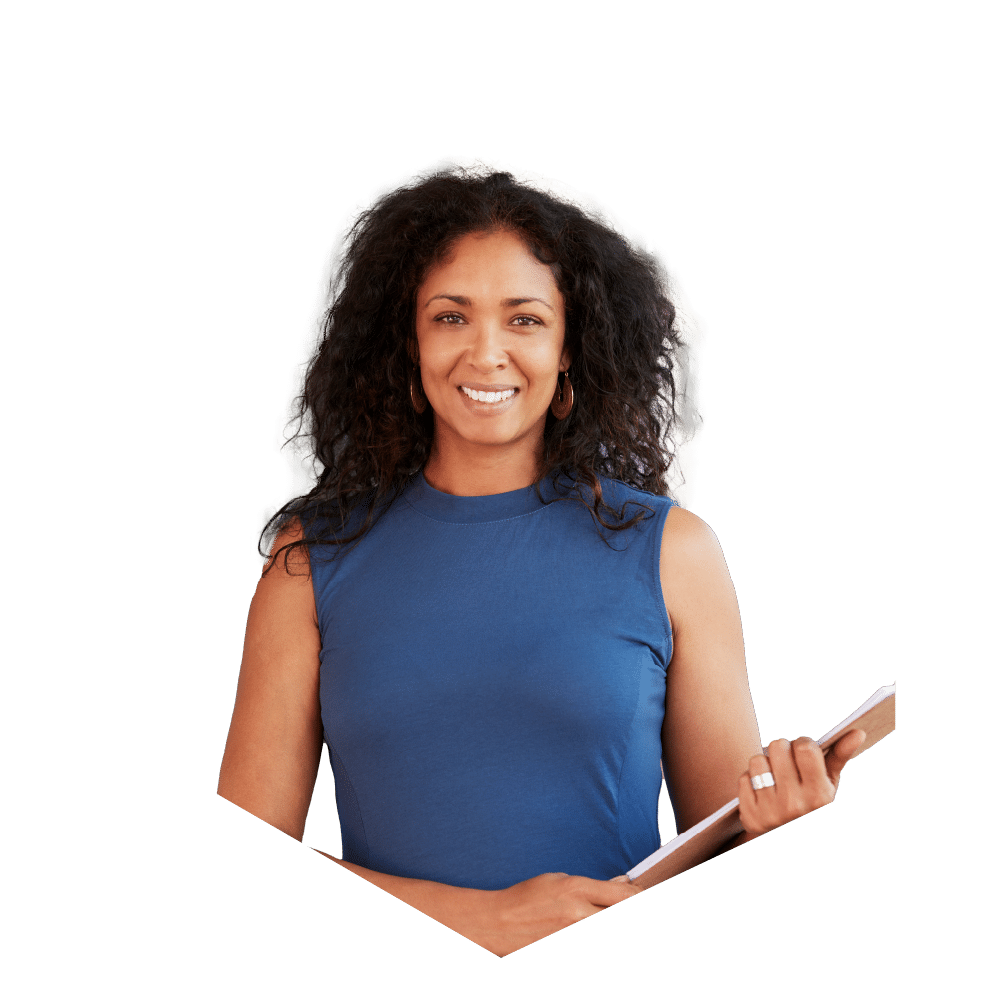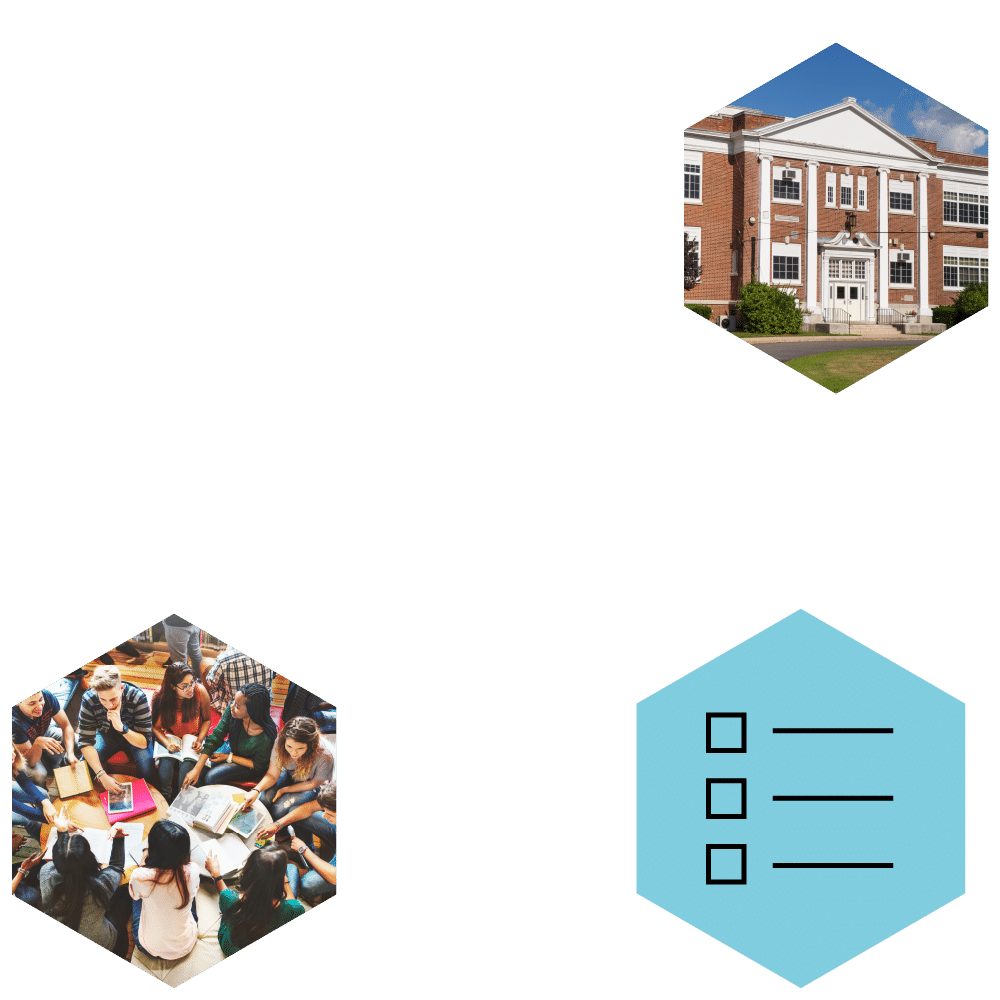 Trusted by leaders of the world's most advanced educational institutions.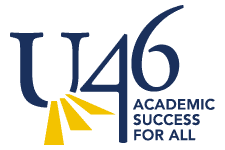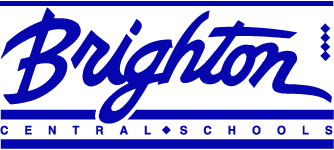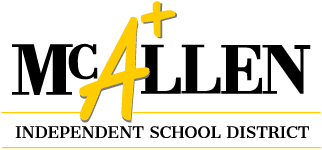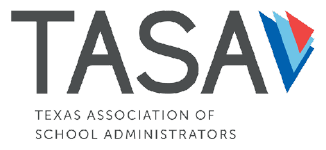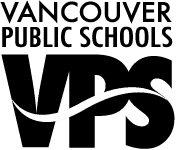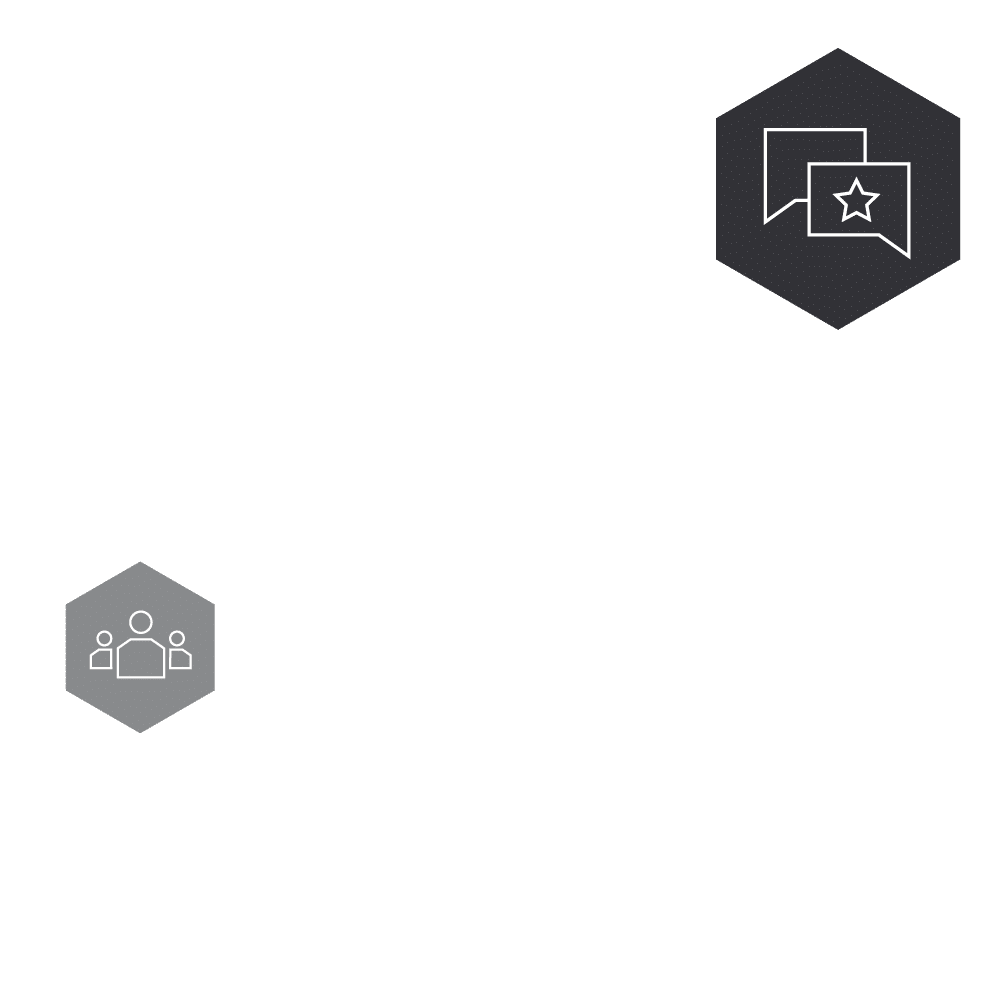 An award-winning platform for district decision-making
With so much riding on community support for district projects and funding, education leaders need a platform that will get them higher participation, more nuanced data, and better outcomes. ThoughtExchange makes it easy to gather input from hundreds or thousands of people to help you:
Build more support for bonds and levies
Save weeks on your climate surveys and data-crunching
Develop strategic plans with community support
Improve staff engagement for improved retention and experience
Why we're the best engagement platform for schools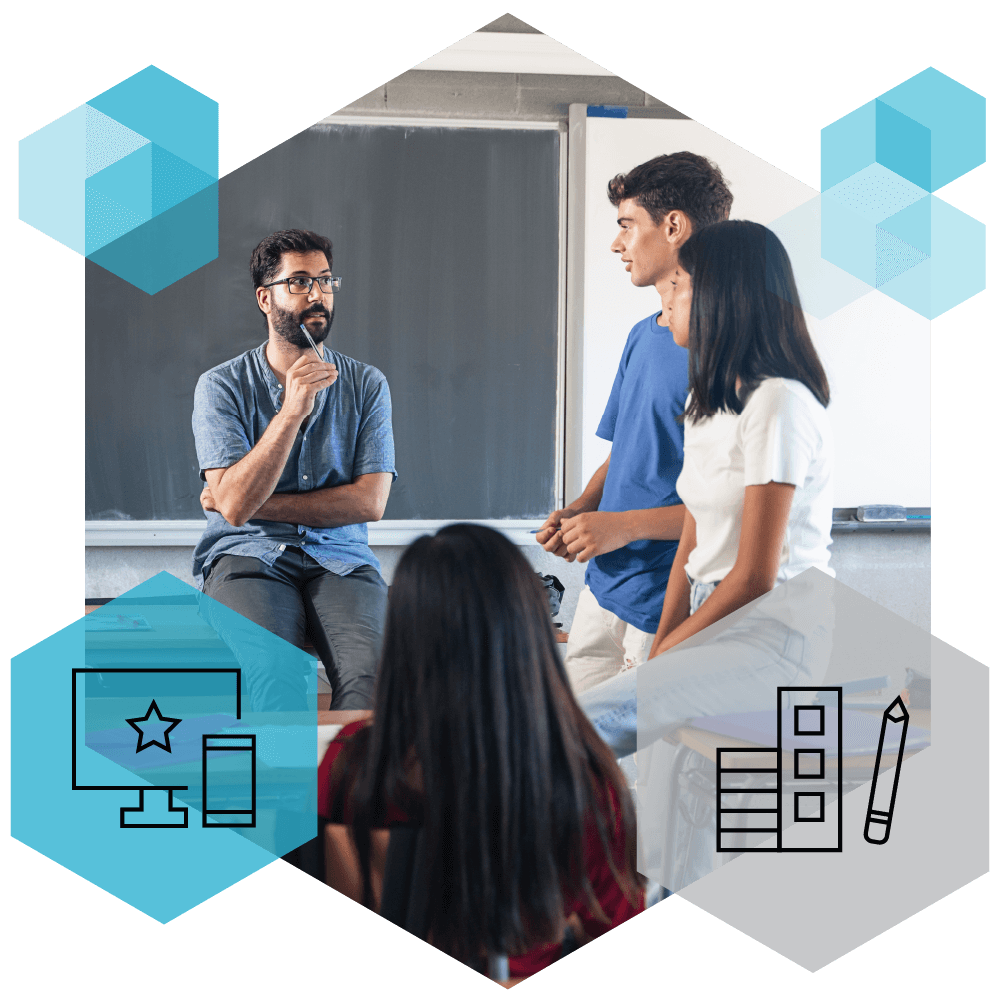 ThoughtExchange puts money back into the classroom
We believe identifying where your district needs investment shouldn't cost so much. ThoughtExchange provides a selection of quantitative and qualitative engagement methods and instant advanced data analysis all in one platform, so districts can save money by consolidating their engagement tools.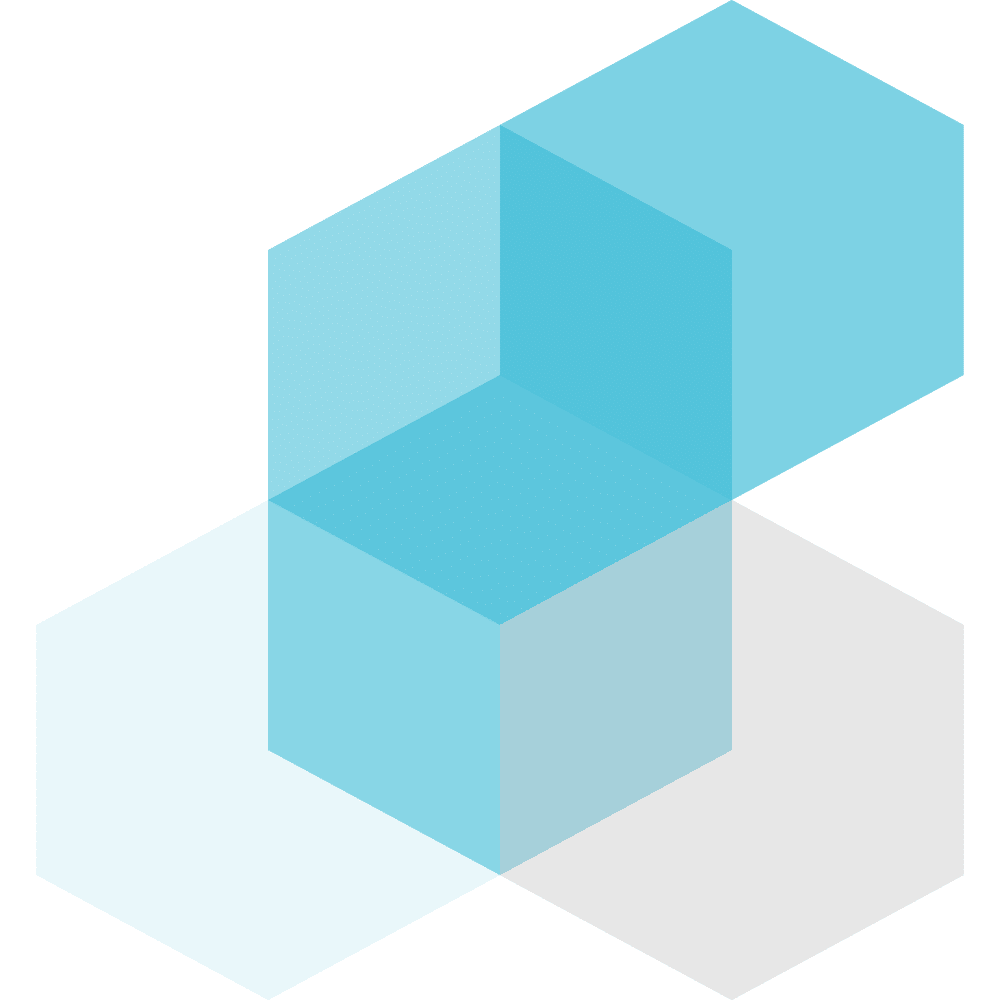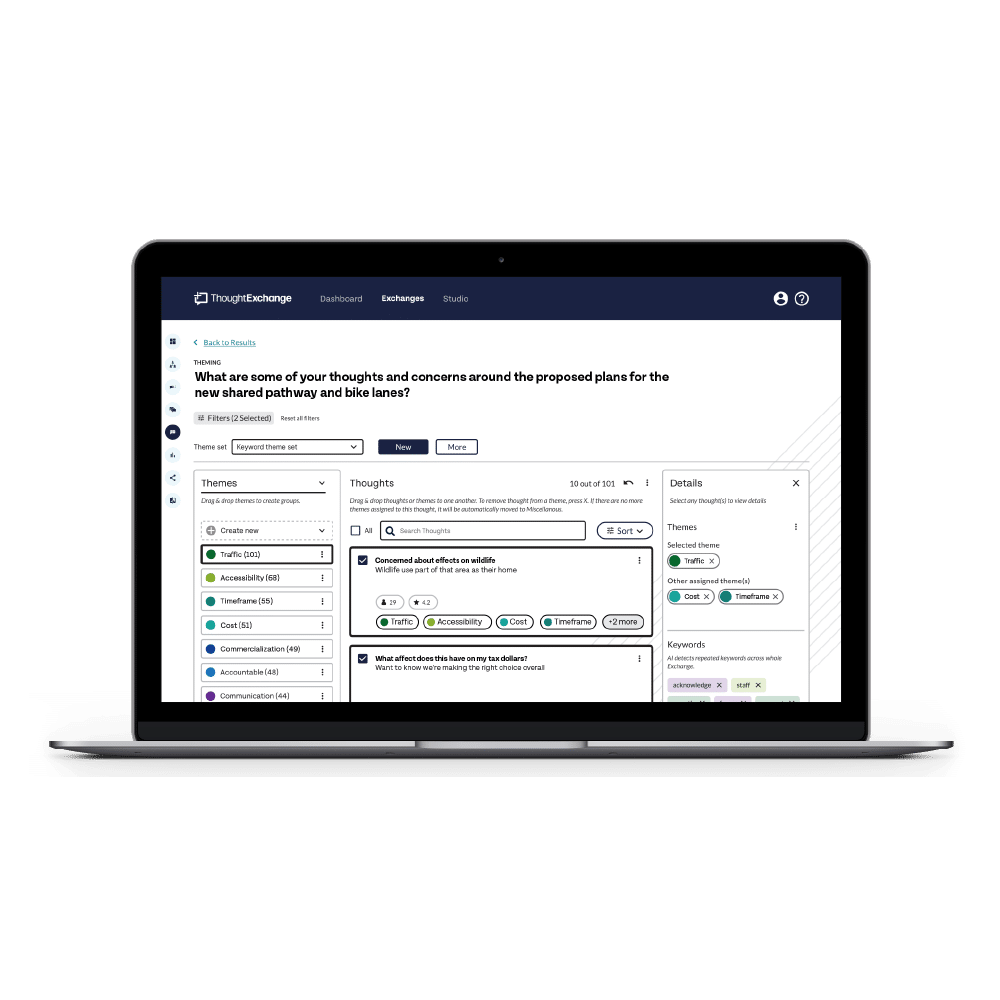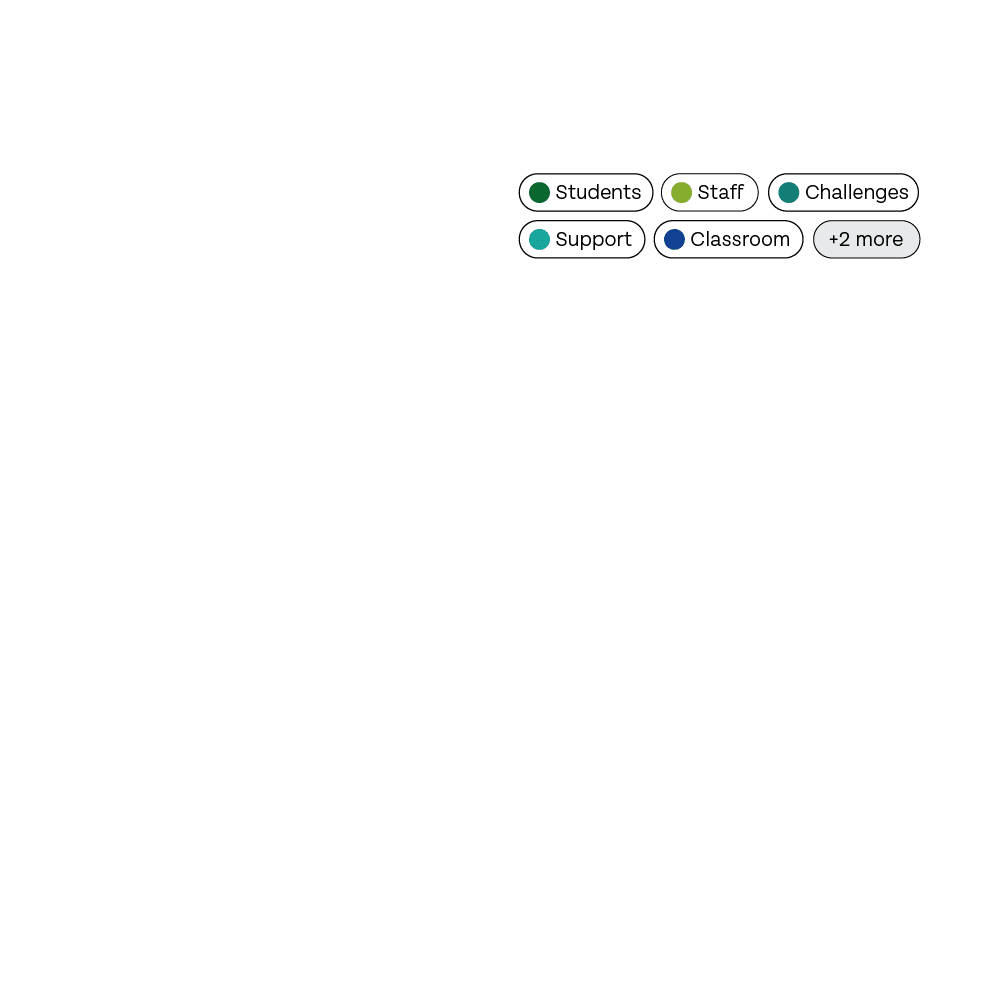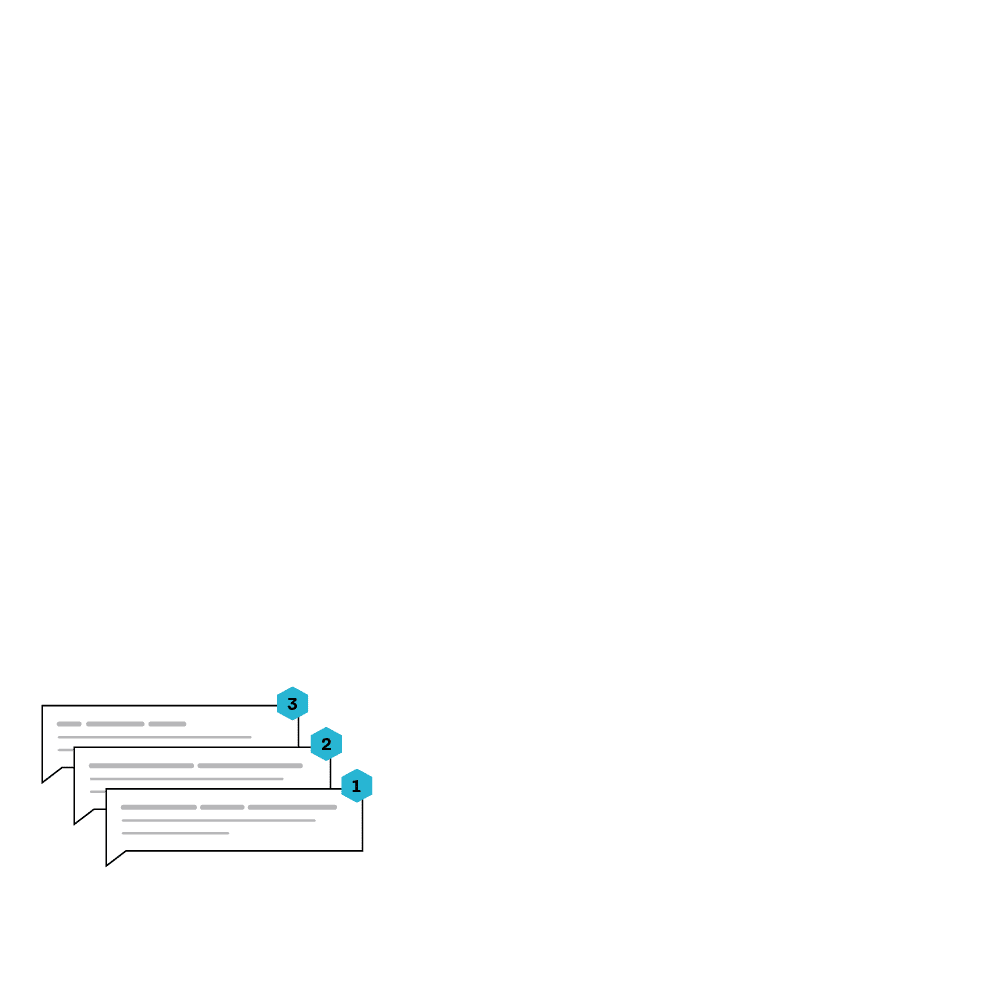 ThoughtExchange gets faster, more in-depth data
Our platform ensures districts get rich qualitative data from staff and community to deeply understand people's priorities. With instant AI summaries, advanced analytics for comparison and data tracking, and tools to pinpoint the actions your educational partners support, we make building trust in your district easy.
Get better staff engagement for improved retention and experience
Access more community perspectives for comprehensive strategic planning
Develop strategic plans with community support
Boost participation for more effective climate survey data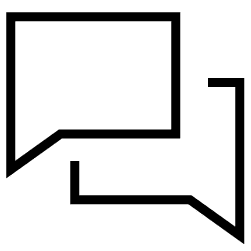 Contact us to learn more
See how our all-in-one engagement platform will transform the way you connect with your educational partners.
ThoughtExchange ups your survey game
See how Dr. J.A. Gonzalez, Superintendent at McAllen ISD in McAllen, Texas, has made big strides and garnered high district approval ratings with ThoughtExchange.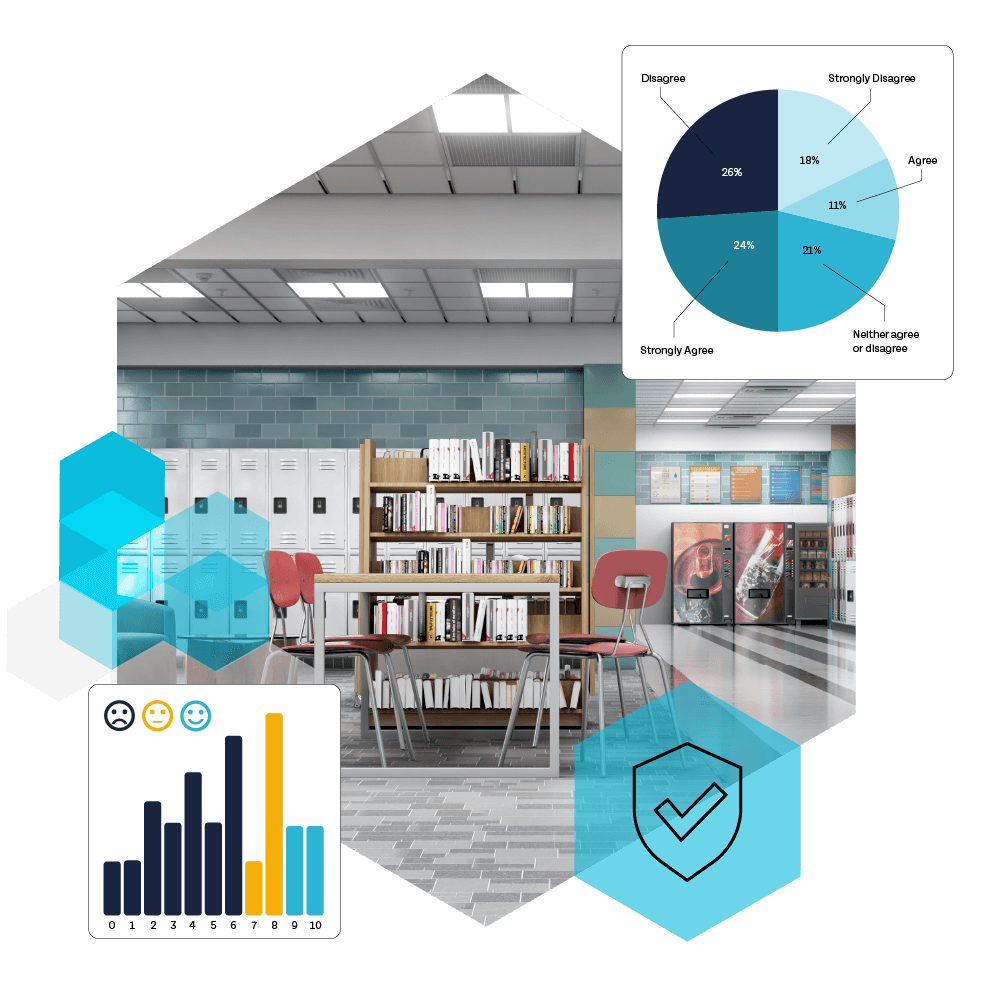 Unlike other climate survey products, ThoughtExchange gets you both nuanced qualitative and robust quantitative data with instant in-depth analysis. Districts save money by consolidating their engagement tools into one advanced engagement platform where their climate survey data is gathered, analyzed, visualized, and reported.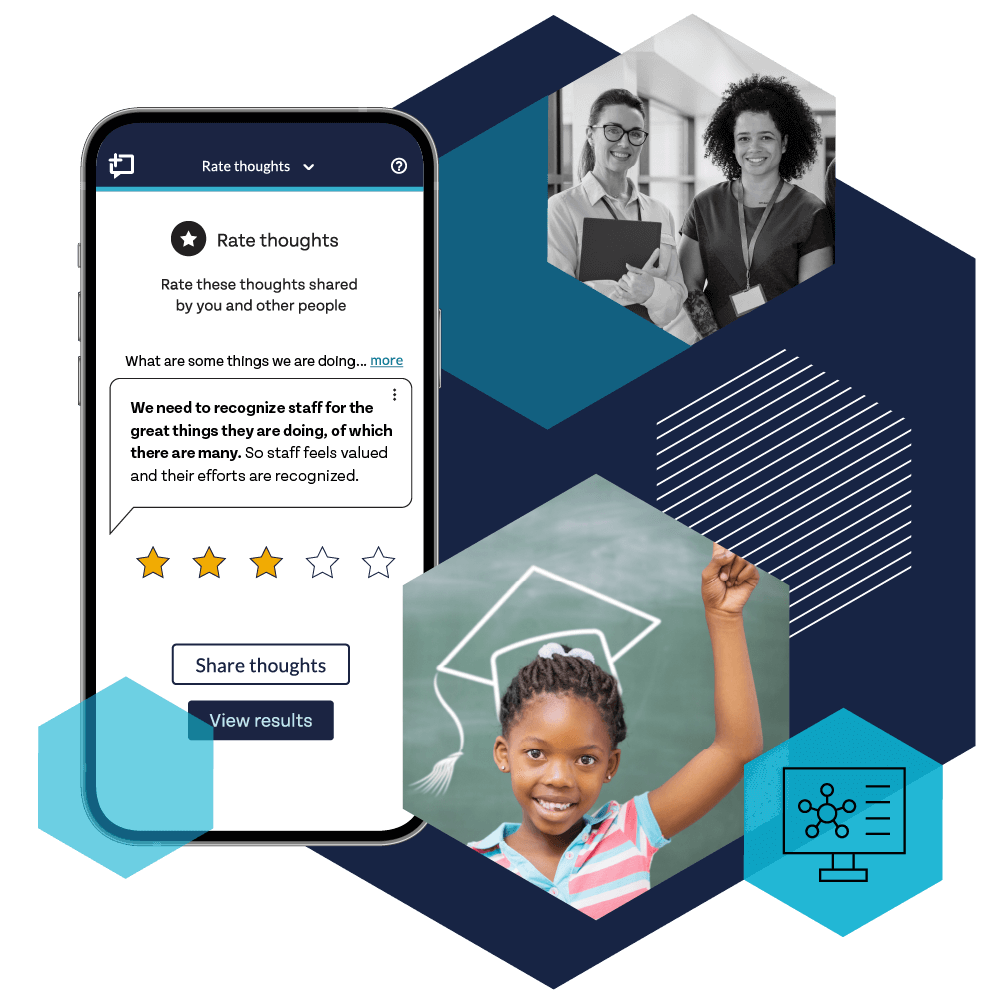 Your school community wants to share more than what they're thinking—they want to tell you why, and how to act on it. ThoughtExchange expands your data to ensure you deeply understand your participants' priorities. Use our platform to create and implement comprehensive, effective strategic plans—all while saving you months of work.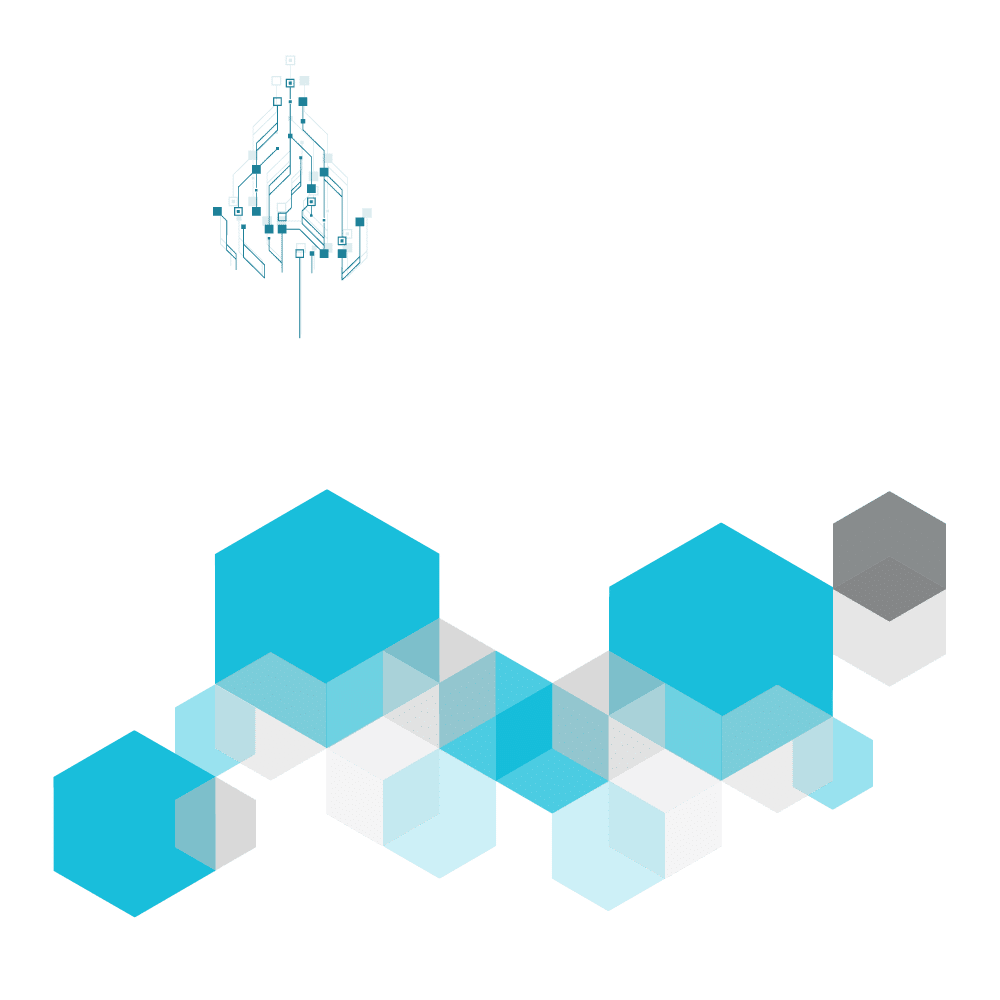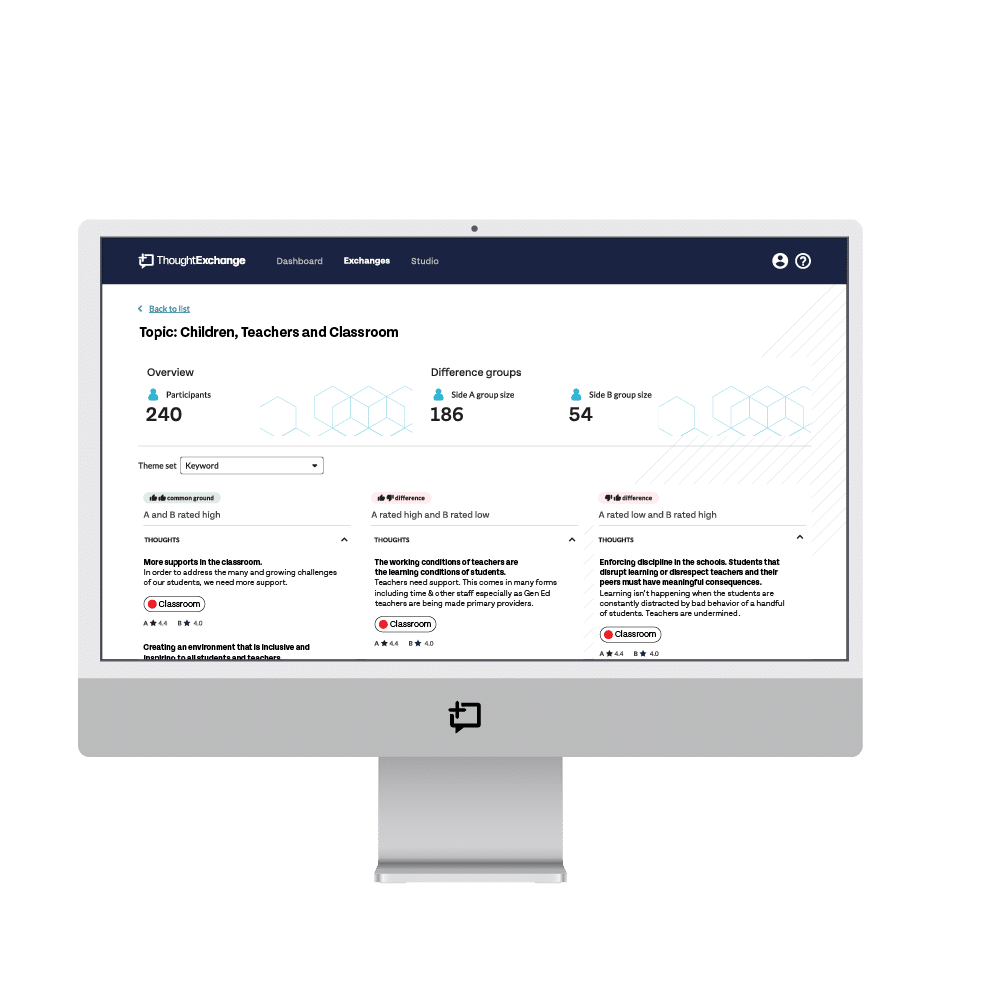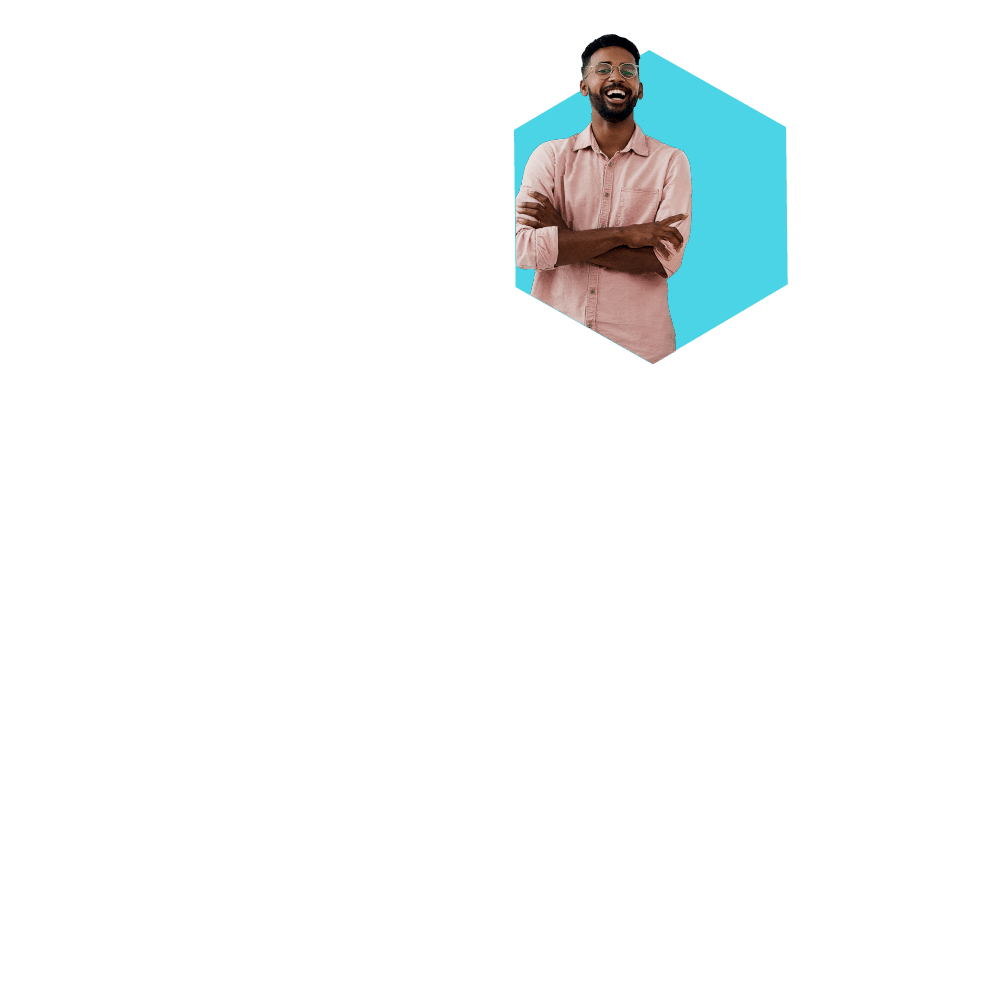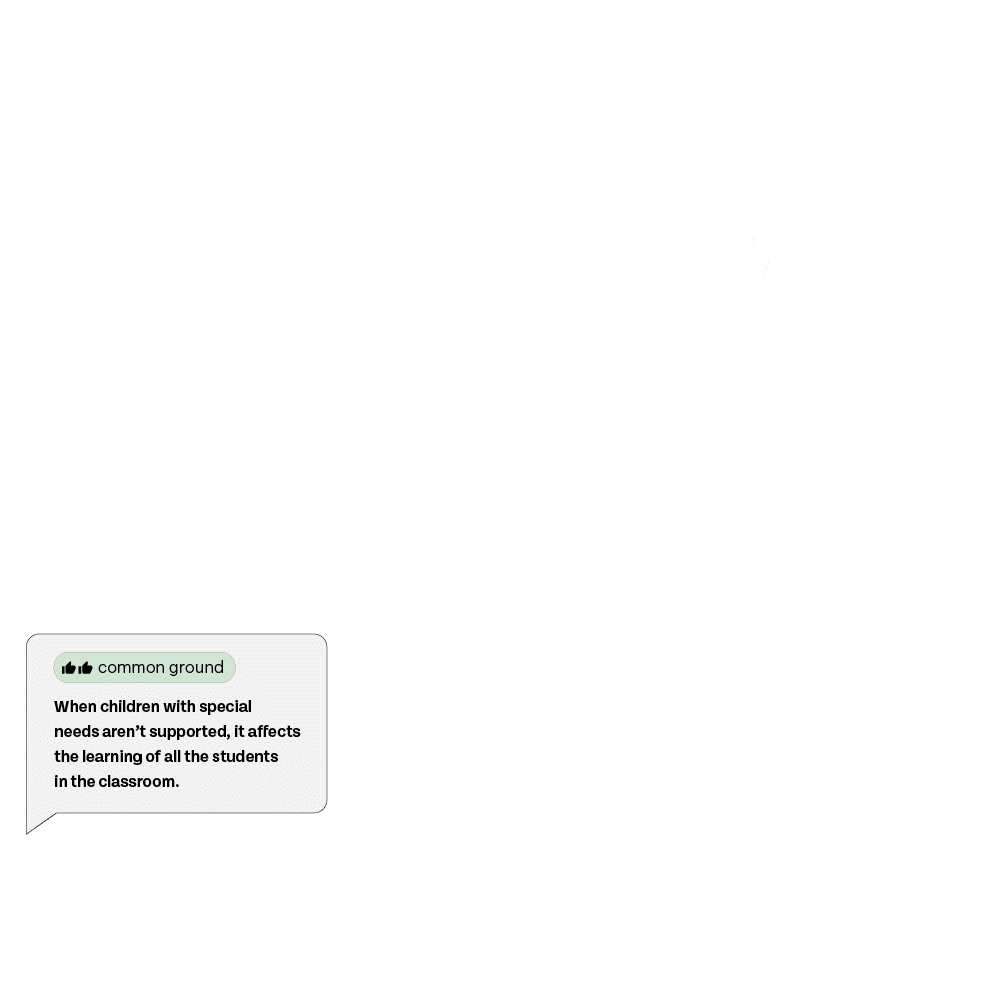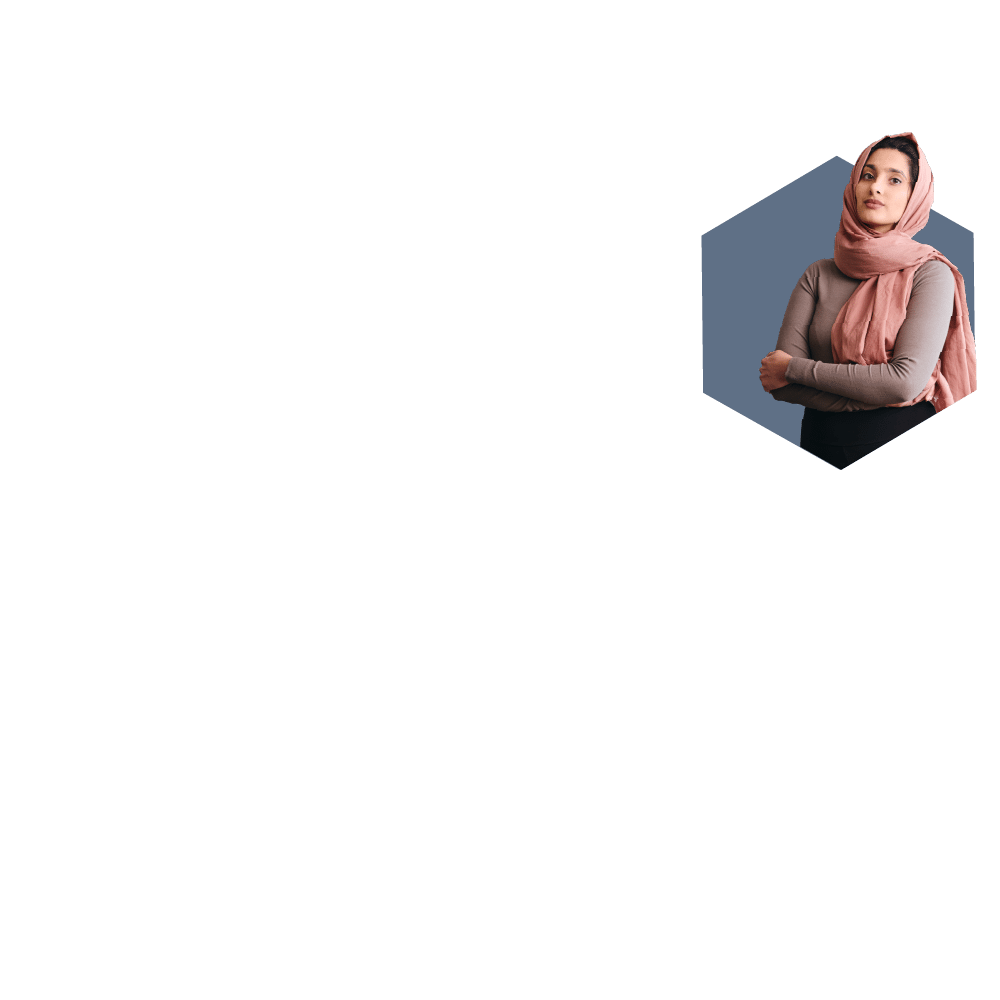 Gathering community feedback for important initiatives like climate surveys, funding, and strategic planning can take months of town halls, meetings, and surveys—but it doesn't have to be that way. ThoughtExchange helps education leaders gather feedback, get alignment, and analyze large data sets from educational partners in just days.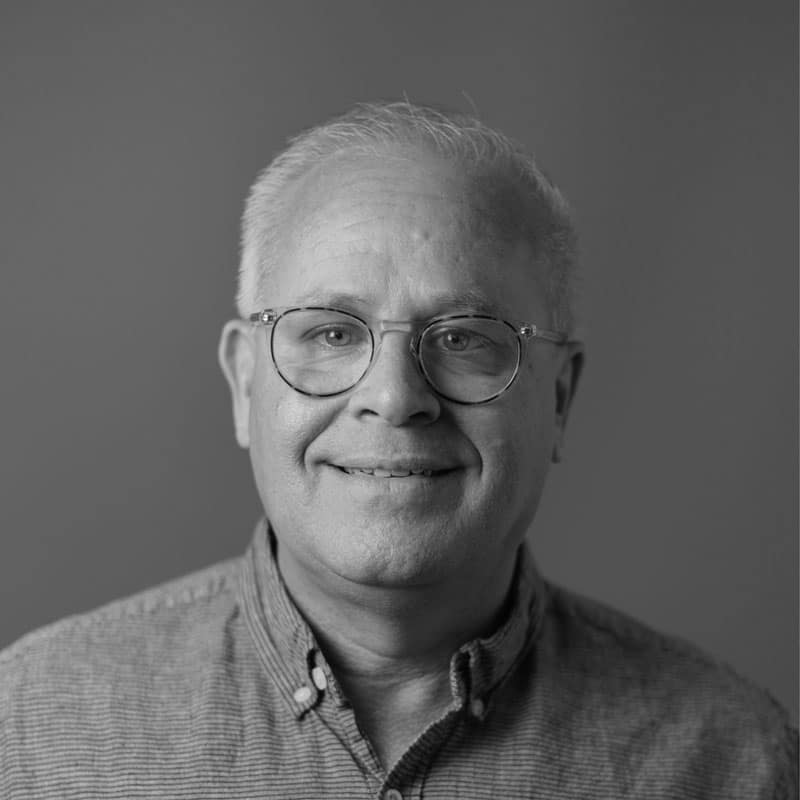 "We used ThoughtExchange for our district's upcoming $152M bond election. Not only could participants ask questions and have the answers displayed in real-time on our website—but they could share thoughts and opinions. By addressing concerns head-on, the outcome of our bond vote was overwhelmingly positive, at 79% approval."
Chris Payne
Chief Communication Officer,
Union Public Schools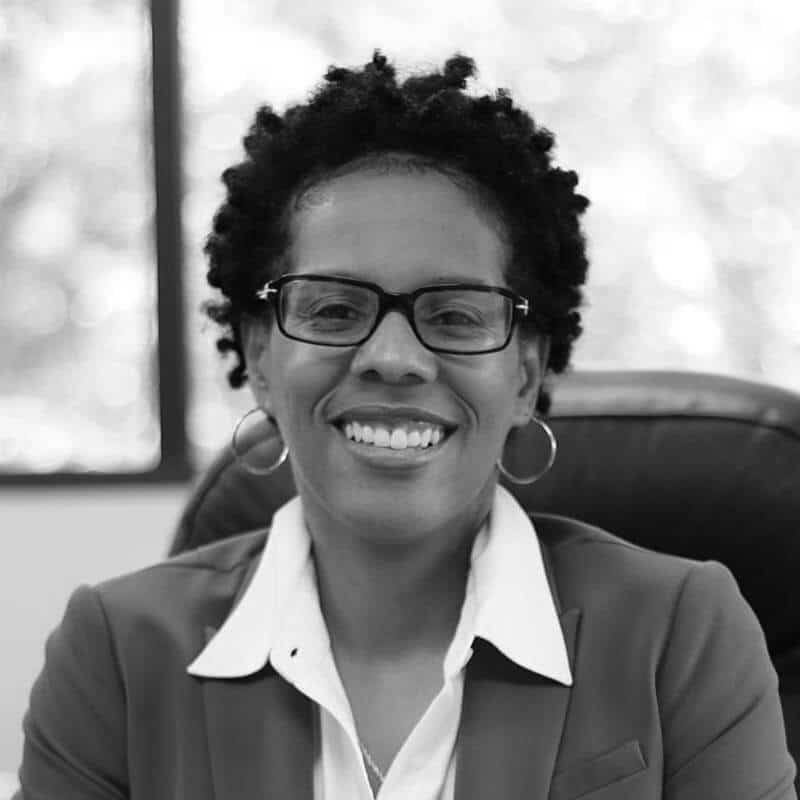 "We use adults to vet curriculum and resources, but we miss the student perspective in all of it. And we've got to do better. Building student agency, allowing students to have voice and ownership on what's in front of them, is crucial, and ThoughtExchange allows that opportunity on such a grand scale."
Dr. Teresa A. Lance, Ed.D.
Assistant Superintendent of Equity and Innovation,
Elgin Area School District 46, Illinois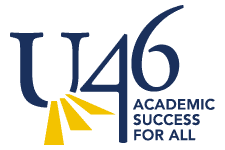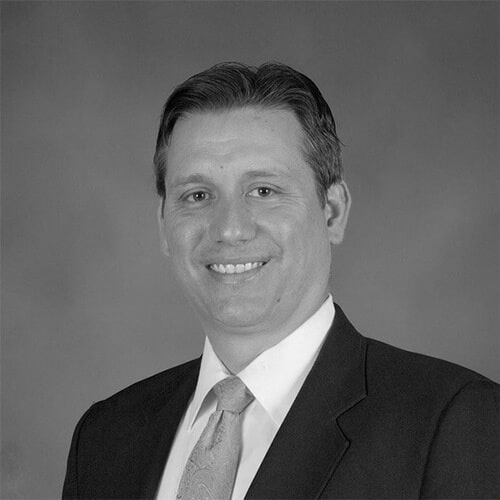 "ThoughtExchange was groundbreaking for the district. It allowed us to build communication and trust and to achieve a 76% approval rating on the tax ratification election, which generated ≈$7.8M a year for us moving forward. With ThoughtExchange, everything just came together."
Dr. J.A. Gonzalez
Superintendent,
McAllen Independent School District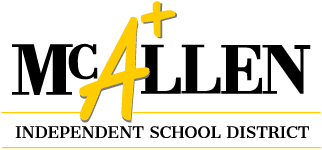 The Latest from ThoughtExchange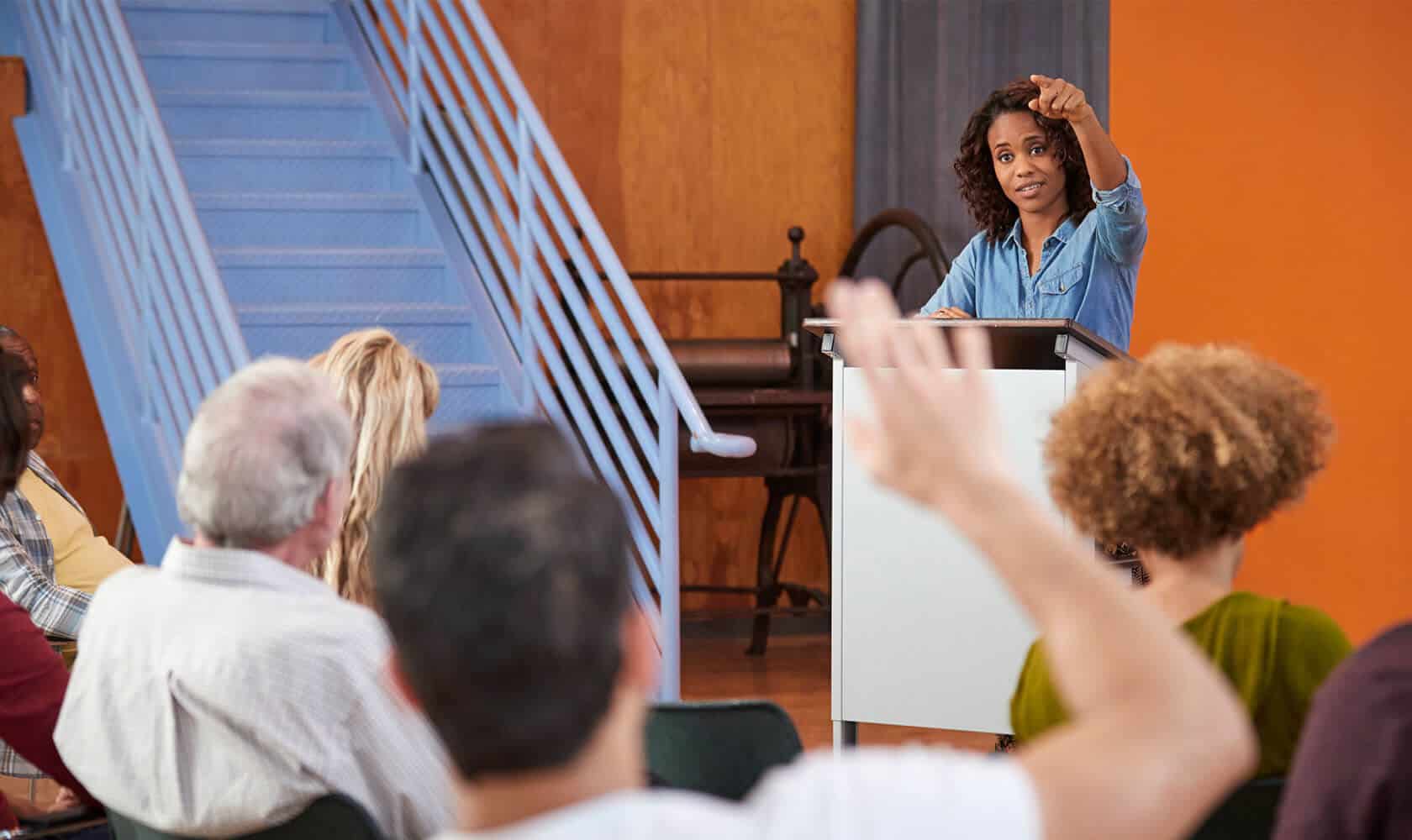 Education Leader Success: Hearing from Your Community
New principals cannot be successful without their students, parents, and community members. Here's how education leaders can benefit from engaging these groups.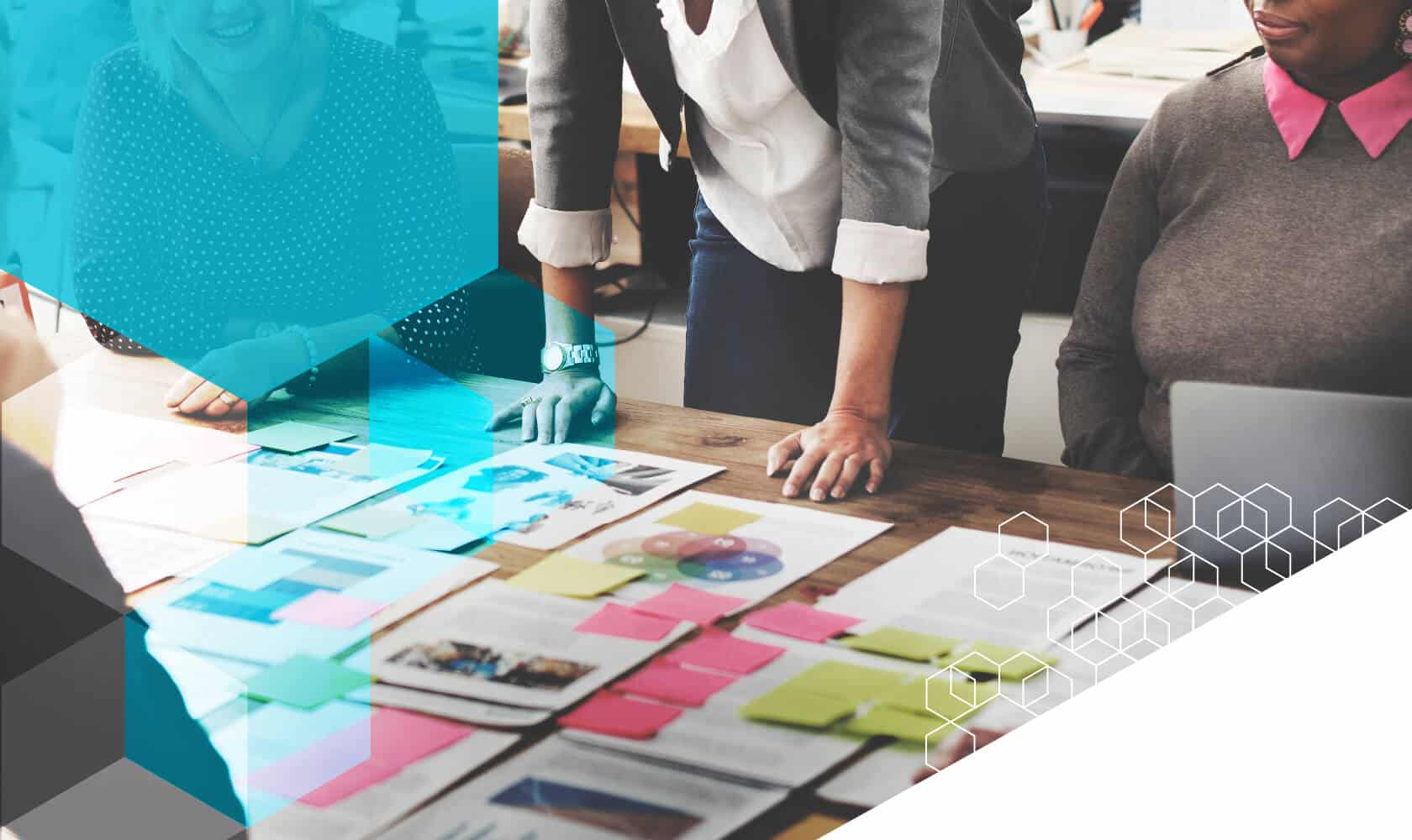 Strategic Planning in Education
Learn how to engage your educators, staff, students, and parents in the planning process to get early buy-in and create successful strategic plans.
Maximum outcomes, minimum hassle
Ready for fast, in-depth community engagement? Get in touch to see how ThoughtExchange will transform the way you survey.