ThoughtExchange CEO's New Book Reveals Top Strategies for Post-Pandemic Leaders
Scaling Conversations, written by Dave MacLeod, co-founder and CEO of ThoughtExchange was released on May 4, 2021. Learn more about the book by clicking here.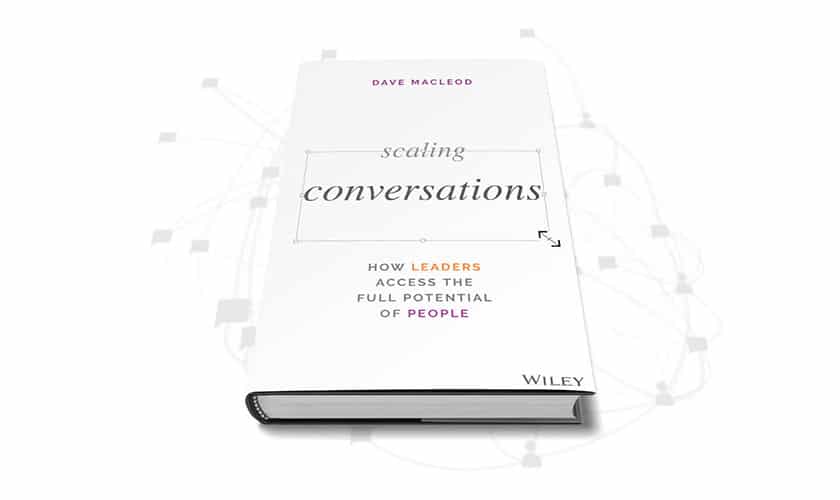 Vancouver, BC – May 4, 2021 – Post Covid-19, many workplaces will not return to the way they operated before. As a result, business leaders across industries now face the challenge of facilitating effective communication across their increasingly distributed workforces.
Having distributed teams makes it even more critical to have clear and focused strategic priorities. However, if you don't have the engagement and alignment amongst your team to execute that strategy – you can't win. That's the core message behind Scaling Conversations, a new book that challenges enterprise leaders to raise every voice in their organization.
Scaling Conversations is written by Dave MacLeod, co-founder and CEO of ThoughtExchange: home to the only Enterprise Discussion Management platform powered by patented anti-bias technology. Dave cracked the communication code more than a decade before the world knew it needed it. Now, his book is arming executives with leadership strategies to navigate today's workforce with a strategy that's longer lasting. By tapping into his unique knowledge and experience, Dave unlocks lessons for readers on how to:
Scale their business by listening to the voices that really matter
Access and maximize the human capital within the organization
Make decisions that create alignment and positive change
Decrease employee turnover caused by poor communication
"The best leaders don't need convincing that their organization is strongest when it takes full advantage of the diversity of thought, experiences and talent across teams. The question is, 'how do you do this effectively while navigating an increasingly distributed working world?'" said Dave. "In this book, I've distilled my very best lessons learned from working as a face-to-face facilitator and CEO of ThoughtExchange, to help leaders raise up all voices and create organizational alignment."
The lessons highlighted in Scaling Conversations have already been driving change in some of the world's largest organizations like GE, McDonald's and more – and now the book that reveals it all is available and getting rave reviews from authors and CEOs alike:

"MacLeod has cracked the code on one of the great challenges of the social-media era: Inclusive dialog that can drive meaningful change across and between organizations and communities," said Gary A. Bolles, author and Chair for the Future of Work at Singularity University.

"Leadership is a privilege and you can tell that Dave appreciates that through his natural commitment to Diversity, Inclusion and Anti-Racism," said President and CEO at INROADS Forest T. Harper, Jr. "[Dave] is before his time…"

You can learn about Scaling Conversations and where to purchase a copy at: https://thoughtexchange.com/scaling-conversations/.

Also available from Amazon, Barnes & Noble, Books-A-Million, Indie Bound and Wiley.

About the Author
Dave MacLeod is the CEO and a co-founder of ThoughtExchange, the essential Enterprise Discussion Management platform for scaling conversations. Dave's expertise helped create the game-changing platform that's used by millions at some of the world's largest organizations like GE Healthcare and McDonald's. From corporations to schools, ThoughtExchange invites participants to share insights anonymously—removing bias and getting the most important ideas in front of the leaders who make them happen. Dave is also the author of Scaling Conversations: How Leaders Access the Full Potential of People. Prior to ThoughtExchange, he was a successful entrepreneur who designed businesses and events focused on analog group communication innovation. Outside of work, Dave keeps busy as a dad of three who loves the outdoors.
About ThoughtExchange
ThoughtExchange is the only Enterprise Discussion Management platform powered by patented anti-bias technology. Modern leaders use ThoughtExchange to quickly gain critical insights and improve decision making. Whether you're engaging ten stakeholders or a community of 10,000 people, ThoughtExchange allows leaders to drive strategic discussions at scale.
Leaders use ThoughtExchange to increase alignment, improve performance, and drive better results. Unlike traditional surveys, respondents feel more comfortable answering questions candidly and our dynamic analytics make it simple for leaders to see which topics matter most.
ThoughtExchange was founded in Rossland, British Columbia, but our teams enjoy working remotely from anywhere.