As a leader, do you struggle to facilitate innovation within your organization? In these ever-changing times, many companies rely on innovation to compete and survive. A recent Gallup study found that 61% of employees believe their employers expect them to be creative in the workplace–Yet few leaders have the tools to help.
Ideation techniques like brainstorming and mind mapping are helpful in certain situations but are often prone to cognitive bias or groupthink. Crowdsourcing offers a more diverse alternative. After all, if two heads are better than one when it comes to innovation, surely 1,000 or 10,000 heads are unstoppable!
→ Download Now: How to Gather Effective Field Intelligence in the Digital World
What is Crowdsourcing?
Crowdsourcing involves digitally collecting information, ideas, opinions, or work from a group of people, usually via social media, online forums, or specialized apps. Advantages include cost savings, speed, and the ability to work with a wide range of people with diverse skills, ideas, and opinions, often lacking in individuals or small teams.
The practice of crowdsourcing ideas—sometimes referred to as network intelligence, mass collaboration, or open innovation—is connecting to a network of people for great ideas.
Some successful examples of crowdsourcing ideas include:
Lay's Do Us a Flavor campaign that crowdsourced ideas for new potato chips and resulted in a 12% year over year sales increase.
Lego's Ideas program that allows fans to share ideas for new Lego designs and vote for ideas dreamt up by fellow fans.


How to Crowdsource Ideas from Your Teams: 5 Tips
The practice of crowdsourcing ideas is a bit more complex than a few team members brainstorming in a boardroom. How can you communicate your request to everyone involved, encourage participation, collate and analyze results, and gain meaningful insights?
Here are five tips to simplify the process and ensure success:
1. Offer participation incentives
If your organization stands to make money by generating ideas, it's wise to incentivize employees to submit their best possible innovations. A nice bonus, an extra week of vacation time, or even profit-sharing can go a long way toward motivating employees to put their best foot—and idea—forward.
If your employees are already engaged, they may not need monetary incentives to participate in your program. An opportunity for them to have a voice in the business is often enough.
2. Make it easy
Rolling out a crowdsourcing program can be complex. Participating in one shouldn't be. If there's friction in the submission process, people will get frustrated, abandon the task, and never return.
Use an app designed for crowdsourcing ideas to make the user experience as hassle-free as possible.
3. Don't limit the program to specific groups
People lacking specialized knowledge or experience relevant to your product or business can often come up with better solutions than your experts. Employees who are close to a specific problem or area of the business can lack an outsider's perspective.
Encourage employees from other teams to take part and accept ideas from everyone–from the CEO to the newest intern. Use a specialized tool to ensure participants submit ideas anonymously to be as creative and honest as possible.
4. Evaluate ideas quickly and fairly
If you're inundated with ideas and have only one person to sort through them, decisions will take a lot of time and energy. Consider using crowdsourcing to rank ideas as well.
Allowing participants to see and vote for other ideas will help you shortlist the best ones fairly.
5. Be transparent but retain the right to veto
Communicating the results back to your teams and keeping them informed of the following steps is a great way to close the loop and show their participation matters.
It's okay not to choose the top idea—just have a good explanation for your reasoning.
Remember Boaty McBoatface? Boaty McBoatface was the name crowdsourced and selected by the British public for the £200 million polar scientific research ship for the Natural Environment Research Council (NERC). Ultimately, NERC overruled the public's vote and named the ship after Sir David Attenborough—another crowdsourced idea. As a compromise, they named an underwater research vessel Boaty McBoatface instead. Because NERC kept them in the loop, the public understood and supported their decision.
ThoughtExchange Discussion Management for Crowdsourcing Ideas
Using an enterprise discussion management tool like ThoughtExchange for crowdsourcing ideas simplifies the process.
By creating an Exchange, you can ask an open-ended question or provide context for the crowdsourcing initiative. Participants confidentially share their answers and objectively rate each others' responses and ideas.
ThoughtExchange has built-in anti-bias technology and multilingual capabilities, so the best ideas rise to the top regardless of who shared them or in what language. People can join the discussion from any device, whenever and wherever it's most convenient for them.
The ThoughtExchange platform is also packed with tools to help you map out, schedule, set deadlines for idea submissions, and analyze results. 
Find out how ThoughtExchange can help you optimize your crowdsourcing strategy. Get in touch!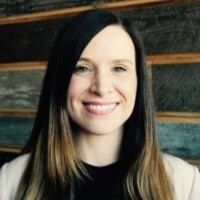 Catherine Daly
Originally from Dublin, Ireland, Catherine is a professional writer based in Vancouver, B.C. She holds a bachelor's degree in journalism (for passion), a master's degree in marketing (to pay the bills), and has over 15 years of experience working with big tech brands like Adobe, Hootsuite, HP, Oracle, PayPal, and ThoughtExchange.