When it comes to a business' priorities, customer experience is usually at the top of the list. Companies want to retain customers and dedicate teams and resources to keeping clients happy and satisfied with their product or service. But when was the last time your organization thought about their own employees' experience?
A recent Gartner survey found just 13 percent of employees are satisfied with their experience—and more than 44 percent of U.S workers say they're currently looking for a new job. Focusing on employee experience has never been more important.
However, this goes beyond just sending out a company-wide engagement survey twice a year. In this post, we'll show you:
What a successful employee experience strategy actually includes
Why it's essential to create an employee experience strategy
How to best implement an employee experience strategy for in-office, hybrid, and remote workers
How to take your strategy to the next level by building rather than just measuring it
Let's dive in.
What is an employee experience strategy?
Before we look at what an employee experience strategy is, we need to understand what employee experience itself is. According to Gartner, employee experience includes "the interactions employees have throughout all touchpoints in their day-to-day work and the contexts that influence those interactions." Employee experience isn't just one thing. It's the combined effects of all areas of an employee's daily and overall experiences at work.
A recent research report from IBM Smarter Workforce Institute and Workhuman defines the five key components of the employee experience in the workplace: belonging, purpose, achievement, happiness, and vigor.
Some areas and events that can influence employee experience include work-life balance and well-being, compensation and benefits, workplace culture and processes, the organization's mission and values, coworker relationships, and relationships with their manager and other superiors. These are just examples — the total employee experience truly captures every element of an employee's time with their company. An employee experience strategy is a business initiative created and implemented to maximize the positive experiences of every employee while working at an organization. It considers every stage of the employee's journey while associated with the company, from their initial application and the hiring process to their exit interviews.
The benefits of an employee experience strategy
While many organizations think of the employee experience as simply another box to check, a bad (or nonexistent) employee experience strategy can be detrimental to the health of your business. Let's look at a few of the most significant benefits of a strong employee experience strategy.
Greater customer satisfaction
A recent study from the MIT Sloan Center of Information Systems Research found that companies that lead in the employee experience space see twice the rate of high customer satisfaction than those not focused on employee experience. And this makes sense. When your employees are happy and satisfied with their work, it naturally translates into their enthusiasm, energy, and the quality of service that they're bringing to your customers.
Confirming that point, 85 percent of respondents to a recent IDC survey said that an "improved employee experience and higher employee engagement translate to a better customer experience and higher customer satisfaction." When companies focus on enhancing the employee experience, they empower their workers to always be their best. Not only that, but happy and satisfied employees can work together to help solve customer problems in a productive and proactive manner—something that isn't as likely to happen with burnt-out or disgruntled employees.
Increase employee engagement
While there are a number of varying and conflicting definitions of employee engagement, Gallup defines the term as "the basic psychological needs that must be met in order to perform your work well." According to this definition, employee engagement includes understanding job expectations and having the resources and tools you need to carry out your work; while also covering emotional and social needs, such as connecting your work with a greater purpose or passion and having the time and headspace to enjoy the things you love outside of work.
When an employee experience strategy is successful, it ensures that all areas that contribute to higher levels of employee engagement are covered. Businesses with more engaged employees see higher profits, less turnover, more positive customer ratings, and even fewer safety incidents.
An employee experience strategy can do more than just keep your employees happy—it can help grow your business. When organizations have a strong employee experience strategy, they're more likely to see healthier financial returns. A recent Gallup study found that companies with higher employee engagement (a result of employee experience strategies) saw an average of 21 percent greater profitability.
Not only that, but a report from IBM and Workhuman found that companies that score in the top 25 percent for employee experience see three times the ROA (return on assets) and twice the ROS (return on sales) compared to those in the lowest 25 percentile. Workers who feel supported and empowered will undoubtedly optimize their time, do their best work, increase customer satisfaction, and stick around for longer—all areas that can significantly impact a business' bottom line.
Lower employee turnover rates
American employers spend roughly $2.9 million per day on recruitment efforts—or a staggering $1.1 billion per year. With this in mind, it makes sense that a recent survey of HR professionals from APQC found that the top objective of employee engagement and experience strategies is worker retention.
By focusing on creating and implementing a strong employee experience strategy, businesses can seriously improve their talent acquisition and retention efforts. When employees are thought of and carefully considered at every part of their journey with a business, chances are that they'll feel engaged, appreciated, and happy to continue their tenor at their current organization.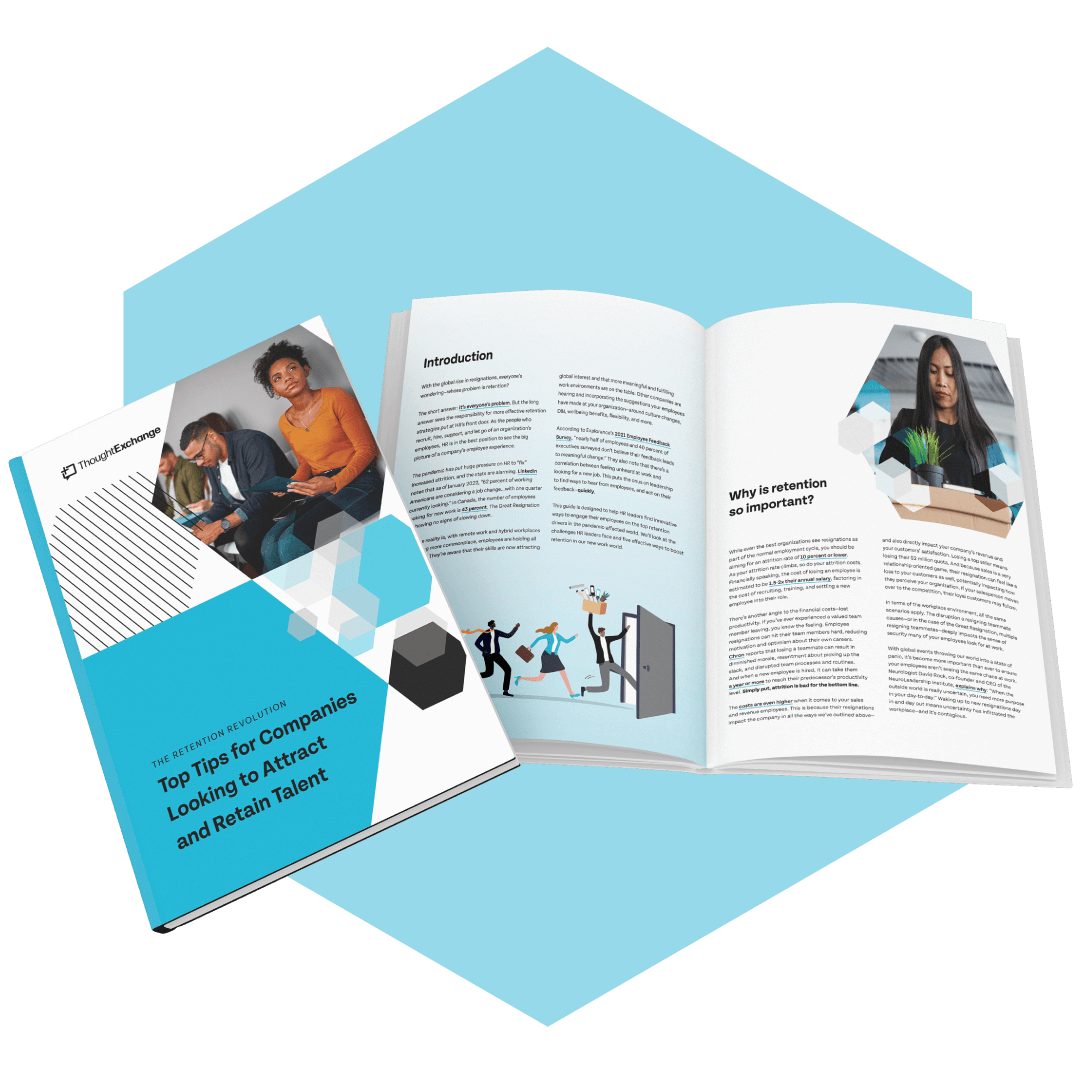 Find out more about decreasing attrition in our guide, "The Retention Revolution: Top Tips for Attracting & Retaining Talent"
Employee experience best practices
While Gartner research found that the average organization spends about $2,420 per employee on efforts to enhance the employee experience (ie. new office designs and perks, etc.), these investments without any other meaningful measures from senior leadership don't seem to make a significant impact on employee experience. Here are some ways businesses can actually improve the employee experience for their most valuable asset—their people.
Prioritize meaningful work
Nobody likes to feel as if the work they are doing has no purpose and isn't making a significant impact. While an employee's overall experience is holistic, the actual work plays a big part in how they'll feel about their time at an organization.
Deloitte designates meaningful work as one of the core attributes of employee experience, defining it as "the alignment and adaptability of work to the mission, values, and purpose of the worker and organization that strengthens the worker." While everyone is there to earn a paycheck, most workers want more from their jobs and to feel as if they are contributing to something bigger than themselves. As Deloitte finds, "organizations whose workers feel connected to their work enjoy greater business growth and customer satisfaction than those whose workers do not."
In order to create a workplace culture where meaningful work is prioritized, "author and Wharton Professor, Adam Grant, posits that work can be made more meaningful by simply helping workers see the connection between their day-to-day tasks and the overall outcome and mission of the organization." For example, take the time to show your paid ads team the results of their hard work by showcasing some of the new customers they've reached and help secure with their content.
With this in mind, there should also be a focus on clear objectives. Most workers do best when they understand expectations and how their KPIs and targets contribute to the organization's overall goals. When employees can see how their work wins move the whole business forward, there's an undeniable sense of fulfillment and success that can help motivate them even further.
Involve employees in decision-making
In the past, workplaces functioned as top-down establishments. CEOs and managers would tell their employees what to do and expect employees to do it. Today, a culture of collaboration is evolving that works to include employees in the decision-making process and contributes to a more positive employee experience. When crafting your business' employee experience strategy, it's important to include a portion dedicated to group decision-making.
Collaborative decision-making helps leaders connect with their employees in meaningful ways. This process empowers workers to share their valuable insights and ideas while gaining a sense of ownership and building trust with their organization. When a recent McKinsey survey asked employees what motivated them most, most respondents said, "a powerful sense of agency—being able to influence outcomes that matter to them—allied with a strong sense of identity and belonging. That means agency in work and agency about work." This answer came out above even responses about increases in compensation, which shows just how important this is to employees.
To tap into the power of collective decision-making at your own organization, HBR recommends:
Providing a safe space for people to share ideas
Avoiding over-reliance on experts
Sharing collective responsibility for the outcome
One way to ensure you meet these criteria? A collective intelligence tool. A tool like ThoughtExchange allows employees to come together, submit anonymous responses to questions, vote on the topics and issues most important to them, and create a culture where every worker feels heard and respected.
Focus on feedback and recognition
A big part of the overall employee experience involves feedback and recognition. When businesses incorporate feedback at every level, they help establish trust and loyalty among team members and senior leadership. As research from Zippia found, "65 percent of employees desire more feedback, and companies that invest in regular employee feedback have 14.9 percent lower turnover rates than organizations where employees do not receive feedback."
When creating your employee experience strategy, make sure you've clearly outlined the expectations for feedback and recognition and any relevant processes and frameworks. A healthy workplace will incorporate constructive feedback at every layer of the business and strive for a continuous feedback culture. For example, leaders can share constructive feedback and coaching in every weekly 1:1, rather than just during a yearly review cycle.
While delivering feedback isn't always easy, your employee experience strategy should aim to answer not only how you can effectively deliver and receive feedback, but why this is important to your organization. When your people know the purpose behind sharing feedback with their peers, superiors, and reports, they'll better understand the type of feedback to share—and how to communicate it most effectively.
In addition to constructive feedback, positive feedback in the form of recognition is key to your overall employee experience. A culture of recognition and celebration helps employees feel valued and motivated, which undoubtedly boosts their overall experience at an organization. Research from Forbes found that workplaces that "scored in the top 20 percent for building a 'recognition-rich culture' actually had 31 percent lower voluntary turnover rates."
Make space in your employee experience strategy for recognition protocols and best practices. For example, perhaps you want to create a culture where you give out weekly peer-to-peer awards or share employee praise in a public forum like a designated Slack channel or Lattice. And of course, while verbal and written recognition and praise from peers and superiors can do wonders to boost employee morale, organizations need to have a process in place for providing raises, bonuses, and perks (such as gift cards or extra vacation days, etc.) based on consistently high-performing employees.
Create a healthy work-life balance
The COVID-19 pandemic shifted priorities for countless workers around the globe. People no longer think of their job as their entire identity but rather think of work as just one aspect of their lives. As a recent report from Gallup shares, "the majority of employees say a role that allows them to have greater work-life balance and better personal wellbeing is 'very important' to them."
To enhance the employee experience, organizations must recognize this and focus on establishing a healthy work-life balance for their team members. This part of your employee experience strategy can include guidelines for flexible working hours, vacation policies, hybrid and remote working options, or descriptions of benefits such as extended health or lifestyle spending accounts (to name a few). When businesses show their employees that they appreciate them with perks and benefits, and trust them to create a work-life balance that suits them and their lifestyle best, they're actively proving their dedication to their employees' overall well-being and work-life balance.
A key aspect of this part of the employee experience strategy is that senior members of the business need to actually put these policies into practice and lead by example. An open vacation policy isn't positively impacting the employee experience if it isn't actively encouraged and upheld (ie. if there's no minimum vacation days per year an employee must take), so managers and senior leadership team members must show that this is an important part of company culture by, for example, taking vacation themselves or not responding to Slack messages and emails past regular working hours.
By focusing on work-life balance within your employee experience strategy, you can help build a positive culture that integrates work into your team members' lives, rather than the other way around.
Employee experience for hybrid and remote workers
Any organization can instantly boost their employee experience simply by offering hybrid and remote working environments. Flexible workplace models like these—where employees can create their own schedules and in their preferred working environments—have shown countless benefits including increased productivity, greater job satisfaction, reduced turnover, and lower costs for the employers.
However, trying to build an employee experience strategy that addresses the needs of all in-office, hybrid, and fully remote workers can be a challenge for even the most experienced HR professionals.
To get started, businesses need to identify the key "Moments that matter" to the overall employee experience, regardless of where the team is working from. As a first step, senior leaders and the HR team need to work with their employees to create an employee journey map for workers in each of the working style frameworks (ie. fully remote, hybrid, fully in-office).
Here, they should then establish the core moments that can impact the employee experience—whether negatively or positively—at every touchpoint. For example, some common "moments that matter" include getting a promotion, returning from parental leave, and leaving the company. Once an employee journey map is created for each working style, you'll be able to identify the consistent "moments that matter" that correspond and those that might differ. For example, onboarding will significantly affect the way all employees feel about the organization, whether they're working remotely, at the office, or a combination of both. However, onboarding for a remote worker will look different than for someone who has the opportunity to onboard in-person with a group of peers.
When you pinpoint the "moments that matter" and the key touchpoints that align, you can then dig into how each of these differ for your remote, hybrid, and in-office workers—and how you can improve them for everybody, at every level.
Another core part of the employee experience for hybrid and remote workers is their access to technology. Being able to connect with team members, build relationships, communicate, and collaborate effectively can make all the difference when it comes to the overall employee experience for hybrid and remote workers — and these are all areas that require access to streamlined technology. Qualtrics research finds that all employees (whether hybrid, remote, or in-office) are 230 percent more engaged and 85 percent more likely to stay with the company for more than three years if they have the technology they need to do their jobs successfully.
To ensure that your organization's technology offerings fulfill your remote and hybrid employees' needs, IT and HR departments should collaborate with the employees themselves. Work with remote and hybrid employees to find out where there are gaps in technology, and what you can do to address these needs to improve their employee experience. By cooperating with the employees themselves and listening to their needs, organizations can help flatten that perceived hierarchy between remote and hybrid workers and those who primarily work in the office.
Don't just measure employee experience—build it
While it's important to measure employee experience to understand where your organization stands — your efforts can't end with data collection or a survey. As research from Gartner explains, "Surveys are still the main method used for measuring employee engagement, but they have several limitations, including bias, frequency and lack of action on the findings." Surveys are a one-way communication format, which doesn't allow for any nuance or elaboration on answers. Plus, they often invite bias due to question-phrasing and pre-selected answers.
Instead of relying on surveys, it's essential to integrate technologies like ThoughtExchange that encourage two-way conversations between the employer and the employees in a safe and unbiased manner. As we explain in a previous post, you can "then use that fresh, relevant, and valuable collective intelligence to drive meaningful action and dialogue with your entire team." These kinds of listening solutions can help your organization understand the employee experience at a deeper and more accurate level and find any areas for improvement (without employees feeling as if their jobs are at risk by speaking up).
With many employees feeling ignored or like their ideas don't matter, a tool like ThoughtExchange can ensure all employees feel heard and valued—which improves employee experience. As a previous post explains, "employees who feel heard, who feel that their contributions are valuable, are more likely to remain with the company and perform better. The not-so-simple act of listening to employees at every level of the organization can have a significant impact on your HR KPIs."
Creating an employee experience strategy might feel overwhelming at first. There are so many areas that could potentially impact how every team member feels about their time with an organization. From identifying the moments that matter to your workforce to using the right collective intelligence tools and technology, we hope that the tips and guidance above have helped you understand how to build a better employee experience for every worker—whether they're hybrid, remote, or solely in-office.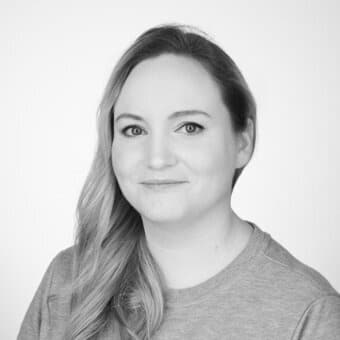 Dara Fontein
Dara is a copywriter and content creator born, raised, and currently based in Vancouver, British Columbia. She's written for companies including Hootsuite, lululemon, Article, and ThoughtExchange. When not playing around with words, Dara can be found updating her cat's Instagram account and wandering the aisles of home decor stores.