Senior Customer Success Manager, Nicole Senior, is celebrating her second year at ThoughtExchange. And she says, "The honeymoon's
still
not over!" We sat down with Nicole to find out how ThoughtExchange has been keeping the spark alive. In this Employee Spotlight, she shares how the company has supported her mental health and wellbeing throughout the COVID-19 pandemic and beyond, allowing her to thrive in her personal and professional life.
Exploring opportunities for growth
Nicole landed at ThoughtExchange in February 2020 after working in the insurance industry as an Account Manager and Operations Director for 10 years.
As a Senior Customer Success Manager, she works with educational business partners, helping them see incredible opportunities to use our platform to make strategic planning decisions, gain collective insights from their community, and align on strategy.
But that's not all. When asked what she loves about her job, she highlights the opportunities for continual growth and being able to jump in, spearhead, and be part of new initiatives. Just last year she had the chance to pilot a new role—something she really enjoyed.
Nicole's also worked on a networking initiative to support partners in various regions. She explains, "The whole intention is really to amplify the way that we scale and have some robust opportunities for existing customers and hopefully ramp up and support the additional new business as well."
Stepping up during the pandemic—from childcare to wellness support
Nicole's transition to ThoughtExchange wasn't a typical onboarding experience. A month after she joined the company, the pandemic hit. In fact, she just had time to connect in person with team members at an all-company meeting in Vancouver, before everything shut down.
Nicole was glad she'd made the move, because when the pandemic upended life as we know it, ThoughtExchange had an advantage. Being a remote-first organization that specializes in listening, we had all the tools in place to ensure employees were connected with one another and could continue working effectively. As always, we were committed to checking in with our people to make sure they were getting what they needed to thrive personally and professionally.
Nicole will never forget the first company meeting ThoughtExchange had in March 2020. She shares, "Our CEO, Dave, gathered us together and said, 'This is going to be a ride but we'll get through it together. We're going to talk about what you need and we're going to make sure we see it through.'"
And in true ThoughtExchange style, we did.
Nicole continues, "The conversation wasn't a one-and-done pep-talk. The conversation happened again and again. As the universe kept throwing these incredibly difficult things at us, our leaders asked, what do you want? What do you need? And the company delivered every single time."
From flexible hours to childcare support, ThoughtExchange delivered. And that's not all. Recognizing the importance of physical and mental wellness, especially during such difficult times, the company invested in a wellness platform called Cyno. It offers employees access to personal training, nutrition counseling, mental health support, and so much more. Nicole, who's a fitness and nutrition buff, says, "I must have used about 150 hours!"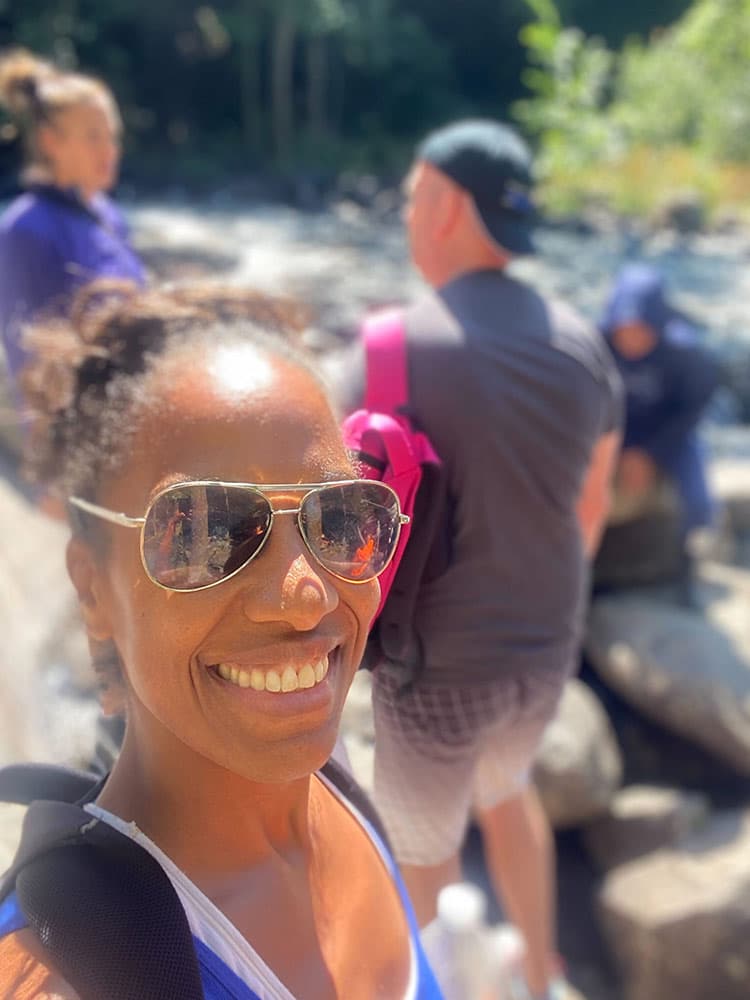 Bringing her full self to work
Nicole agrees that pandemic or not, ThoughtExchange supports people to bring their full selves to work.
She says, "In this environment, for the first time in my career, it's felt authentically safe. It feels as though we get the opportunity to bring our insights, bring our personality, bring all the things that make us whole outside of our role into it. And we're encouraged to show up the way we need, even if it means bringing our mediocre selves to work that day!"
Standing out from the crowd—what makes ThoughtExchange different?
When asked what makes ThoughtExchange different, Nicole highlights two ways:
"The interconnectivity between the teams and across departments is unbelievable. ThoughtExchange is a remote company, so what happened over the last couple of years was not brand new. Our company culture is about working together while apart. That ability to feel integrated as though we're working alongside each other, even though we're apart, never ceases to amaze me."
She also appreciates the company's focus on organizational wellness, maintaining that it "far surpasses" anywhere else she's ever been.
We've developed robust ways of keeping people connected such as:
Shared workspaces

Co-working sessions

Donut dates (employees are randomly connected for a quick visit)

Dinnerators (employees are treated to their favorite meal and meet up with a random group of people over Zoom to eat together)

And more…
Beating the great resignation
The corporate world has been experiencing a great resignation. People are re-evaluating what they need to be happy at an organization, and making a move if they're not getting it. A public Exchange asking what employees needed to stay, demonstrated that flexibility and appreciation are key retention factors (and yes, people want to be well paid too).
Nicole is still here and loving it. So we asked what ThoughtExchange is doing to retain top talent like her. 
She shares, "I feel that ThoughtExchange's culture is its biggest asset. At ThoughtExchange I've always felt that there are ample growth opportunities, flexibility, and an overall investment in the people. I feel as though our company really follows through. Ensuring the feeling of security, trust, and investment. We want people around to contribute to our success planning."
At ThoughtExchange, we practice what we preach. Nicole goes on to share that last year between May and September she went down to a 4-day work week because she needed the time back in her life. The company supported her decision—no questions asked.
Nicole felt appreciated when we implemented company-wide mental health days off to support employees who were dealing with significant pandemic-induced personal challenges while trying to remain productive at work.
In fact, personal time is celebrated at ThoughtExchange, where employees aren't just commended for the number of hours they put in. They are encouraged to do what it takes to stay healthy and happy. Whether it's doing a mid-day yoga class, going for a run, or making time to pick their kids up from school.
 "At ThoughtExchange the mantra is work smarter not harder, and take care of yourself. Because taking care of yourself is setting the bar and also making sure you can bring your best self to work."
Keeping the honeymoon alive
So after two years as part of the ThoughtExchange team, Nicole is still enjoying the honeymoon! She agrees, "I often hear that I'm passionate about what I do and it's because I am really proud to be part of ThoughtExchange. I love doing what I'm doing every single day. I appreciate the balance that brings to my life. I appreciate the partners that we get to support." 
Nicole shares that her mental health could have been impacted without her job at ThoughtExchange as an outlet. Her job continues to supplement so many additional components outside of her role.
"I truly believe that you can't have a successful product or service if you don't take care of the people behind it. And I can just say that I feel really well taken care of during my working hours and outside of my working hours as well."
With our remote-first expertise, flexible work hours, commitment to employee health and growth, and ADE&I, we think ThoughtExchange is a pretty great place to work, too!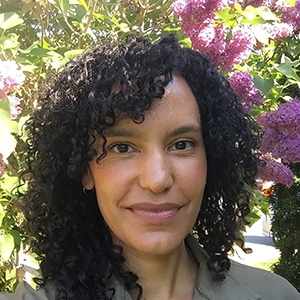 Sarah Mathias
Sarah discovered her love of words when she penned her first journal in grade 4—she hasn't stopped writing since. With a BA in Sociology and an MPC in International/Intercultural Communication, Sarah honed her corporate writing skills in the travel insurance and fashion industries before working with ThoughtExchange. She brings her collaborative spirit and commitment to antiracism, diversity, equity, and inclusion, along with her penchant for grammar jokes.