Strategic Planning for Schools: 5 Tips for Superintendents
Gather community feedback
Need insights to inform your strategic direction or want to assess your strategic plan's viability? You'll need community feedback. Consult students, parents, and community members throughout the planning process so your strategy aligns with their perspectives.
Whether you're setting strategy at the district, school, or department level, consulting diverse participants will uncover unbiased insights, enhance trust and buy-in, and ensure greater success with new strategic directions.
Using ThoughtExchange, leaders can scale conversations to efficiently, effectively, and equitably include their community in their district strategic plans.
District consults community for more effective strategic plan
A school district gathered community feedback to inform their strategic priorities before planning. This enabled them to create a strategic plan that addressed the community's most pressing concerns.
Using ThoughtExchange, they asked:
What are some important things for us to consider as we develop our new strategic priorities?
Hear what your community really thinks with anti-bias technology and multilingual capabilities
ThoughtExchange is like a survey, but better. With the ability to scale open-ended feedback, it reduces the time and resources you spend on town halls and meetings, while providing insight into what people really think.
Our anti-bias technology allows for anonymous sharing and randomized peer-to-peer rating, meaning participants avoid bias by rating ideas on merit.
Multilingual capabilities allow for simultaneous translation in 104 languages, so participants can share and read thoughts in their preferred language, ensuring a diverse, inclusive discussion.
Whether you're bringing 10 or 10,000+ people into one Exchange, you'll discover what's most important to your community and inform your strategic direction.
Do you know what your staff thinks about your strategic priorities? It's time to find out. A long-time superintendent noted that to succeed, a strategic plan must be "something everybody lives and works daily."
Getting internal buy-in is essential for success. Inform your plan and refine your strategic objectives by asking your principals, teachers, and staff how they align with the strategies they use to fulfill their roles.
Checking in with staff throughout the planning process builds trust, support, and ownership. Gather feedback and identify knowledge gaps in the strategy before seeking broader validation.
Superintendent engages senior education leaders to inform plan
A new superintendent launched an Exchange with more than 150 senior leaders representing 50 campuses.
She asked:
As a leader, what are the most important things I need to know to support you and make this a successful year?
She was able to answer their feedback in real time, and use their insights to inform her plan for the year. Checking in throughout the process will ensure her plan continues to meet her district staff's needs.
Summaries feature gives snapshot of salient topics
Regular Exchanges often involve thousands of participants. Leaders can use the Summaries feature to get a snapshot of salient topics. Arrange Summaries by Group or Theme and quickly get a snapshot of participants' major concerns or questions.
Use ThoughtExchange to inform, refine and align your strategic plans. Present the plan and gather your people's thoughts to ensure your strategy's on track. If needed, ask for additional insights and refine your plan as needed.
Are you experiencing division and polarization in your community? You're not alone! Issues like equity, curriculum, safety, and politics are dominating strategic planning discussions, budget meetings, and town halls.
ThoughtExchange can help you find common ground. This is vital to building and executing a strategy to meet the district's goals and help students thrive.
District finds common ground in safety initiative
Brighton Central School District's Superintendent, Dr. Kevin McGowan, understood that meaningful, transparent, two-way communication was key to his district's safety initiative.
That's why he used ThoughtExchange to gather insights about law enforcement in schools. While a survey would have amplified the loudest voices, acting like a vote on his initial strategy, an Exchange surfaced marginalized voices he may have otherwise missed. The Exchange also made space for a safe, open conversation between community members with different perspectives on law enforcement in schools.
Understanding his community's feelings of fear, anxiety, and pressure helped McGowan make better, more inclusive decisions about his school safety initiative.
Find common ground with Differences
ThoughtExchange's Differences feature identifies common ground by revealing where participants agree and disagree in real time. Identify polarizing ideas and discover strategies everyone agrees on.
Include everyone's insights in a collaborative discussion space, so community members feel heard. Break down silos and expose your community to the breadth of perspectives in your district. Easily find agreement between polarized groups.
Align your community on the strategy
High-performing districts are aligned, engaged, and change-ready. Districts that prioritize community alignment see increased attendance, improved student performance, stronger school reputations, and positive relationships between staff, students, and families.
Leaders in top-performing schools know that their strategic plans will likely fail without community support and the insights that come with community engagement.
Make sure your district is strategically aligned by allowing your community members to contribute to and shape your strategy. Involving your community from the start creates trust, support, ownership, buy-in and robust, supported strategic plans.
District uses ThoughtExchange to refine bond strategy
A school district used ThoughtExchange to help refine and align their bond strategy. They launched an Exchange to find out what their community would be willing to support in an upcoming election.
They asked:
Which potential bond scenario best aligns with community values and the needs of our students and why?
After an initial Exchange to discover which scenarios their community supported most, the district agreed on a scenario. With community alignment, the bond has a better chance of passing.
Find agreement with Differences
With ThoughtExchange, it's easy to build trust with your entire community by consulting them on the decisions that affect them. Increase their support for your decisions by giving them the opportunity to share their real thoughts. They'll gain a sense of ownership and trust, you'll gain peace of mind.
In the Rating step of an Exchange, your participants are able to anonymously read and reflect on each other's thoughts, building empathy and understanding. An Exchange gives participants an unbiased perspective on their fellow community members' priorities, and gives leaders insight into the most-supported actions.
After you've launched your strategy, continue to measure its performance, evaluate, and check in with your community for feedback. Use a series of Exchanges to assess your strategic direction and how it is performing at the school and community level. Gather insights from staff and educators to monitor progress.
Build more ownership and buy-in when making key decisions. Support the decision-making process by including more diverse perspectives and ensure greater outcome adoption. Consider what information you need to share, such as how far along you are in the decision cycle and how you intend to use the results to inform the decision.
Check in with your constituents after the decision has been implemented and people have had some time to assess the impacts. Strategic planning is not a one-off process. Be ready to reassess and pivot with your community's support.
A district had implemented changes for the new school year and wanted to understand how they were affecting the community. During the first week of school, they sent an Exchange out.
They asked:
Now that we've started the new school year, what do you think is working well and what areas could be improved?
They received valuable feedback from their staff, students, and parents, informing some necessary adjustments to the new policies. The superindentent of the district has an unprecendented level of support from her community because of her willingness to ask for and act on their feedback using ThoughtExchange.
Demonstrate impact with Reporting, Slides, and Presenter mode
Your staff, students, and community members want to see that their voices have impact. Use Reporting, Slides, and Presenter Mode to share Exchange results with your participants so they can see the insights behind the actions. Use their own words in your plans and presentations so they know they've been heard—and you know you have their trust and support.
ThoughtExchange for strategic plans that work
Be bold with your strategic plans knowing that ThoughtExchange makes it easier to gain community engagement and buy-in. By accessing your community's unbiased, critical insights, throughout the planning process, you can be confident that your plan addresses your district's real needs.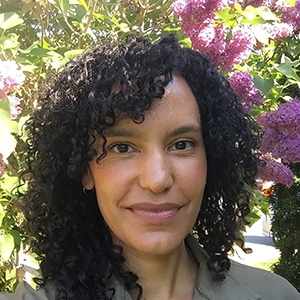 Sarah Mathias
Sarah discovered her love of words when she penned her first journal in grade 4—she hasn't stopped writing since. With a BA in Sociology and an MPC in International/Intercultural Communication, Sarah honed her corporate writing skills in the travel insurance and fashion industries before working with ThoughtExchange. She brings her collaborative spirit and commitment to antiracism, diversity, equity, and inclusion, along with her penchant for grammar jokes.