Meet Yasmine Mehtadi, Education Account Executive at ThoughtExchange. For this Employee Spotlight, we wanted to get her perspective on what it's like to transition to a remote company, connect with education leaders from around the continent, and climb aboard the ThoughtExchange rocket ship.
Why ThoughtExchange?
When she joined us in December 2020, Yasmine Mehtadi was looking for a way to expand on her experience in the education sector. Before signing on as an Education Account Manager at ThoughtExchange, she worked in sales and account management at an international education company focused on student growth outside of the classroom. With ThoughtExchange, she saw an opportunity to influence the student experience in all aspects of their education.
"I loved that this company was built on the backbone that everyone's voice deserved to be heard," Yasmine tells us. And as an Education Account Manager, she plays an active role in making our vision a reality by helping our customers ask, listen to, and learn from their communities every day.
"My main role is to be a strategic thought partner with each potential customer to help them learn about the value that ThoughtExchange can bring to their district, and discover how we can grow together from there," she explains. "I get to problem solve and provide value to education leaders every day I come to work."
Joining a Remote Team
ThoughtExchange's flexibility also appealed to Yasmine. Since we've always been a remote-friendly company, our workplace isn't the result of the pandemic scramble—we know exactly what works for remote teams and what doesn't based on years of experience.
Yasmine's onboarding process reflected that. Paired with a ThoughtExchange buddy to help her navigate a new workplace culture, a Learning Coordinator to answer any onboarding questions, and the freedom to complete her learning where and when it worked best for her, she found the onboarding process at ThoughtExchange a pleasure.
Plus, we bribed her with goodies: "The welcome package I received in the mail from the people team ahead of my start date was an awesome surprise."
So we fulfilled Yasmine's sense of purpose and her desire for a flexible work environment—but what's it actually like to work here? Apparently, we'd already made a good impression before she started. "I had been following the growth of ThoughtExchange for about a year before applying," she says, "and I was drawn to the amazing corporate culture."
Yasmine saw that we don't just market the idea of listening to all voices, we put it into practice—and her experience here has backed that up. "Everybody, regardless of position or tenure, gets to peek behind the curtain to see how and why the company is growing and in what direction," she explains. "I've been able to grow my business acumen a lot due to this transparency."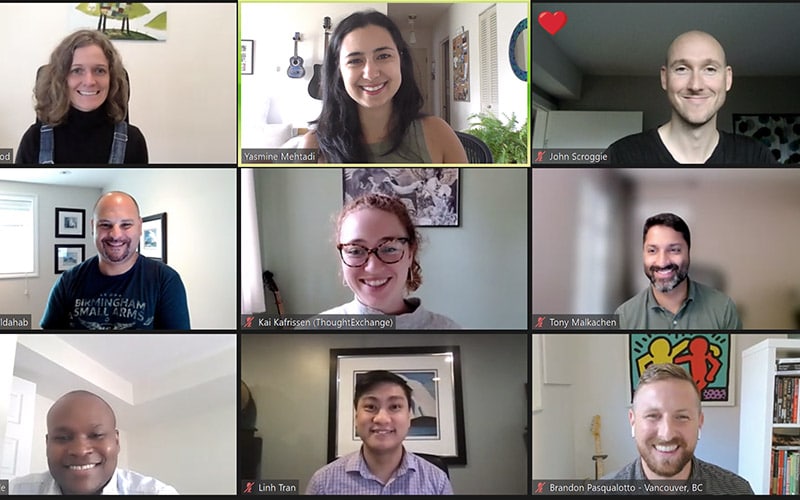 A Culture of Hustle and Respect
Now that she's settled into her role, Yasmine has great advice for anyone entering a remote workplace like ThoughtExchange: "Ask lots of questions and make connections early! There is so much to learn from your peers that have been here longer, but you need to raise your hand and create connections where you can." With our years of experience, we're pretty good at making remote connections with our new team members—Yasmine's DMs filled up pretty fast!
Yasmine describes the atmosphere of her sales team as "a culture of hustle, but respect, at the same time." She knew that joining a startup can be intense, but she finds that ThoughtExchange strikes the perfect balance: "We're on a growth trajectory, and performance is essential. However, I've never felt that it came at the expense of my wellness."
That's because we know that growth can't come at the expense of our people, and if we prioritize our employees' mental and physical health, we're setting ThoughtExchange up for long-term, sustained success.
Ready for take-off
So besides our awesome benefits, flex days, and vacation—what gets Yasmine up and excited to work with us every morning? "For me, it's the culture and the people and the product. I feel happy with what I'm doing on a day-to-day basis," she tells us.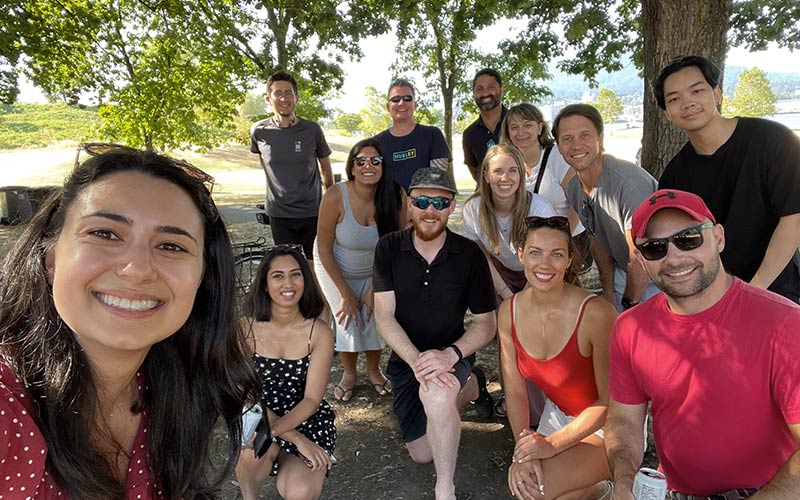 That kind of big-picture thinking is pretty popular around here. "The saying around ThoughtExchange is that we are on a rocketship—it's fun to be a part of the growth before massive take-off," Yasmine shares. She's right, we are preparing for take-off, but we're not aiming for anything extraterrestrial—just a world where leadership actively listens to their people and makes decisions with their support.